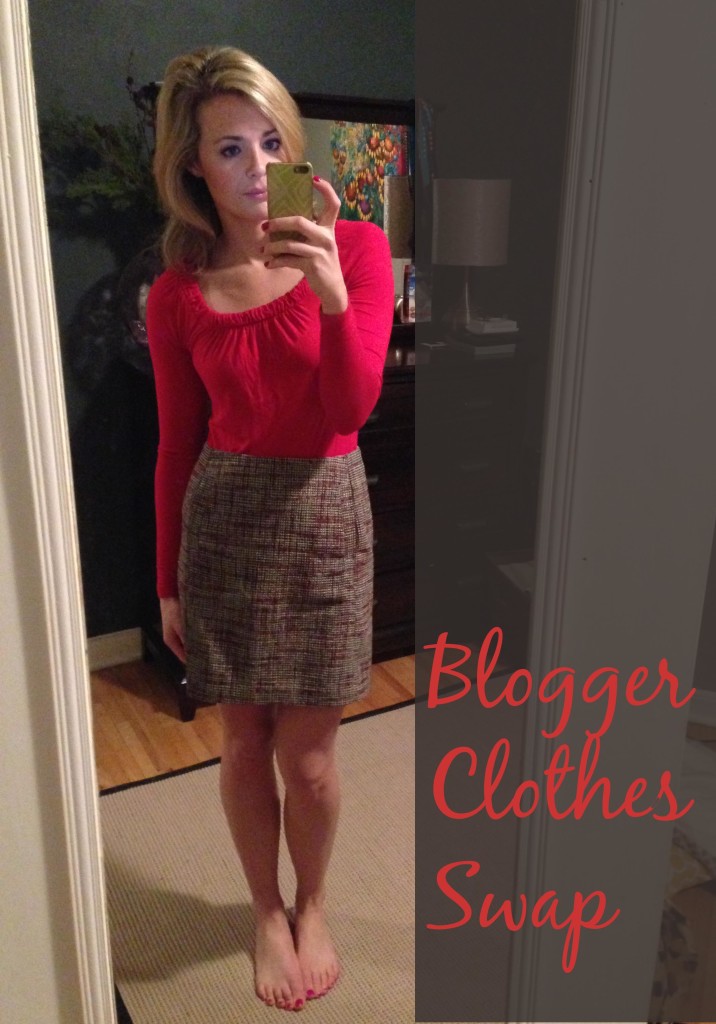 A few weeks ago I told you about a clothing swap I did with a few of my favorite bloggers turned real-life friends, Justine and Kayla. Well, the items they sent my way arrived and I've taken note of my first impressions below.
Next week I'll be sharing the final installment in this series, where I share how I styled each item. But for now, you'll have to settle for a sneak peak!
What I Thought of Justine's Items
Item #1: Leopard-Print Scarf
First Impression: This is totally my type of accessory! I love my leopard-print flats from Banana Republic so this is going to fit right into my wardrobe. Plus, it's guaranteed to fit!
Item #2: Striped Target Dress
First Impression: I loved this dress when it arrived! I love neutral colors, I love stripes, it was totally me! And, I sent something similar in skirt form to Justine, so it was a little funny how our styles seemed to overlap. I could tell right away that this dress was going to be a little more form fitting, so I was a little uncertain about how I would feel about that, since I don't usually gravitate to dresses like that.
Item #3: Blue and Black Calvin Klein Dress
First Impression: I avoid sleeveless, crew-neck dresses like the plague because I think that they make my shoulders look super broad (full disclosure: my shoulders are super broad). So when I saw this dress, I could tell it wasn't really going to be a fit for me and my body type. However, I'm thinking that perhaps I could style it with a cardigan so you can't tell it is sleeveless.
Item #4: Tan H&M Blazer (Justine cheated and sent something as a bonus)
First Impression: I love blazers and I love neutral colors. This one was a hit from the moment I saw it! I can imagine a lot of different ways to wear this right off the bat. Major win!
What I Thought of Kayla's Items
Item #1: Red Banana Republic Long Sleeved Top (from Kayla)
First Impression: When this shirt first arrived, I was a little unsure about it. Red is one of the colors I do enjoy wearing, but the neckline isn't something I would typically gravitate toward. However, after pairing it with a few different skirts, and seeing how it looked in photos, I'm a fan! I could totally see myself wearing this to work with skirts throughout the winter.
Item #2: Hunter Green Sequin Tank (from Kayla)
First Impression: I really liked this tank! It's super easy to pair with a bunch of different outfits and it adds just a touch of glitz without being over-the-top (read: I can wear it to work!)
Item #3: Pink Gap A-Line Mini Skirt
First Impression: My first thought was that I loved the cut of this skirt since it is more of the a-line variety. However, the material is a little dressier and has some sheen, so I'm not entirely sure how/where to wear it. We'll just have to see next week!
Want to see what Justine and Kayla received in their boxes? Check out their posts HERE and HERE. 

Madison