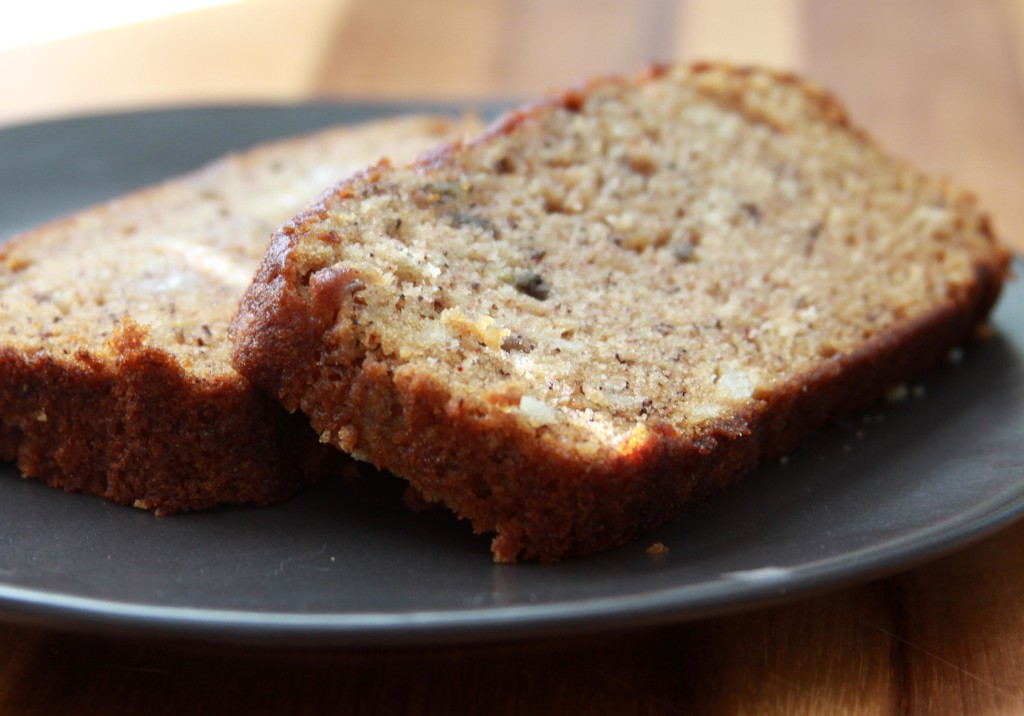 A couple weeks ago I shared with you a recipe from Joe's great grandma Jacobs. Maybe I was a bit early with sharing a recipe for pumpkin bread in August, but it was so delicious that I'm sure anyone who bakes up a loaf would quickly forgive me for sharing something not quite seasonal.
I was so inspired by the pumpkin bread recipe. It was so perfect, exactly how I remember perfect pumpkin bread tasting, and, more importantly, the texture was just right. And so, with that recipe in hand, I decided to try and recreate the banana bread I remember from childhood church potlucks and snack times. I'm not sure who made that type of banana bread, but it was spot on.
I have a lot of banana bread recipes on this site. Maybe a few too many, but I can't help myself. There's this Chocolate Banana Bread, which is a departure from the traditional. And this Caramelized Banana Bread, which is all about a unique method for creating great banana flavor. And the healthier varieties, like the Higher Protein Chocolate Chip Banana Bread and Health Nut Banana Bread and even a recipe for Banana Bread Ultimate, which is a very old recipe and probably not all that "ultimate" when I really think about it. Sorry for that. And if that wasn't enough, I have a recipe for Chocolate Chip Banana Bread Mini Muffins. They really are quite good, though the photo is horrible.
I'm starting to realize my banana bread obsession is getting out of hand. Forgive me?
But what's really missing from this whole collection is a great, classic  banana bread. Probably because I haven't had any success with the type of recipe I was looking for until now. Perhaps it's time to retire my search for the perfect banana bread?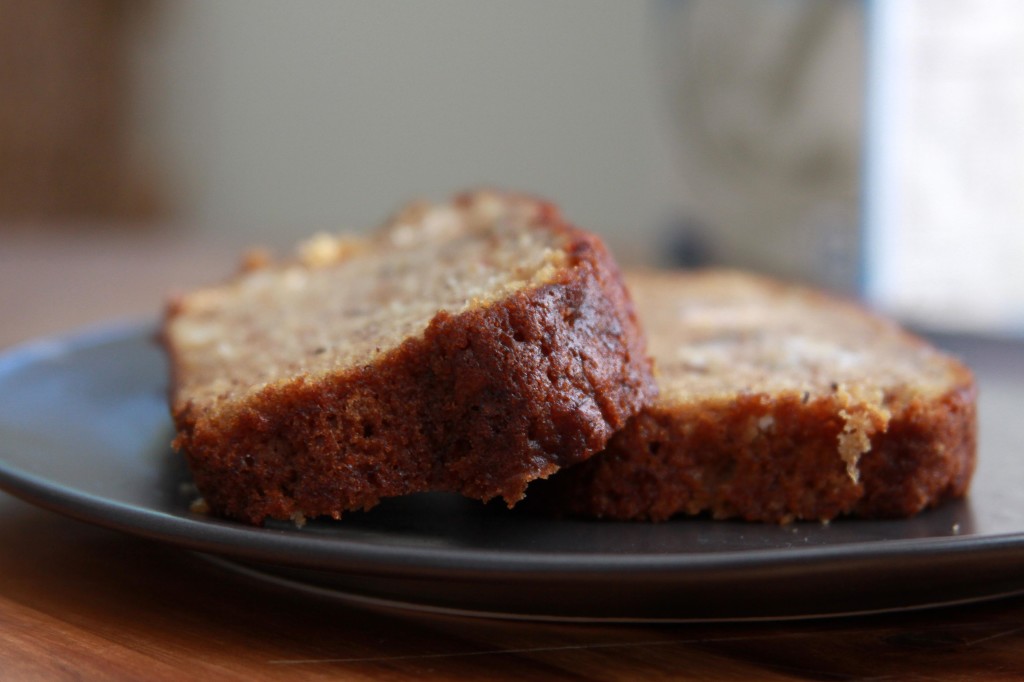 Classic Banana Bread
Makes 12 servings
Ingredients
3 1/2 cups all purpose flour
2 teaspoons baking soda
1/2 teaspoon salt
2 teaspoons cinnamon
3 medium very ripe bananas, mashed
2 1/2 cups sugar
1 cup oil
4 large eggs
1 teaspoon vanilla
Directions
Preheat oven to 350°F.
In a large bowl, combine the flour, baking soda, salt, and cinnamon. Stir until well combined. Add in the mashed bananas, sugar, oil, eggs, water and vanilla and stir until just combined.
Line two 9×5-inch baking pans with aluminum foil. Spray lightly with cooking spray. Divide batter between two pans. Bake 50 to 60 minutes or until a toothpick inserted in the center comes out nearly clean. Cool 5 minutes in pan on wire rack. remove from pan and remove foil. Cool completely. Store on the counter wrapped in aluminum foil.
Happy Baking!
Madison