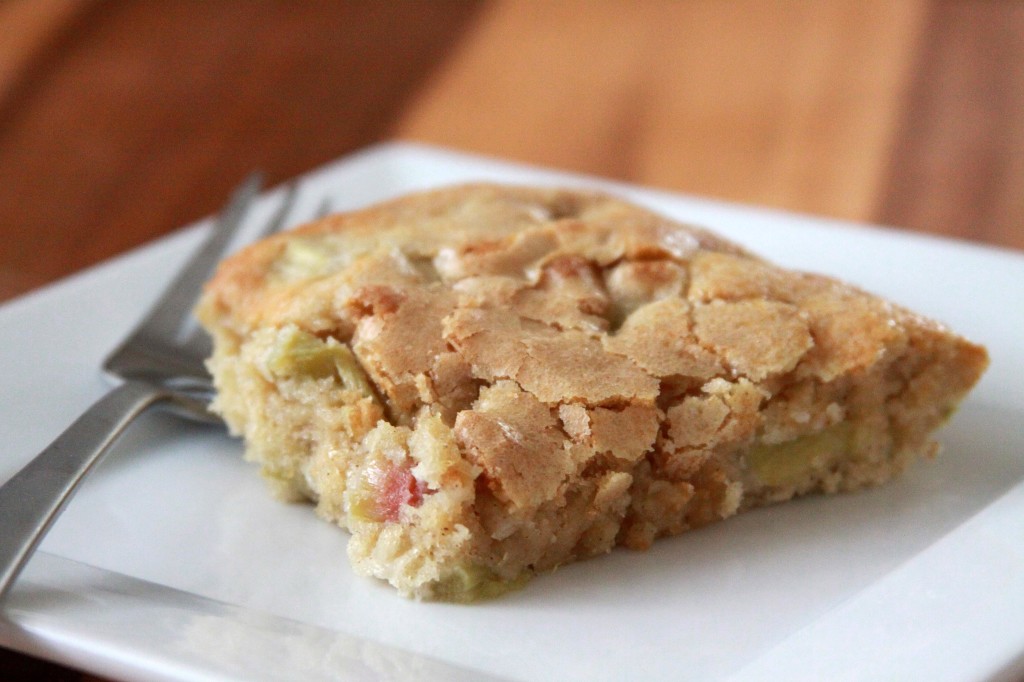 Happy Monday, friends! I'm struggling to get on the Monday bandwagon this week, if we are being really honest. Joe and I have both been battling a sore throat for the last couple days and we had a terribly sick little pup Thursday and Friday, which was awfully scary. Thankfully, it appears to have been a bout of puppy flu, and she is back to her normal chipper self. Never have I been so thankful to see that little tail wagging again!
If I had to sum up last week, I think I would call it the "Week of Rhubarb Desserts." Joe and I literally ate rhubarb dessert four out of five weeknights last week. Crazy, right? But when it is in season, you have to take advantage!
The real kick-off to our rhubarb dessert eating was the fact that my sweet older neighbor, Marcia, brought over a large bag of rhubarb from her garden. Along with the rhubarb she included a couple of her favorite rhubarb recipes, including a super simple family favorite recipe for rhubarb cake. I love old recipes, especially recipes that have been handed down from other bakers with much more experience, so it took about 10 minutes for me to get baking this cake.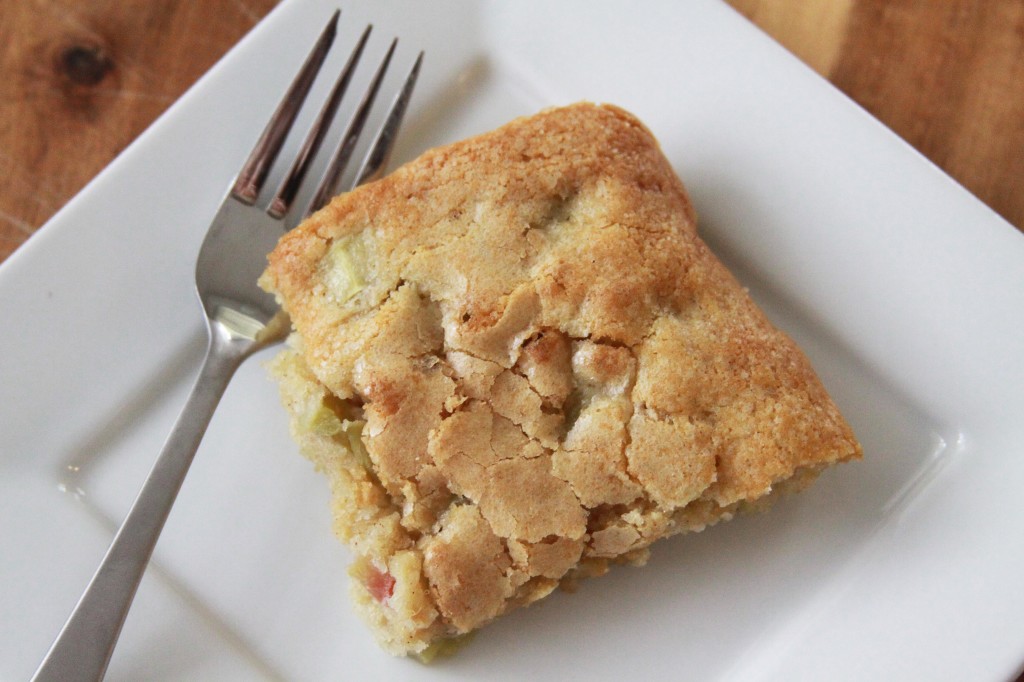 As with most older recipes, there are a lot of ways you can go wrong. The directions are usually pretty vague and don't necessarily provide much direction or explanation, meaning there is plenty of room to make a mistake. However, I'm happy to report that this cake was a huge hit with everyone who enjoyed it! It's a simple cake that is very easy to pull together. I called for an electric mixer in the recipe, but I made the recipe twice and didn't use an electric mixer the second time. The cake turned out beautifully both times, so use what you feel like using.
One word to the wise: This cake is better when it is made the day you are planning on serving it. Since the rhubarb has a lot of moisture it tends to make the cake soggy on the second and third days after baking. It's still totally edible and delicious (Joe still ate it all!) but maybe not worthy of serving guests after the first day. Pop it in the oven while you eat dinner, then serve it warm with a cup of coffee and some ice cream after you eat your meal.
Marcia's Rhubarb Cake
Makes 12 to 16 servings
Ingredients
1 1/2 cups sugar
1 stick butter, melted
1 large egg
1 cup buttermilk
1 teaspoon baking soda
1/2 teaspoon cinnamon
1/2 teaspoon salt
2 1/4 cups all-purpose flour
2 cups chopped rhubarb
Additional sugar for sprinkling atop cake
Directions
Heat oven to 350F. Combine sugar and butter. Beat until well combined with an electric mixer. Beat in the egg and buttermilk until combined.
In large bowl, combine the baking soda, cinnamon, salt and flour. Add flour to wet ingredients and beat until just combined. Stir in the rhubarb by hand.
Sprinkle about 2 tablespoons sugar atop cake. Pour batter into a greased 13×9 inch baking pan. Bake 30 to 34 minutes or until cake is golden brown and a toothpick inserted in the center comes out nearly clean. Cool 10 minutes before cutting.
Happy Baking!
Madison