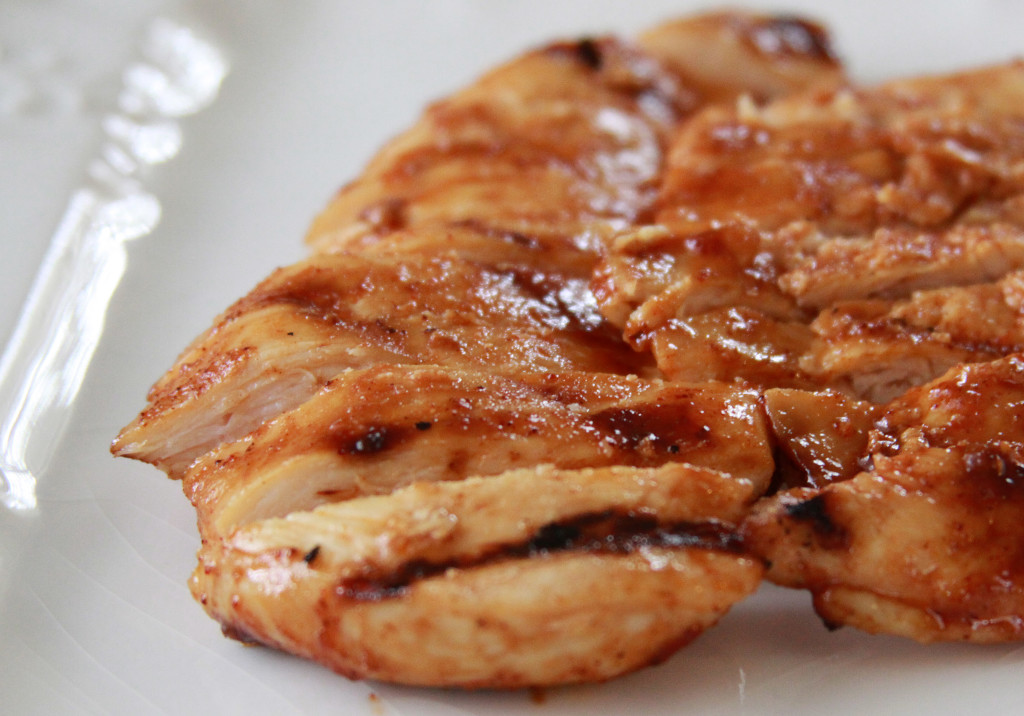 First things first, the winner of the giveaway is…


Elizabeth, send an e-mail to madisonjanemayberry@gmail.com and I'll get your gift card in the mail! And thank you for all the beauty recommendations. I'm excited to try some of them out!

Grilling season is finally here! Does that make anyone else crazy excited? Joe and I both love to grill, and this year I'm trying to beat him out for title of "grill master" in the Hofmeyer house. Usually I prepare the veggies/meat to be grilled and Joe is in charge of the actual grilling, but last week I decided to do a little grilling on my own. First, because I really actually love to grill. And also because Joe was mowing the yard and wanted to get done before it began to rain.
I have to admit that I think I did a pretty darn good job with this chicken. Since I've overcooked many a chicken breast on the grill and I hate serving dry chicken, I decided to switch up my method a little bit this time. The result was flavorful, moist chicken that didn't taste dry in the least bit.
For starters, I cut the chicken breasts in half horizontally so that they were thinner and required less time on the grill to reach a safe temperature. Second, I made a brine solution for the chicken with water, sugar and salt, then let the chicken sit in the brine for hours in advance (I popped them in the brine solution before work so they were ready when I got home.) And third, since I didn't want to wait any longer for the chicken to marinate in the barbecue sauce, I pierced the surface of the chicken with the tines of a fork and brushed the barbecue sauce on top so that the sauce could get into the meat in less time.
If you're looking for an easy, flavorful chicken recipe to kick off grilling season, I would highly recommend this recipe. Especially if, like me, you have had a tendency in the past to serve your dinner guests dry chicken. Be a better host. Eat better chicken. That's what I call a win-win.
Honeyed Asian Grilled Chicken
Ingredients
*2 to 4 boneless, skinless chicken breasts, cut in half horizontally
*8 cups water
*1/2 cup sugar
*1/4 cup salt
Barbecue Sauce
*1/4 cup ketchup
*2 tablespoons olive oil
*2 tablespoons fresh lemon juice
*2 tablespoons soy sauce
*2 tablespoons honey
*1 tablespoon toasted sesame oil
*1/2 teaspoon chili powder
*1/4 teaspoon garlic salt
Directions
*Bring water, sugar and salt to a boil. Remove from heat and cool completely. Place chicken breasts in a large bowl with the water. Refrigerate, covered, for at least 6 hours up to 8 hours.
*Heat grill to medium heat. In small bowl, combine remaining ingredients for barbecue sauce. Stir until well combined.
*Drain chicken breasts from brine mixture. Pierce the chicken several times with the tines of a fork to create holes for the barbecue sauce. Brush chicken with the barbecue sauce on both sides. Place directly on grill and cook, covered, 5 minutes. Flip; brush with additional barbecue sauce. Cover. Turn grill off. Keep grill covered for 5 to 7 minutes more or until chicken breasts are cooked through and no pink remains. Allow chicken to rest 5 minutes. Slice and serve.
Happy Grilling!
Madison