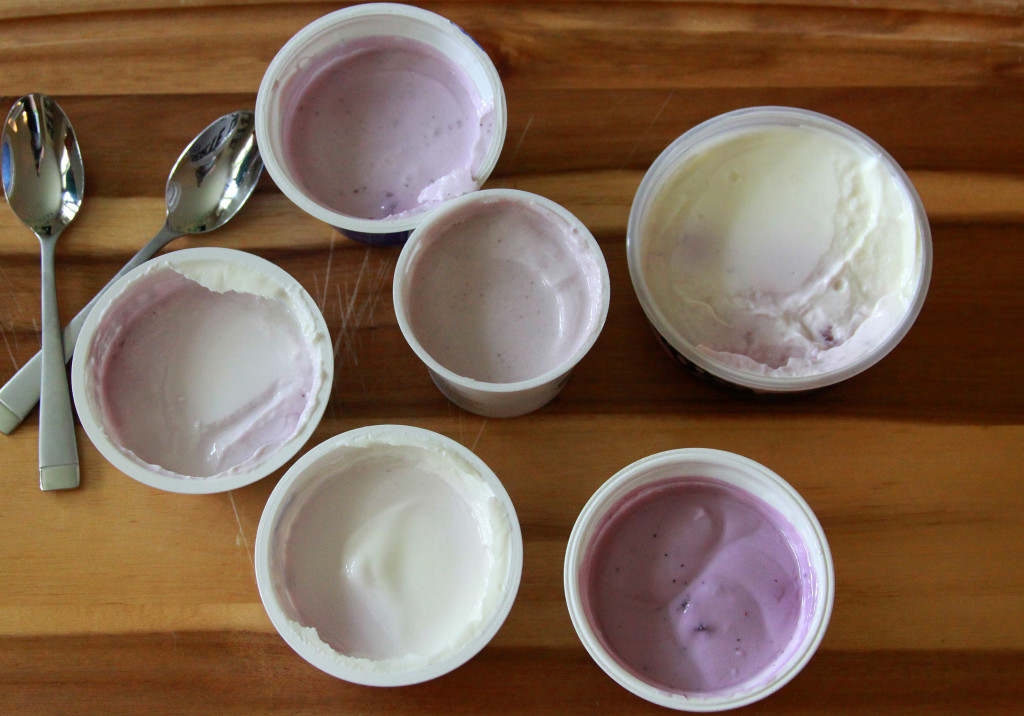 Have you ever found yourself at the grocery store in the yogurt isle looking at all the choices that are available and wondering what tastes best? We certainly have! Joe and I eat a lot of Greek yogurt since it's packed with protein and makes a great breakfast or snack. Sometimes I even eat a Greek yogurt in place of dessert during the week. At over $1 per yogurt, I want the yogurt I buy to taste great, not just okay.
While I prefer plain yogurt, Joe is a huge fan of all things blueberry. So on Saturday we decided to sit down with six different yogurts for a little taste test. We tasted them all so you don't have to!
Here's how we put together our taste test:
-The yogurts we selected were based on what was readily available at our local Super Target. I know there are a couple other widely available blueberry Greek yogurts that were not included, which is only because our Target only had these varieties in stock.
-A few of the yogurts aren't "Greek" yogurts (Noosa and Siggis) but were thick strained yogurts, so we included them in the test.
-We wrote down our thoughts independently and came to the following conclusions…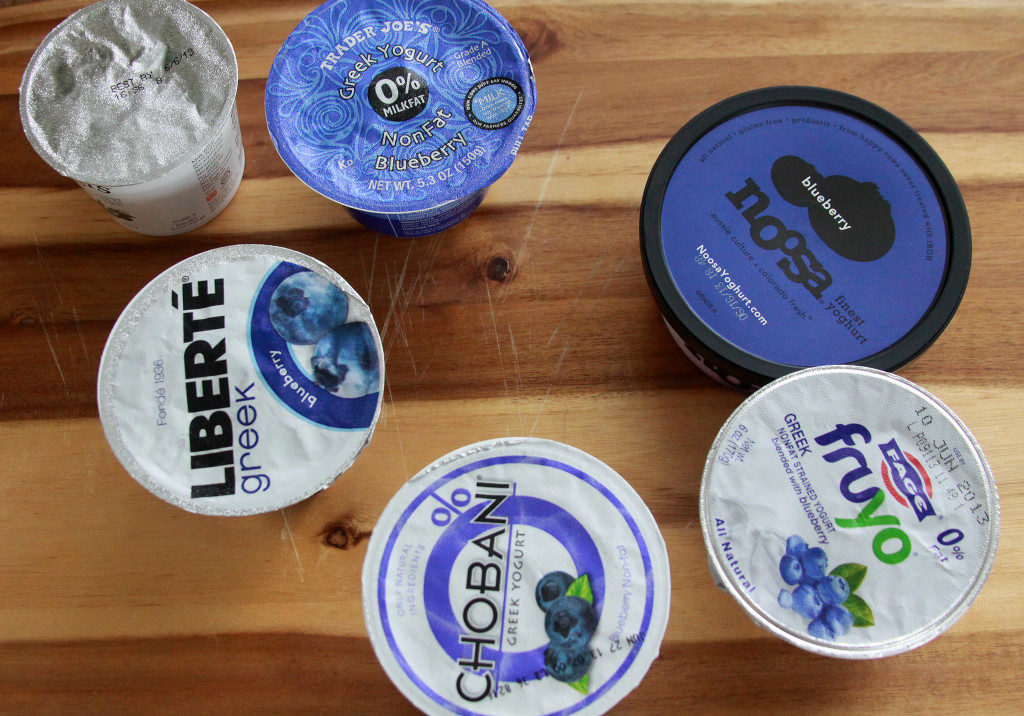 WINNER
Chobani 0% Blueberry Greek Yogurt
Flavor Notes:
We have eaten a lot of Chobani over the past couple years, but I was curious to see how it stacked up in comparison with all the other yogurts we tried. Ultimately, it was a very tight race between Chobani and Liberté, with Chobani edging out Liberté by a nose. What won us over was the smooth, creamy consistency and the fact that despite being non-fat, it wasn't pasty at all, unlike some of the other yogurts we tried. Additionally, we really loved the real blueberries in the fruit mixture. Our only complaint was that we wished it was a little less sweet.
RUNNER UP
Liberté Non-Fat Blueberry Greek Yogurt
Flavor Notes:
This yogurt was new-ish to both of us. I've had the plain variety a few times over the past month, but we had never tried the flavored varieties, like this blueberry. Coming in second place, Liberté won us over by having the best true blueberry flavor out of the bunch with a smooth, creamy consistency and real blueberries in the fruit mixture. Joe wished it was a bit thicker, but the sweetness level was perfectly pleasant. In fact, Joe thought that combining the Chobani and Liberté 50/50 created his perfect version of blueberry Greek yogurt.
HONORABLE MENTION
Fage Fruyo 0% Blueberry Greek Yogurt
Flavor Notes:
This was the first time I've seen the Fruyo variety of Chobani in stores. I'm a big fan of the plain 2% Fage, so I had high expectations of this Fruyo. Unlike the traditional flavored Fage, which comes with a side car of fruit mixture, this variety has the fruit blended into the yogurt. My first impression was how sweet the yogurt tasted, a little too sweet for both of us, but we couldn't get over the great texture. It was ultra creamy and had zero pasty taste. We also loved the blueberry flavor. If it had been less sweet I think it may have been the winner.
OTHERSNoosa Australian Style Blueberry Yogurt
Flavor Notes:
Neither of us had ever tried Noosa before, but I had heard good things about this Australian-style yogurt. One container (8 oz) is considered two servings, and each 4 oz serving has 150 calories, meaning it's much more decadent than the other yogurts in the bunch. After tasting it, we can totally see why! Joe and I both agreed that we loved this yogurt, but it would probably make a better healthy dessert rather than a breakfast yogurt. We loved the blueberries and creamy, rich texture. It just seemed a little indulgent for everyday.
Trader Joe's 0% Blueberry Greek Yogurt
Flavor Notes:
We shop at Trader Joe's every week, so many times Joe ends up getting Trader Joe's blueberry Greek yogurt to save us from making another trip somewhere else just for Greek yogurt. However, after this taste test, I'm thinking we might need to reconsider our strategy! This is one case where Trader Joe's does not deliver. The yogurt was tart, pasty and left our mouths feeling dry. Additionally, it didn't deliver on blueberry flavor.
Siggis 0% Blueberry Yogurt
Flavor Notes:
I'm not exactly sure what makes something "Icelandic-style" like Siggis claims to be, but we were not impressed with this yogurt. I am a fan of many different types of yogurts, but you couldn't pay me to eat a whole container of this stuff. Both Joe and I felt like it was absurdly tart, almost as if it contained an entire lemon. The blueberry flavor was nonexistent and it left us with a sour taste in our mouths. Definitely something to skip!
What are your favorite brands of yogurt? In your opinion, did we get it right with our taste test?
Madison