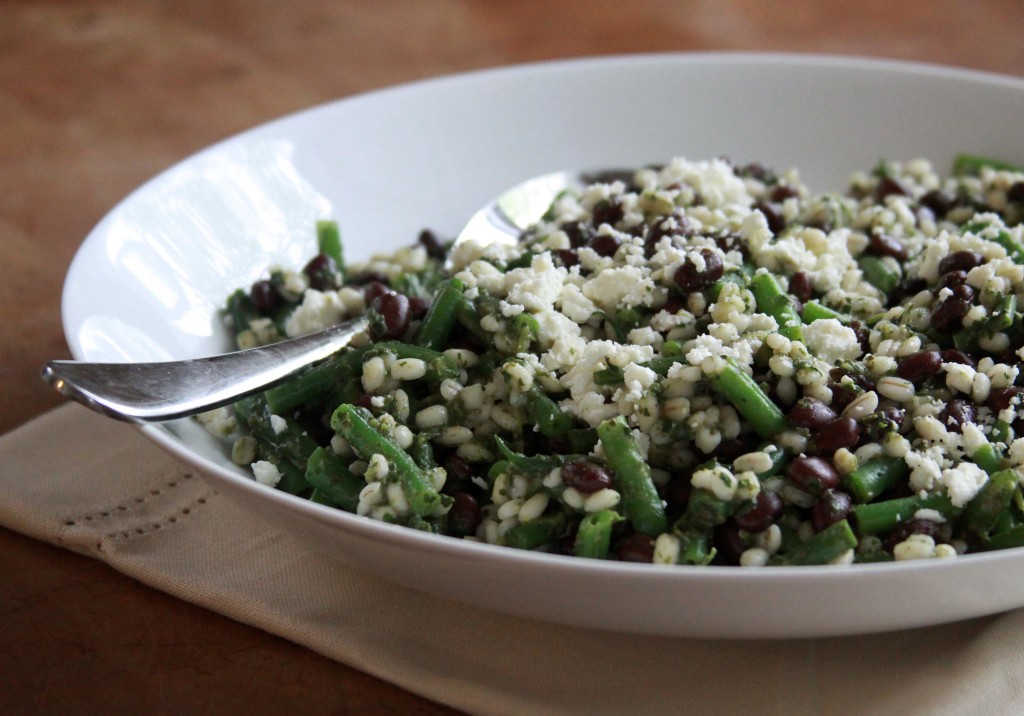 Summer seems to be taking its sweet time arriving in Minnesota this year. And to say that the weather has been crazy this month would be an understatement. We had snow, rain, hail, 100 degree temps and 30 degree temps. And right now? Well it's as muggy as Florida with treats of severe weather and tornados. Crazy, I tell you!
And while summer may not be here in full force, Joe and I have certainly been eating meals that feel like summer. So take that, Minnesota. Grain salads packed with veggies are one of my summer favorites. They are fresh and hearty and store well for a couple days in the refrigerator, meaning I can take leftovers to work the next day. Major bonus.
I ate more than my fair share of this salad last night. Probably a little more than I should have, since I was absolutely stuffed after dinner. Considering that this salad is packed with good-for-you ingredients like barley, black beans and green beans, I guess there are worse things to overdose on.
If you're looking for a dish to take to a picnic or barbecue, I would highly recommend taking along this salad. It's incredibly versatile and easy to customize. If you leave off the feta cheese this dish can also be made vegan, just be sure the purchased pesto you use is vegan, too. Or make your own if you're feeling like an overachiever! 
Barley and Bean Pesto Salad
Makes 2 to 3 dinner-sized servings or 4 to 6 smaller side dish servings
Ingredients
Dressing
3/4 cup baby spinach
2 tablespoons purchased pesto
2 tablespoons olive oil
1 tablespoon balsamic vinegar
1 tablespoon fresh lemon juice
1 teaspoon Dijon mustard
Salad
1 1/2 cups cooked barley (I love the quick cooking barley from Trader Joe's)
8 oz steamed and chopped green beans
1 (15 oz) can black beans, rinsed and drained
1 to 2 oz crumbled feta cheese
Salt and ground black pepper to taste
Directions
1. In a food processor, combine all the dressing ingredients. Process until blended and well combined, scraping down the sides of the bowl as necessary.
2. Combine the barley, green beans and black beans in a large bowl. Toss with dressing until well combined. Season to taste with salt and ground black pepper. Top with crumbled feta cheese. This salad can be served warm, at room temp or chilled. I prefer it chilled.
Happy Cooking!
Madison