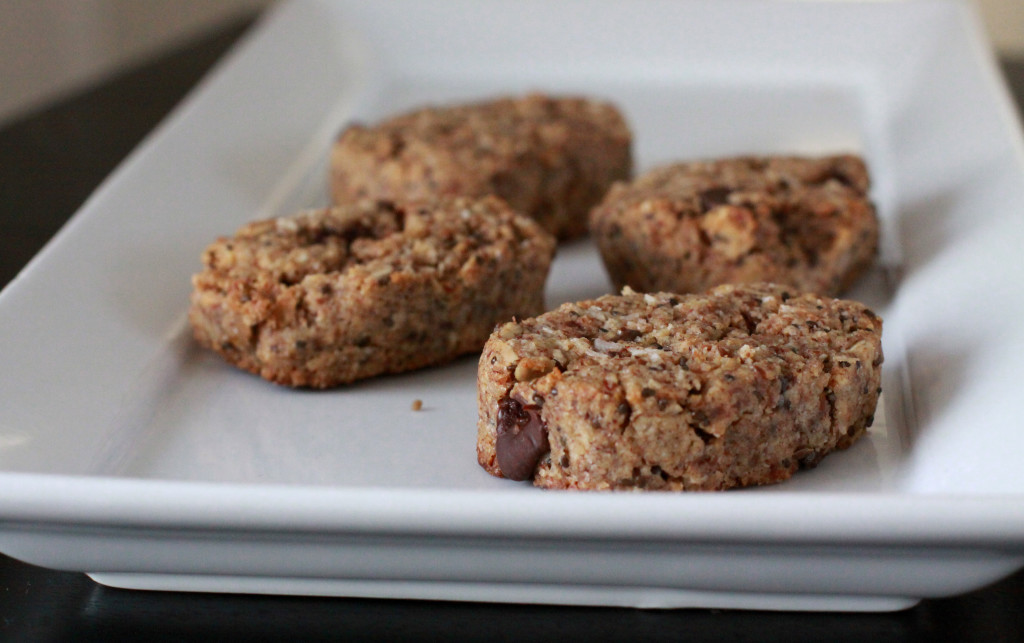 I think it's safe to say that breakfast cookies, however you want to define them, have become a thing over the past couple years. Go into any grocery store or gas station and chances are you can get your hands on a cookie that's billed as being an acceptable form of breakfast. I like cookies and I love breakfast, but I've never really been a fan of breakfast cookies mainly because they are usually not all that more healthy than a regular cookie. Sure, they might have some oatmeal or granola thrown into the batter, but adding oatmeal to dessert does not a breakfast make.
Also: granola bars. Most of them fall into the same category as breakfast cookies. Billed as healthy, nutritious snacks but usually just filled with scary ingredients. Case in point? I was studying the label of a granola bar the other day only to notice that the second ingredient was sugar and the third was corn syrup. Yum?
These cookies are my answer to breakfast cookies and granola bars all at once. Inspired by this almond flour cookie recipe from The Minimalist Baker, these cookies are completely grain-free, low in sugar and packed with protein from the almond flour, sesame seeds and almond butter. But don't let the healthy ingredients fool you. They are also completely delicious.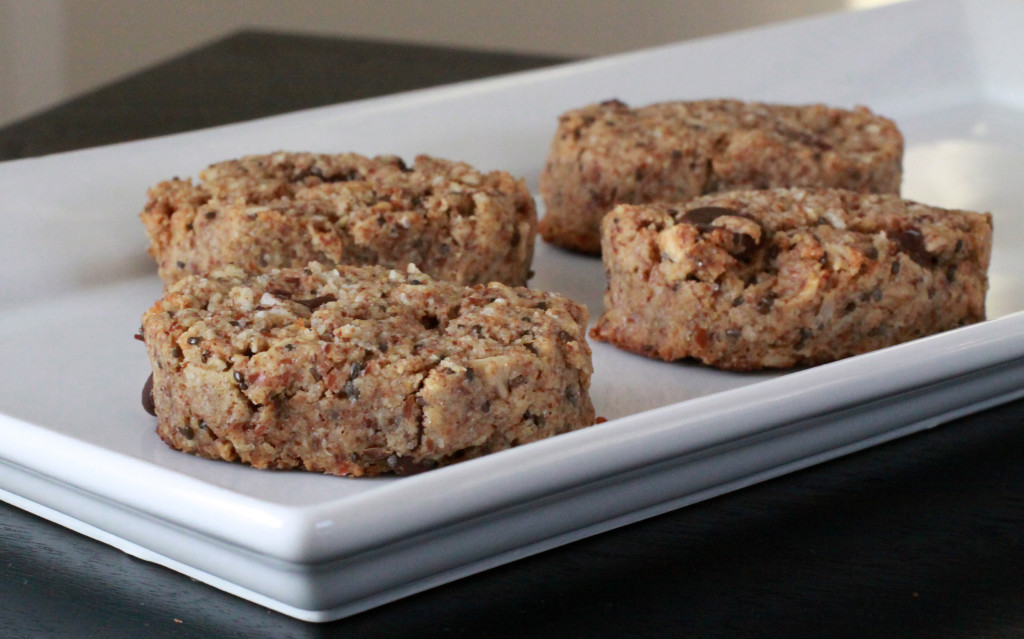 A few recipe notes:
-When making the cookies, the dough may feel a little soft, oily or struggle to hold together. Don't be alarmed since this is totally normal. That's where the refrigeration of the dough before baking comes into play.
-The cookies do not spread out since they are of the slice and bake variety.
-Cooling the cookies completely on the baking sheet and then allowing them to cool completely on a wire rack before eating is important. The cookies will be crumbly if you don't follow this step.
-These cookies store well in a zip top bag or storage container and stay chewy for a couple days following baking. I would imagine that they would freeze well, too, but I haven't tried it.
Happy Baking!
Madison
Almond Meal Everything Cookies
Makes 8 to 12 cookies
Ingredients
*1 1/4 cups almond meal
*1/4 cup sesame seeds
*1/4 cup unsweetened flake coconut (can use sweetened if you can't find unsweetened)
*1/4 cup chocolate chips
*3 tablespoons ground flax seeds
*1/3 cup brown sugar
*1 tablespoon chia seeds
*3 tablespoons melted coconut oil
*1 large egg, lightly beaten
*1 teaspoon vanilla extract
*Heaping tablespoon almond butter
Instructions
*Line a cookie sheet with parchment paper. Set aside.
*In a large bowl, combine the almond meal, sesame seeds, coconut, chocolate chips, flax, brown sugar and chia. Stir to combine.
*In a small bowl, whisk together the coconut oil, egg, vanilla extract and almond butter until smooth. Add wet ingredients to dry ingredients and stir until well combined.
*Roll dough into a log about 8 inches long (dough will be slightly hard to keep together) and wrap the log in aluminum foil or plastic wrap. Refrigerate dough for at least 1 hour.
*Cut refrigerated dough into slices about 1/2 inch thick. Place on parchment lined baking sheet and bake for 12 minutes. Cool cookies on baking sheet for 10 minutes. Transfer to a wire rack to cool completely. This is important that you allow them to cool completely or they will be crumbly when you try to eat them. Store cookies in a plastic container.
Happy Baking!
Madison