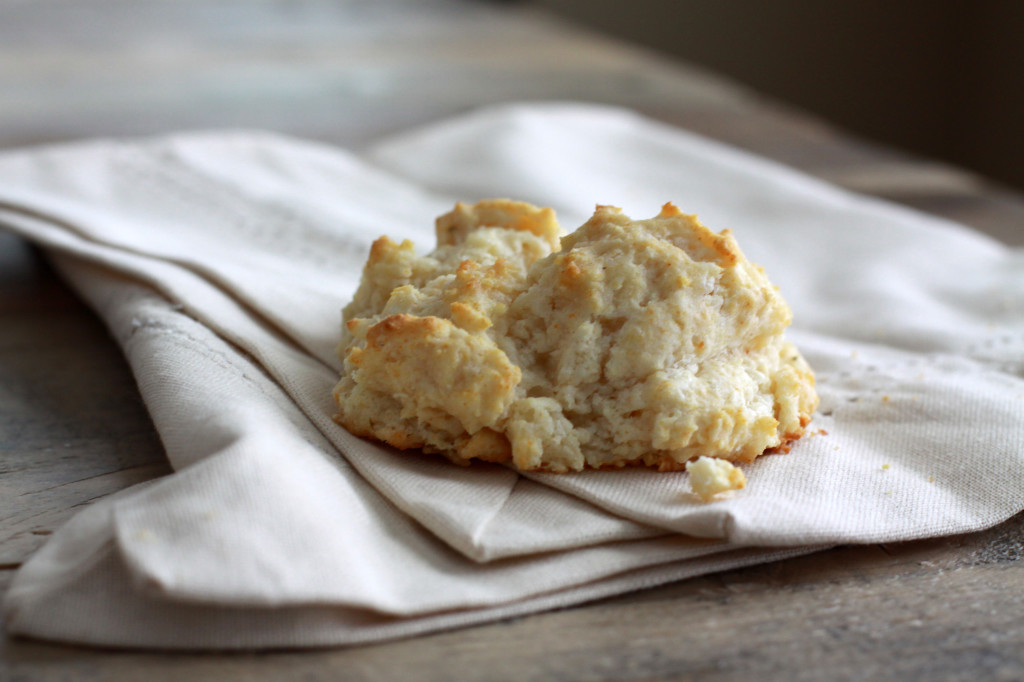 For the past month, Joe has been giving me a hard time about going to Red Lobster. And while I don't mind Red Lobster every once in a blue moon, I can't say I ever crave it. I do, however, have great memories of going to Red Lobster with my dad when we were on a road trip or vacation and needed a quick bite to eat. That said, my husband had a hankering not for Red Lobster in general but for their Cheddar Bay Biscuits. More than anything, this man loves bread and carbs of all shapes and sizes.
To avoid having to go to Red Lobster and pay for an entire meal just to enjoy the biscuits, I made a batch at home. They were super simple and easy to make (thanks, Bisquick!) and cost much less than taking a trip out for dinner. Okay, and they were so darn tasty that I couldn't mask how pleased I was with the results.
I actually posted a very similar recipe a couple years ago, when this blog was still very young. The photos were less than lovely and the recipe was ever so slightly off. Too dry, not enough soft, pillow-y texture to please a true lover of Red Lobster biscuits. To remedy this, I added a little more butter and a bit more liquid. And since I have a thing for white cheddar, I swapped it out for the traditional yellow-looking cheddar cheese the restaurant uses in their biscuits. Feel free to use the later if you want your biscuits to look authentic.
Red Lobster's Cheddar Bay Biscuits
Makes 8 biscuits
Ingredients
*2 cups Bisquick
*8 tablespoons butter, divided
*1/2 cup shredded sharp cheddar cheese (I used white cheddar but for the authentic Red Lobster look, use yellow)
*1/4 teaspoon Old Bay seasoning
*1/2 teaspoon garlic powder
*2/3 cup milk
Instructions
*Preheat oven to 450°F. Lightly grease a baking sheet. Set aside.
*Place Bisquick in a large bowl and cut in 6 tablespoons of the butter with a pastry cutter until the mixture resembles coarse crumbs. Add in the cheddar cheese, Old Bay seasoning and garlic powder.Stir until well combined. Add in the milk and stir until all the dry ingredients are moistened.
*Spoon batter by heaping spoonfulls onto the baking sheet about an inch apart. Bake for 8 to 10 minutes or until biscuits are light golden brown. Cool for 5 minutes on the baking sheet. *Meanwhile, melt the butter. Brush the warm butter atop the biscuits. Transfer biscuits to a wire rack to cool completely, or serve warm, if desired. Makes 10 to 12 biscuits
Happy Baking!
Madison