Good morning, friends, and happy Monday. I'm entering the home stretch of my break between jobs. This week is my final week at home before I start the new gig next week. And while I was pretty nervous about being bored or restless during my time off, I have been loving my down time, staying busy with errands, blogging and things that needed to be done prior to our house closing this Friday.
One of the biggest perks about my mini stay-cation has been the fact that I've had more time to play around in the kitchen and make breakfasts that take more than five minutes to prepare. Last week while I was browsing Trader Joe's I noticed they had three different small bags with quick-cooking grains: farro, barley and bulgur. The packaging was so darn cute I couldn't resist picking up a couple bags.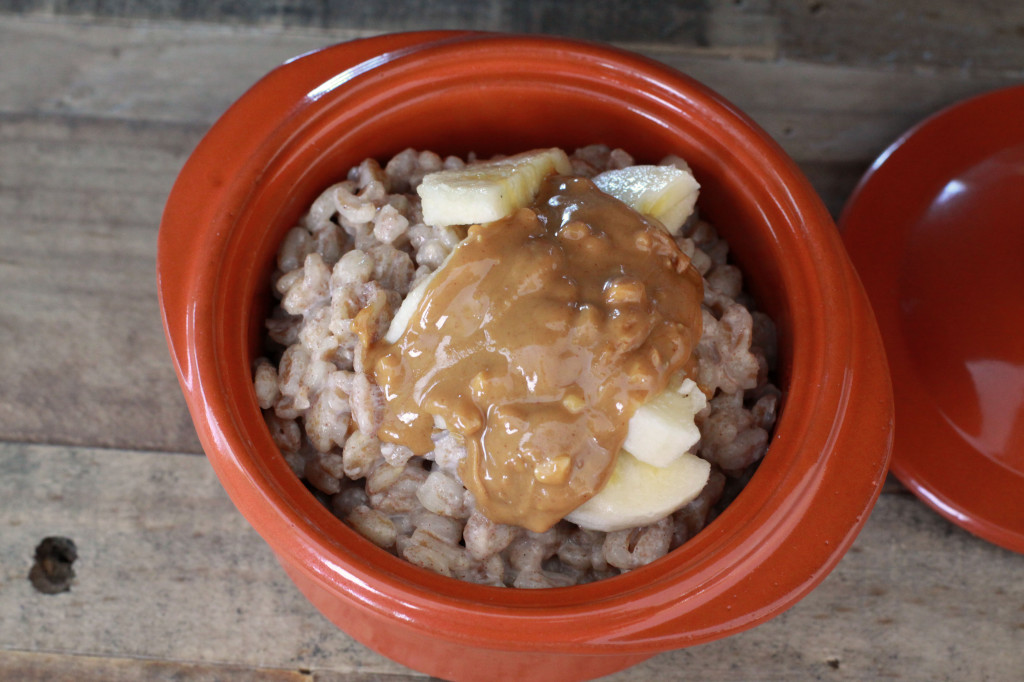 I've only had farro a couple times and both of the times that I had farro it was prepared in a savory manner From what I remembered about the grain, I thought it would make a fantastic substitute for oatmeal when making a bowl of hot breakfast cereal.
For those who haven't made or eaten farro before, it's a fantastically versatile grain with a chewy, hearty texture that falls somewhere between brown rice and pasta. It's more calorie dense than rolled oats, clocking in at around 290 calories per 1/2 cup dry farro, but I find that it keeps me incredibly full, especially when topped with peanut butter and bananas. As a vegetarian, I was also pleased to see that a serving of farro contains 10 grams of protein. Pretty great, huh?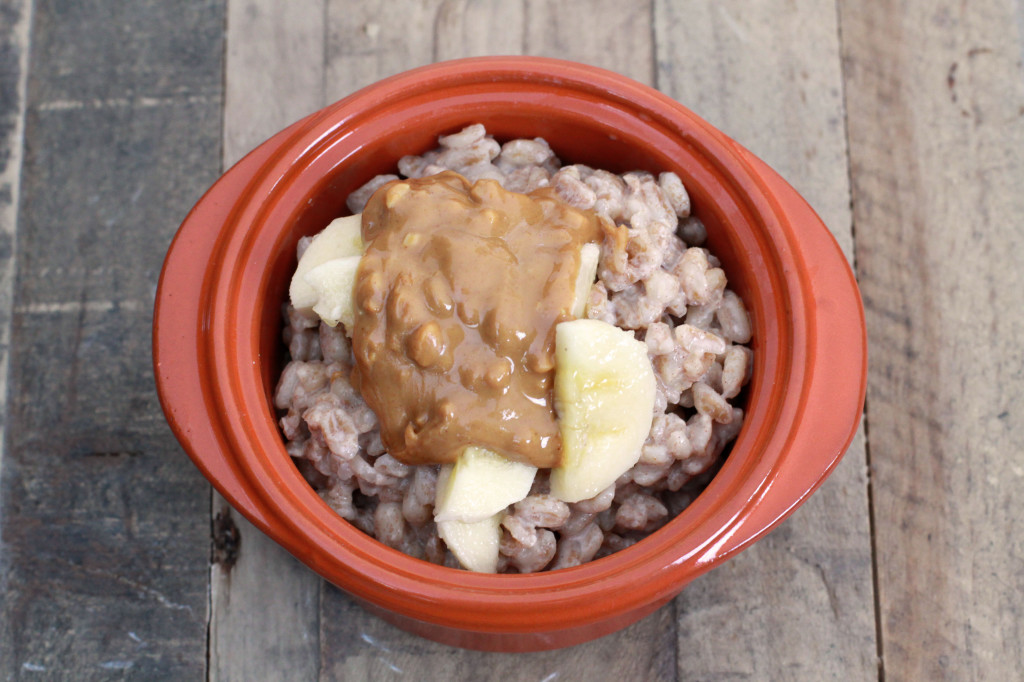 These days I rarely drink cow's milk, choosing substitutes like almond milk and soy milk instead. So I decided to make this recipe vegan, simmering the farro in unsweetened almond milk instead of cow's milk or water. Doing so gives the farro a creamy texture with only 30 extra calories per serving. However, if you are going to use milk or almond milk in place of water, keep an eye on the farro while it is cooking. The almond milk I used had a tendency to bubble over if I didn't give it a stir every now and again. A small price to pay for an incredibly tasty breakfast.
Vegan Breakfast Farro
Makes 1 Serving
Ingredients
*1 cup unsweetened vanilla almond milk
*1/2 cup Trader Joe's 10 Minute Farro
*Pinch of salt
*1/2 teaspoon vanilla extract
*1/2 teaspoon ground cinnamon
*2 packets stevia no-calorie sweetener (sch as Truvia) or 1 Tablespoon brown sugar
Instructions
*In a small saucepan with a lid, bring almond milk to a boil. Add farro to the almond milk and reduce heat to low so mixture is at a simmer. Cover and simmer for 10 minutes, stirring occasionally. Be careful to keep an eye on the mixture because the almond milk tends to bubble over.
*Once farro is cooked, remove from heat and stir in the salt, vanilla, ground cinnamon and stevia or brown sugar. Transfer to a bowl and serve with desired toppings, such as chopped nuts, nut butter and/or bananas.
Happy Cooking!
Madison