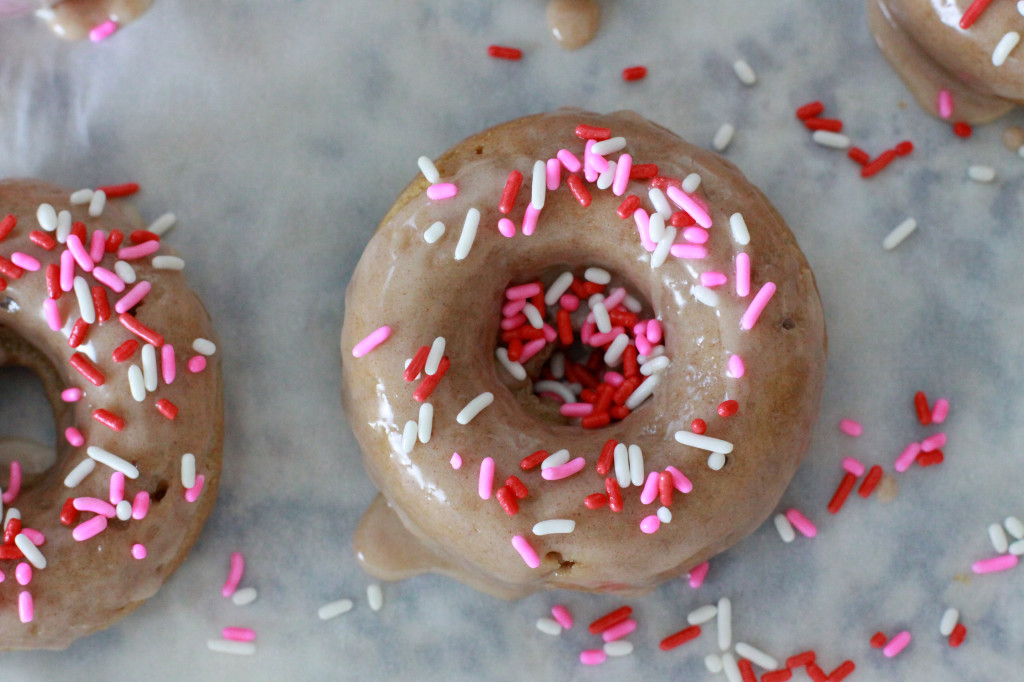 When it comes to breakfast, I really do believe it is the most important meal of the day. Most of the time I find myself in bed, planning what I'm going to have for breakfast the following morning. It tends to be a steady rotation of oatmeal, toast with peanut butter and sliced banana, a bowl of Greek yogurt with fruit or the occasional almond milk smoothie in the summer.
Truthfully, doughnuts for breakfast have never really been my cup of tea. Perhaps because I know they're fried or, more than likely, because they never seem to have enough substance to keep me full for more than a couple hours. Which means I need a second breakfast around 9:30. But there are some occasions, like Valentine's Day, that seem to call for a breakfast that is less about being practical and more about frivolity. On those occasions, toss out the oatmeal, eggs and toast and make doughnuts! Eat two or three to keep you full and feel good about the fact that they are baked, not fried, which I'm pretty sure cancels out the fact that they're covered in powdered sugar glaze and colored sprinkles.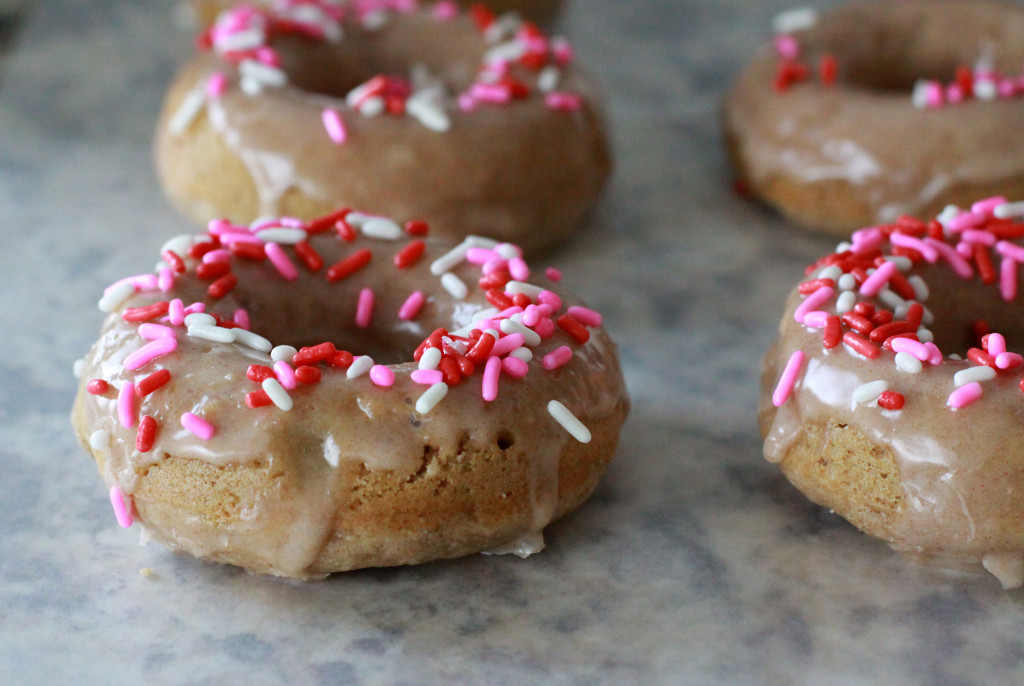 I can't tell you how much I love these doughnuts. Or how much everyone else enjoyed them, too. It took me three times to get the texture and taste down, which isn't an easy thing to do when you want a doughnut that tastes like fried cake but isn't. They're soft and moist thanks to the addition of finely chopped apples stirred into the batter; I found the apples keep the doughnuts tasting fresh days after you make them because they don't allow the doughnuts to dry out.
Oh, and the glaze? Well, we didn't have any apple juice on hand. The closest thing available was hard apple cider, which found its way into these doughnuts. For those opposed to beer with their breakfast, apple juice makes a wonderful substitution. Also, if you're looking for another amazing recipe for Valentine's Day, my sister-in-law, Amber, made the most amazing Reese's Peanut Butter Cookies. They are seriously the best cookies I've ever had, and that's saying something!
Baked Apple Cinnamon Doughnuts
Makes 8 donuts
Ingredients
*1 cups all-purpose flour
*1/4 cup whole wheat pastry flour or white whole wheat flour
*1/2 teaspoon baking soda
*1/4 teaspoon salt
*1/2 teaspoon ground cinnamon
*1/2 cup sugar
*4 tablespoons butter, melted
*1 large egg, lightly beaten
*1/2 cup + 2 tablespoons milk
*3/4 cup peeled and finely chopped granny smith apple (about 1 medium apple)
Glaze
*1 cup powdered sugar
*1/2 teaspoon ground cinnamon
*1/4 cup hard apple cider or apple juice
*Sprinkles (optional)
Instructions
*Preheat oven to 350°F and lightly grease a nonstick doughnut pan. Set aside.
*In a large bowl, combine the flour, baking soda, salt, ground cinnamon and sugar. In a second bowl, combine the melted butter, egg and milk. Add the wet ingredients to the dry ingredients and and stir until evenly combined. Stir in the apples.
*Transfer batter to a pastry bag or a large zip top bag with the corner snipped off. Pipe some of the batter into the prepared doughnut pan. Bake for 12 minutes or until the doughnuts are puffed up and lightly golden brown. Remove from oven. Cool slightly in pan and transfer to a wire rack. Bake up remaining batter. This should make about 8 doughnuts.
*While doughnuts are still slightly warm, stir together the ingredients for the glaze. Dip warm doughnuts into the glaze and transfer doughnuts to a wire rack to cool completely. Top with sprinkles before glaze has a chance to harden, if desired.
Happy Baking!
Madison