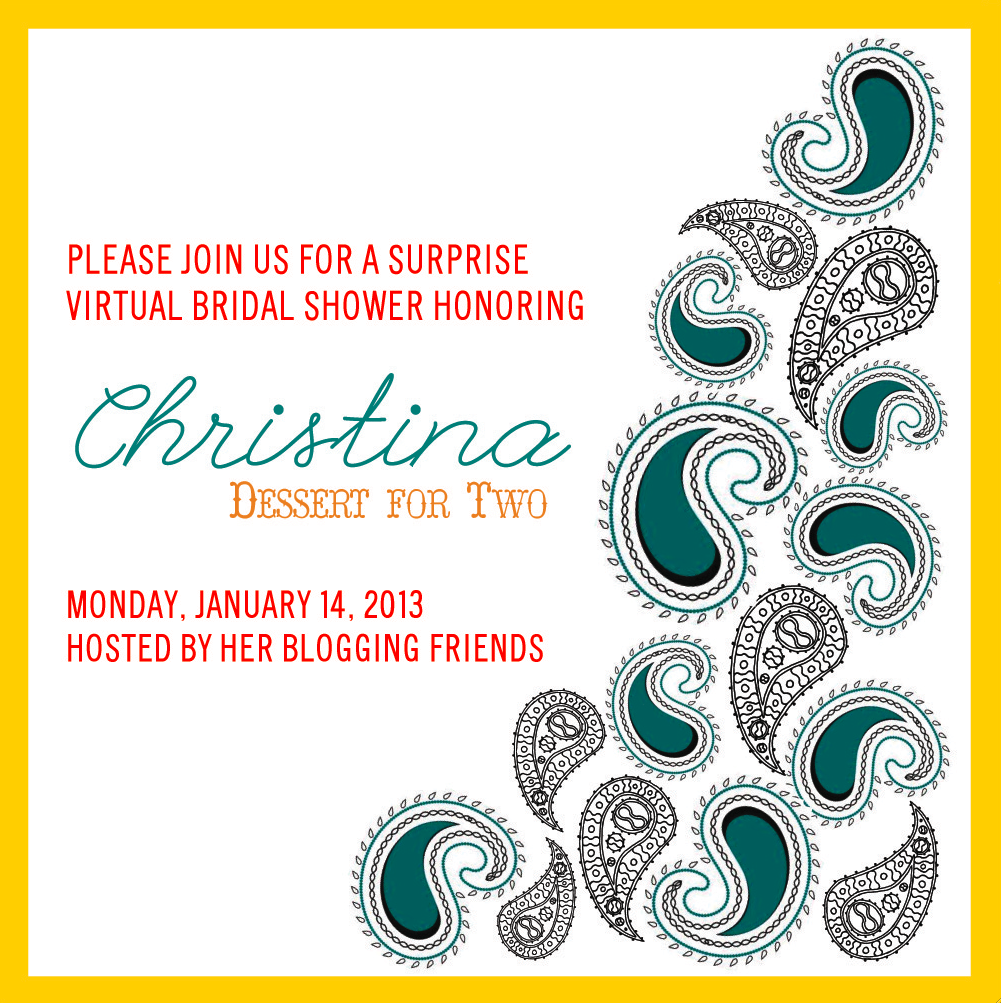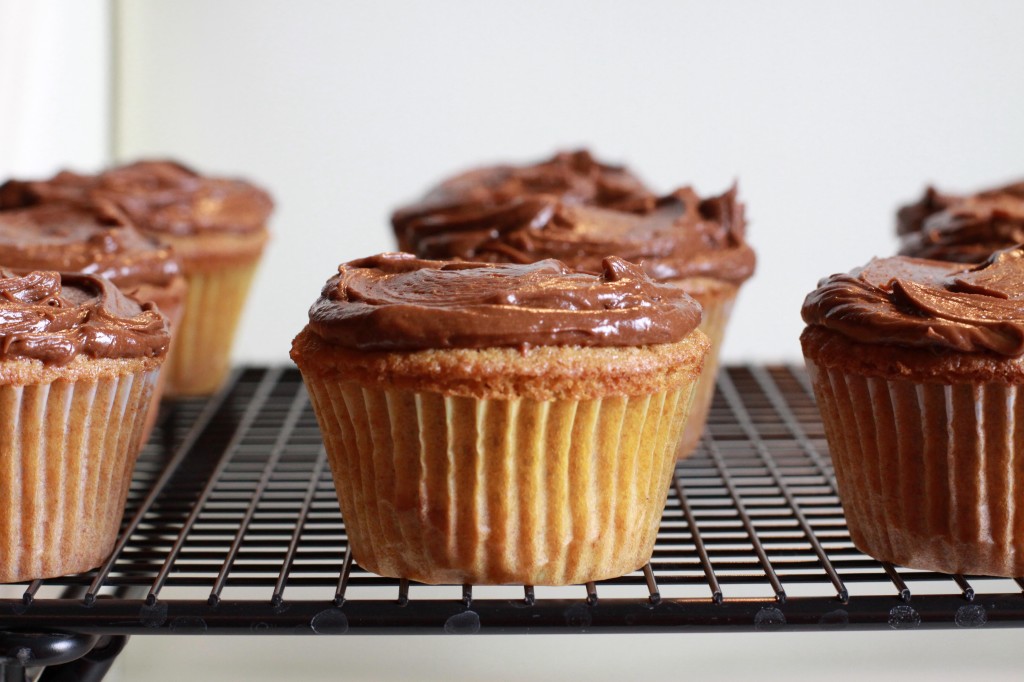 One of my absolute favorite things about blogging is the fact that I have developed so many friendships over the past couple years. Some of these friendships are just via e-mail, tweets and blog comments, but I've also had the opportunity to go on a lot of "blogger dates" with some of my favorite people online. Joe is notoriously skeptical, since he is of the (logical) frame of mind that you can become whoever you want to be on the internet. When possible, he serves as my guard and protector and accompanies me on my blogger dates, or at least hangs around near wherever I am. And I'm still alive! So it must be working, right?
This fall, Joe and I had the pleasure of meeting up with the lovely Christina of Dessert for Two and her Mr., who I still like to think of as Mr. Dessert for Two, for an afternoon of eating and shopping in Kansas City. As is typical with any blogger date, I was super nervous that it would be awkward (okay, maybe I was just worried I would be awkward!) or that we wouldn't hit it off in person. But Christina was every bit as lovely and adorable as she appears to be on her blog and is excellent help when shopping. In fact, Christina, I think you need to make a trip up to Iowa sometime soon.
This whole long story is really just to illustrate that she's a lovely lady, who also happens to be getting married. So today, myself and a handful of other bloggers are throwing her a virtual bridal shower in honor of her big day!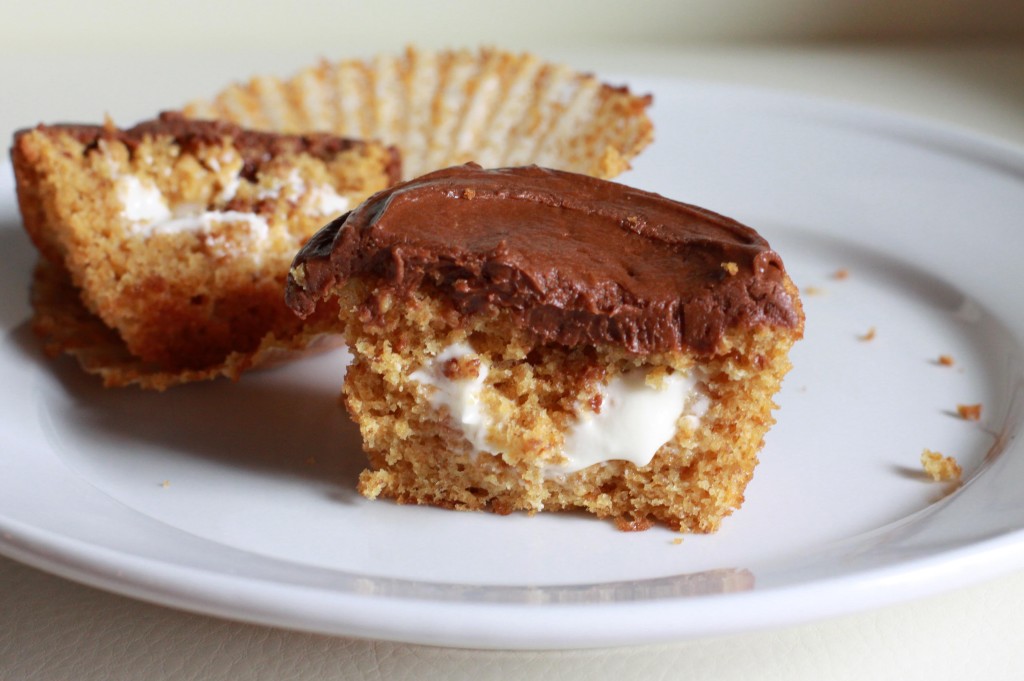 It took me a while to decide on what to bake, but once it hit me I knew the idea would be perfect for the occasion. Since Christina is a southerner, I have a feeling she probably knows a thing or two about MoonPies. Am I right, Christina? My dad grew up in Texas and Florida, and I remember him telling me stories about how he would eat MoonPies (two graham-cracker like cookies with marshmallow filling sandwiched in between and covered in chocolate) with Pepsi as a child. When I spotted a box of MoonPies at our local hardware store a few months back, I wrapped them up and sent them to my dad as a surprise.
So today, I'm giving you MoonPies in cupcake form! The base of these babies is a graham cracker cake, filling with a marshmallow cream filling and topped with chocolate ganache frosting. Prior to last week I had never eaten a graham cracker cake, but I was pleasantly surprised with the results. Despite only containing a quarter cup of flour, the cake is incredibly light thanks to whipped egg whites. And the marshmallow cream filling and chocolate ganache? Well I hardly think I need to do any explaining about how tasty those two things are.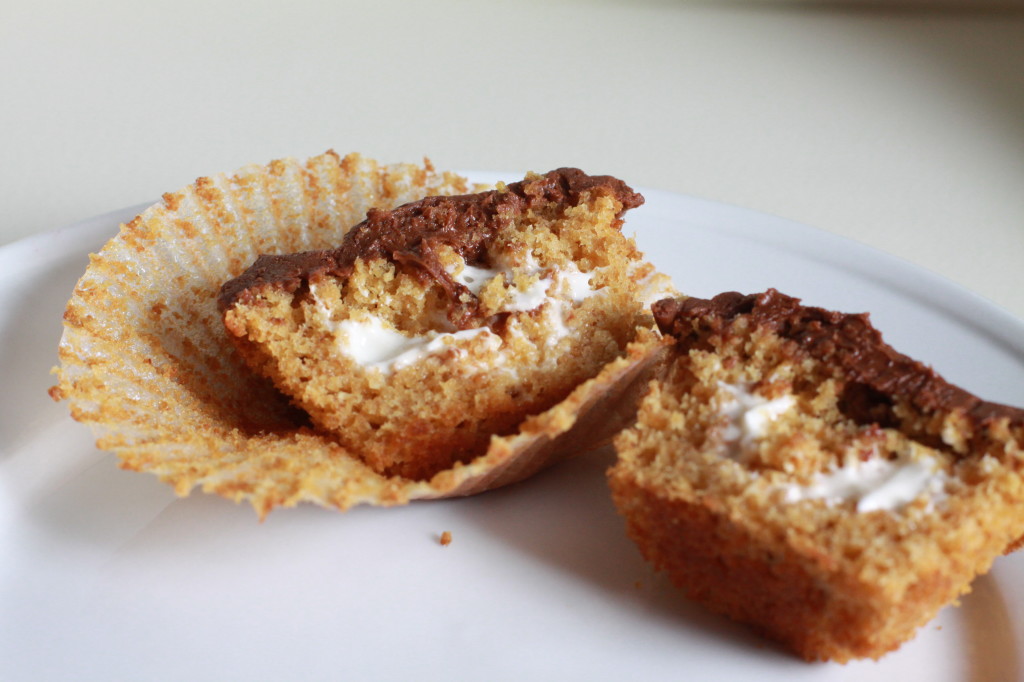 So please join me in wishing Christina the best as she prepares for her big day. Here are links to the amazing recipes shared by the other bloggers participating in the shower:
*Strawberry Macaroons from Krissy's Creations
*White Wedding Cupcakes from Table for Two
*Sweet & Salty Party Cookies from Keep It Sweet
*Mini "I Do" -nuts from Chip Chip Hooray
*Whiskey Walnut Blondies from Eat Live Run
*Brown Butter Snickerdoodles from Eats Well With Others
*Lemon Cupcakes with Sweet Tea Frosting from Confessions of a Cookbook Queen
*Chocolate Covered Cheerios from Cookies and Cups
*Mini Coconut Cream Pies from Country Cleaver
MoonPie Cupcakes
Graham Cracker Cake
Recipe from BHG.com
*3 egg whites at room temperature
*1 2/3 cups graham cracker crumbs
*1/4 cup all-purpose flour
*1 1/2 teaspoons baking powder
*1/4 teaspoon salt
*1/2 cup shortening
*1 cup sugar
*3 egg yolks
*3/4 cup milk
*1 recipe Marshmallow Filling (below)
*1 recipe Chocolate Ganache Frosting (below)
Instructions
*Set egg whites aside in a small bowl and allow them to come to room temperature. Line a muffin tin with paper baking liners and preheat oven to 350°F. Set aside.
*In a large bowl, combine the graham cracker crumbs, flour, baking powder and salt. Stir until well combined.
*In the bowl of an electric mixer, beat the shortening until smooth. Add in the sugar and beat until well combined. Add the egg yolks, one at a time, beating until just incorporated. Alternately add the graham cracker mixture and milk, beginning and ending with the dry ingredients. Beat until just combined.
*In a clean mixer bowl fitted with a whisk attachment, beat the egg whites until stiff peaks form. Fold egg whites into the graham cracker batter. Spoon the batter into the muffin liners and fill about 3/4 of the way full. Bake for 20 minutes, or until a toothpick inserted in the center comes out clean. Cool on wire rack completely.
*Once cupcakes are cooled, use a small knife to hollow out the center of each cupcake. Pipe some of the Marshmallow Filling into the center of each cupcake. Cover the top of the filling with some of the removed cupcake. Spread Chocolate Ganache Frosting atop the cupcake. You will have leftover ganache, but I don't think that is a bad problem to have.
Marshmallow Filling
Recipe from Sweet Pea's Kitchen
*6 tablespoons butter
*1 1/2 cups powdered sugar
*3/4 cup marshmallow fluff
*1 1/2 tablespoons heavy cream
Instructions
*In the bowl of an electric mixer, beat together all the ingredients until smooth and creamy.
Chocolate Ganache Frosting
Adapted from FoodNetwork.com
*3/4 cup smi-sweet chocolate chips
*1/2 cup heavy cream
*1 teaspoon instant coffee granules
*1/2 teaspoon vanilla extract
*1 1/2 cups powdered sugar
Instructions
*In a nonstick pan over medium low heat, combine the chocolate, cream and coffee granules. Heat until chocolate is melted, stirring frequently. Add in the vanilla extract and stir to combine. Refrigerate mixture for 10 to 15 minutes, until slightly thickened and cooled. Stir in the powdered sugar by hand and frost the cupcakes immediately. The ganache will continue to thicken and make it hard to spread atop the cupcakes if you don't use it quickly.
Happy Baking!
Madison