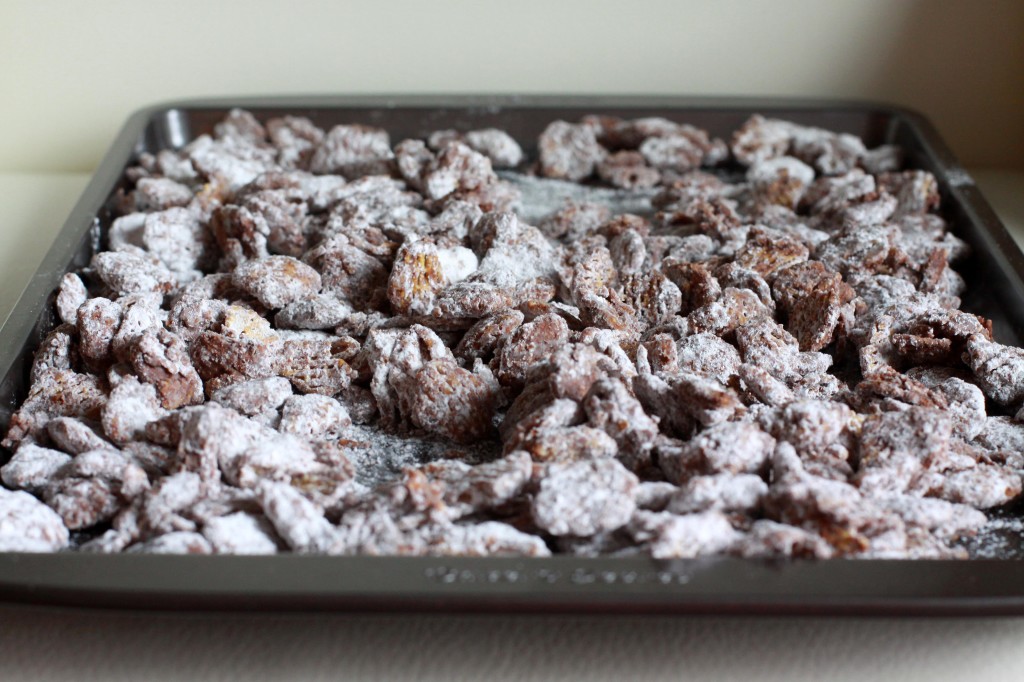 Over the last couple weeks, Joe and I have been watching a lot of football. Between the bowl games over the holiday season and the NFL Playoffs, we've spent more time on the couch than I care to admit. Seeing as that we are going to have to go eight months before football season gears up again in the fall, I have justified my lazy behavior as absolutely necessary.
Most of the time we simply sit down and watch the game, but when our teams are playing (the Florida Gators and the Minnesota Vikings, for those who care to know) I make an effort to prepare something special to munch on while we watch. Last week I made a batch of puppy chow for the first time in a very long time. I remember eating a lot of puppy chow in high school, when calories weren't exactly at the top of my mind. But in recent years, my puppy chow consumption has dropped.
As I was preparing this post, Joe looked over my shoulder and said, "Do you really think people need a recipe for puppy chow?" Truthfully, you probably don't need this recipe. But if you are like me and haven't made puppy chow in years, then perhaps you need a refresher? A really tasty refresher at that.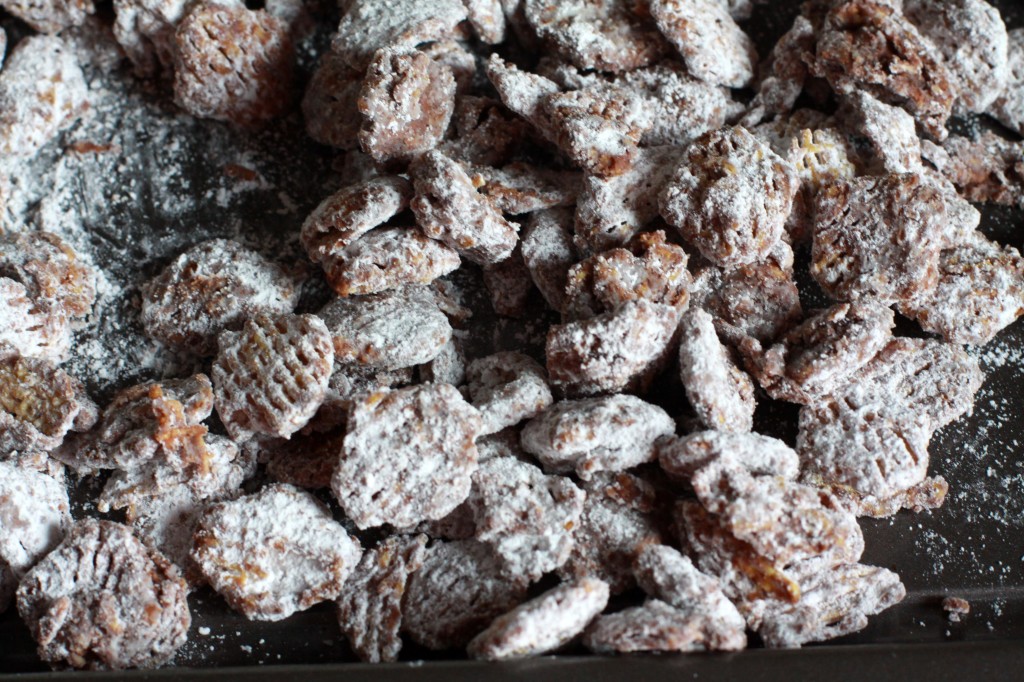 I was in the camp that needed some reminding on how to make this delicious snack, so I consulted one of my favorite bloggers for easy, quality and delicious recipes: Savory Sweet Life. I've talked about Alice's site before, but I think it's worth mentioning again how much I love it. It's a great resource for moms with kids, too, since she isn't going to ask you to cook with a bunch of specialty ingredients.
This recipe for puppy chow (or Muddy Buddies, as Alice calls the recipe) is basic and totally delicious. I tweaked it ever so slightly, but kept the basics intact. Of course, it made way more puppy chow than two people should ever have in the house at one time. Don't say I didn't warn you.
Puppy Chow
Recipe slightly adapted from Savory Sweet Life's Puppy Chow
Ingredients
*9 cups Crispix cereal
*1 cup semi-sweet chocolate chips
*1/2 cup creamy peanut butter (not the natural variety)
*1/4 cup butter
*1 teaspoon vanilla extract
*1 1/4 cups powdered sugar
Instructions
*Place Crispix in a very large bowl. Set aside.
*In a saucepan over medium heat, combine the chocolate chips, peanut butter and butter. Cook, stirring frequently, until chocolate and butter and melted and all ingredients are well combined and smooth. Add in the vanilla extract.
*Drizzle chocolate mixture atop the Crispix and stir until well combined and cereal is evenly coated. Add the powdered sugar to the bowl and stir until powdered sugar evenly coats the cereal.
Happy Baking!
Madison