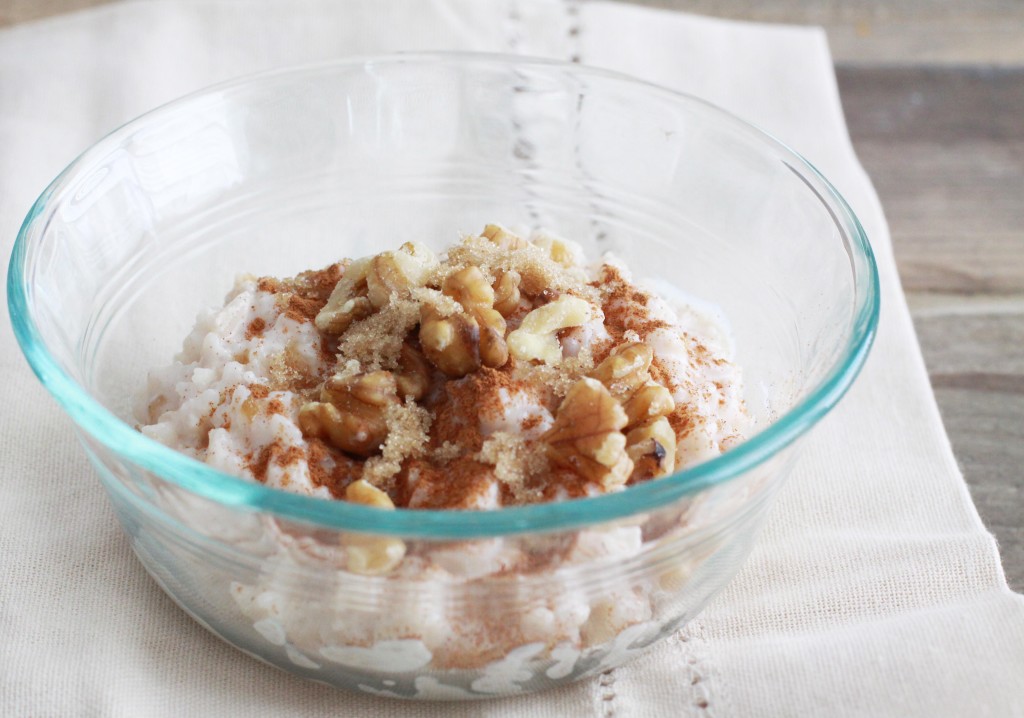 I'm really starting to lose track of what day it is. This break from work before I start my new job is both the most wonderful and bizarre experience, seeing as that I haven't had this much time out of the working world (three. whole. weeks.) since the summer before my senior year of college. And although I feel a bit guilty sending my hubby off to work each morning while I'm left to read books, bake and exercise, I'm trying to soak it up and enjoy this very rare and wonderful opportunity.
None of that really had anything to do with rice pudding, other than the fact that I now have plenty of time to make things that require a little more hands-on time, like rice pudding. (How's that for a smooth transition…)
Growing up, I remember my mom making the most comforting rice dish consisting of white rice, a little warm milk and plenty of cinnamon sugar. To this day just the idea of that dish makes me feel good inside, and now and again I'll make it for Joe for dinner. This week, I finally took one of my favorite childhood dishes a step further by making rice pudding.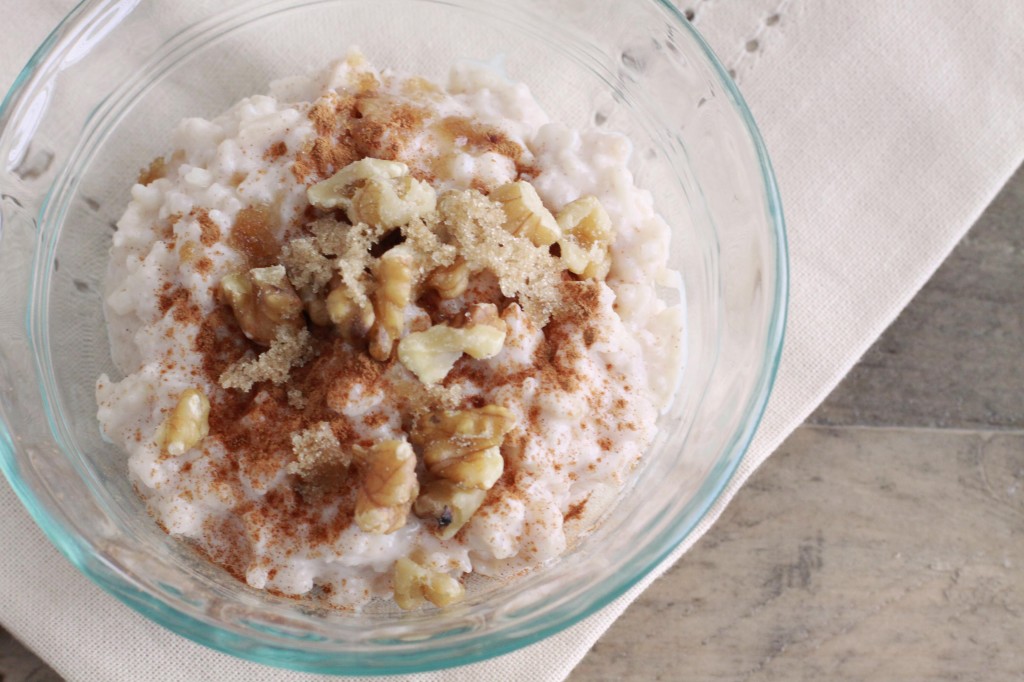 There are multiple methods and recipes for making rice pudding. Some require stove top cooking paired with baking in a steam bath in the oven; those recipes typically contain a couple egg yolks that bake during the steam bath step. The method I used for this recipe more closely resembles the method for making risotto, by adding liquid slowly, 1/2 cup at a time, until all the liquid is added and absorbed by the rice, which results in a thick, creamy rice pudding with very few ingredients required!
I think it goes without saying that I loved this recipe and am wondering why I haven't taken the time to make rice pudding sooner. Despite the semi-lengthy hands-on time, it's actually pretty simple to make. And this recipe makes a lot of rice pudding so there are plenty of leftovers to last you through the week. Maybe this sounds crazy, but I find it makes a pretty great dessert when topped with peanut butter. But then again, doesn't everything taste better with peanut butter?
Have a great day, friends!
Rice Pudding
Ingredients
*1 1/2 cups arborio rice
*1/2 cup granulated sugar
*7 cups whole milk, plus additional for serving
*2 teaspoons vanilla extract
*1 1/2 teaspoons ground cinnamon
*Garnishes such as walnuts, pecans, brown sugar, raisins and additional cinnamon (optional)
Instructions
*In a medium saucepan over medium low to low heat, combine the rice, sugar and 1 cup of the milk. Bring to a simmer and continue to cook, stirring frequently, until most of the liquid is absorbed. Continue adding the milk, 1/2 cup at a time, bringing back to a simmer each time and stirring until the liquid is absorbed after each addition and until all of the milk is used up. This process will take between 35 and 45 minutes from my experience so that the rice is cooked and the rice pudding is thick.
*Remove rice pudding from heat. Add in the vanilla and ground cinnamon and stir until evenly distributed. You may eat it warm at this point, which I really like, or place in the refrigerator until chilled. If you refrigerate, you will need to add additional milk before serving to give the rice pudding a pleasant consistency. I also recommend zapping it in the microwave for 30 seconds to take the chill off it. Garnish with walnuts, brown sugar, raisins and/or additional cinnamon if desired.
Happy Baking!
Madison