Good morning and happy Monday, friends! Did you all have a good weekend? We certainly did, though we didn't do anything too crazy exciting. Joe was feeling under-the-weather on Friday, so we stayed in with a few back episodes of Grey's Anatomy and a Pappa John's pizza. Thankfully Joe was feeling better on Saturday so we took in a free early morning yoga class, ran errands and went to see Argo on Saturday night. Has anyone seen it? If you haven't, I highly recommend it. So good!
Since Mondays seem like a good day to get stuff done, I'm doing a little house cleaning on Espresso and Cream today. I wanted to share that E&C is now accepting individual or corporate advertising partners! I know this won't apply to many of you, but if you do have a brand, blog or business that you want to promote, this is a great affordable way of reaching a large group of people.
I am anticipating that some of you may not like the idea of monetizing a blog through advertising, and to be honest, I don't like talking about it. But my goal through this is to curate advertising from brands, companies and blogs that I feel would be of interest to the E&C reader. The money I make through advertising does not make me rich. Rather, the money goes toward helping fund recipe development, ingredient costs and and sponsoring our child in Honduras, Anai. If you would like more information about advertising, visit the advertising page. Or feel free to e-mail me (madisonjanemayberry@gmail.com) with any questions!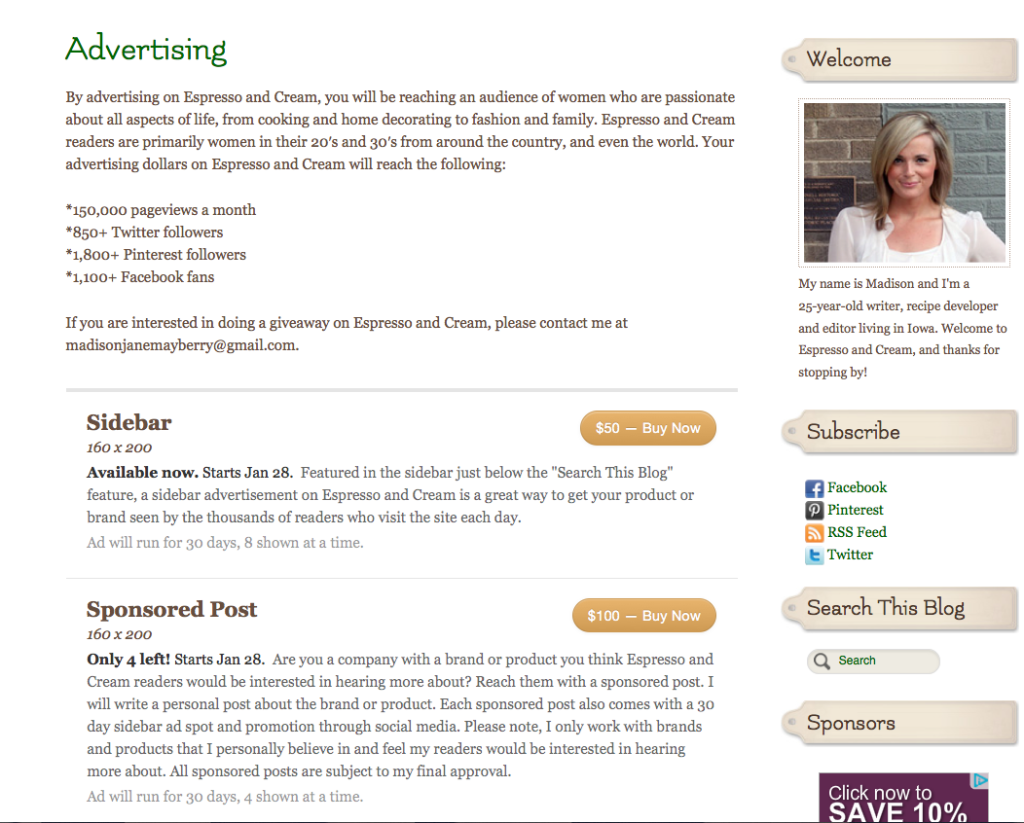 Madison