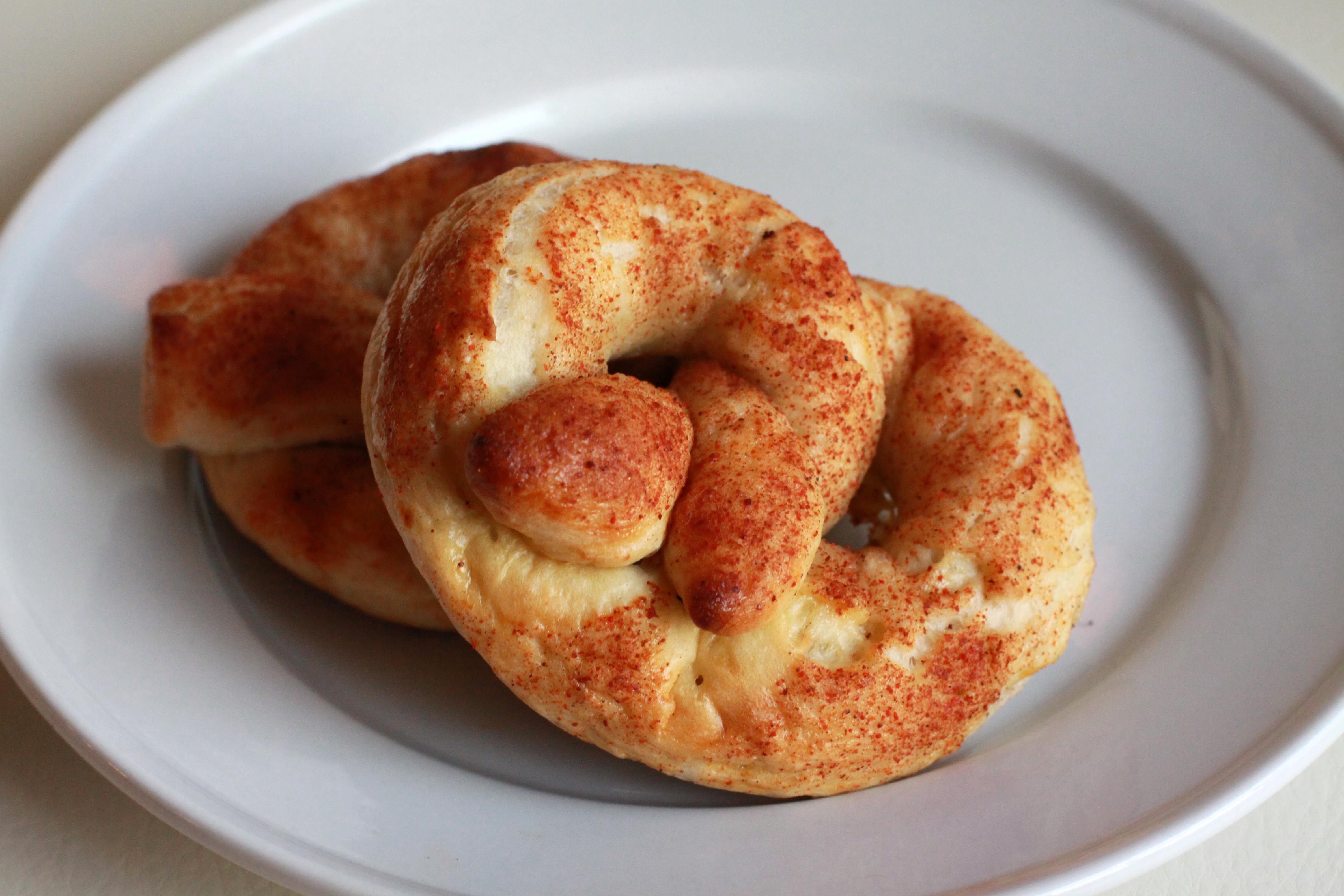 Happy Wednesday, friends! We are settling into life in Minneapolis as best we can despite the fact that the weather is absolutely freezing. We're talking -10°F, which of course makes me want to hibernate and eat cookies rather than run errands and exercise. I've been through winter in the Midwest for almost two decades, but it still never gets any easier during the months of January and February.
I have no idea where I am going with all this other than to state, yet again, that it is freezing cold and humans aren't supposed to live in conditions such as these. So to cope, let's make semi-homemade soft pretzels and eat them in our warm houses while sitting by a fire. Or a space heater. Shall we?
These pretzels are incredibly easy thanks to the use of pre-made pizza dough. Of course, if you have a little extra time on your hands, feel free to make your own dough based off a favorite bread dough or purchase a pre-made whole wheat option to make them a little more wholesome. Either way, they are so darn delicious. Just enough spice to balance out the sweet. If you give them a try, I would love to know what you think!
Praying it is warmer where you are!
Cinnamon-Sugar Soft Pretzels with Cayenne
Ingredients
*1 can of ready-to-bake pizza dough (I used Pillsbury)
*Water for boiling
*1 egg yolk
*1 tablespoon water
*2 tablespoons granulated sugar
*1/4 to 1/2 teaspoon ground cinnamon
*1/4 teaspoon cayenne pepper
*Kosher salt to taste
Instructions
*Preheat oven to 450°F. Line a baking sheet with parchment paper. Set aside.
*Bring a large stock pot full of water to a boil. While water is coming to a boil, divide dough into five or six equal portions. Roll each portion into a long, thin rope about 20-inches long. Form each rope into a pretzel shape by making a U-shape, then crossing the ends and sealing the ends of the dough at the base of the U. Make sure to pinch ends together to seal well.
*Place dough pretzels in the boiling water, two at a time, and boil for 1 1/2 minutes. Remove from water with a slotted spatula and transfer to the parchment-lined baking sheet. Repeat with remaining four pretzels. Once pretzels have all been boiled, combine the egg yolk and water mixture and brush over pretzels. In a small bowl, combine the sugar, cinnamon and cayenne. Sprinkle over the pretzels. Top with Kosher salt to taste. Bake for 12 to 15 minutes, or until the pretzels are golden brown and baked through. Remove from oven and serve.
Happy Baking!
Madison