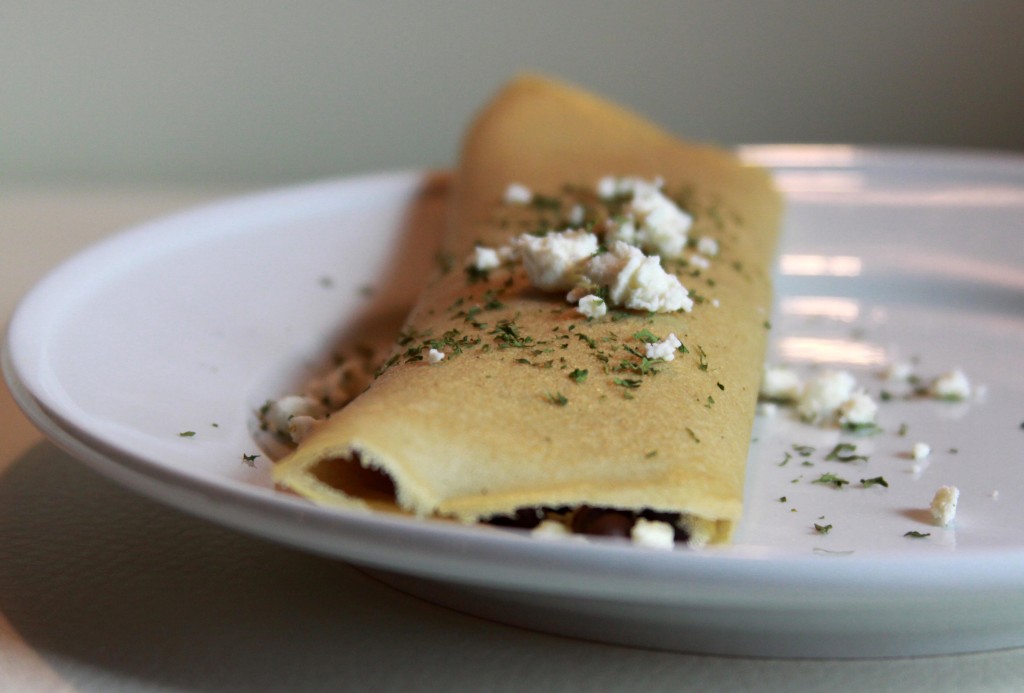 One of the perks of the days that I get to work from home is that I get to make lunches that are a bit more elaborate than I might make and take with me to the office. Case in point: Last week's lunch of Quinoa Flour Crepes with Black Beans and Feta. For a while now, I've been playing around with different uses for Feed Adam Quinoa Flour. It's a savory flour with a definite flavor profile that lends itself to making thin crepes filled with savory ingredients, like black beans and salty feta cheese.
I fell in love with these crepes at first bite. They're fantastic! And since crepes are thin, they aren't too heavy to enjoy at lunch but substantial enough for dinner. If you've never made crepes before, remember that practice makes perfect. No matter how many times I make crepes, the first one or two never turn out. It's just a law of nature. Or that's what I am going to tell myself. The key is to swirl the crepe batter around in the pan quickly to get an even coating around the surface. Also, using a nonstick skillet is key to making sure the thin crepes come out of the pan easily and flip without getting stuck to the bottom.
And if you don't succeed on the first try, don't give up. Once you get the method down, you'll find it's actually pretty easily and incredibly rewarding to make crepes for breakfast, lunch or dinner.
Quinoa Flour Crepes
Recipe adapted from 100 Days of Real Food Whole-Wheat Crepes
Ingredients
* 3 large eggs
*1 cup milk
*3/4 cup water
*1/2 teaspoon kosher salt
*1 cup quinoa flour
Instructions
*In the blender, combine all the ingredients and blend until smooth, about 1 minute. Transfer to a bowl and allow the mixture to set for 15 minutes.
*Preheat a small skillet over medium heat. Lightly coat the bottom of the skillet with butter. Spoon 1/4 to 1/3 cup of the batter into the skillet and swirl the mixture around the skillet to coat in a thin layer. Cook for 1 to 2 minutes, until the bottom of the crepe is golden brown. Run a rubber spatula around the edge of the crepe and flip. Cook 1 more minute. Fill with some feta cheese and black beans and roll up. Top with salt, pepper, crumbled feta cheese and dried parsley. Serve immediately.
Happy Cooking!
Madison