Last week while I was browsing Pinterest, I came upon a site that talked about how one woman was able to feed her family of four on just $50 a week! Doesn't sound like much, does it? Since Joe and I typically spend quite a bit more than that (usually hovering around the $100/week mark) I felt a little silly. If that woman could feed four people on $50 then I certainly could feed two on the same amount, right?
I read her tips (be willing to do without, make swaps, give up on your favorite brand name items, shop the weekly ads, etc.) and set to work making my list. Instead of simply scribbling my list down on a piece of paper like I usually do, I decided to make a spreadsheet in Excel to tally up how much I was going to spend on each item. It proved to be very helpful since I could quickly see what items were busting my budget before I got to the store.
Here's a look at what I brought home: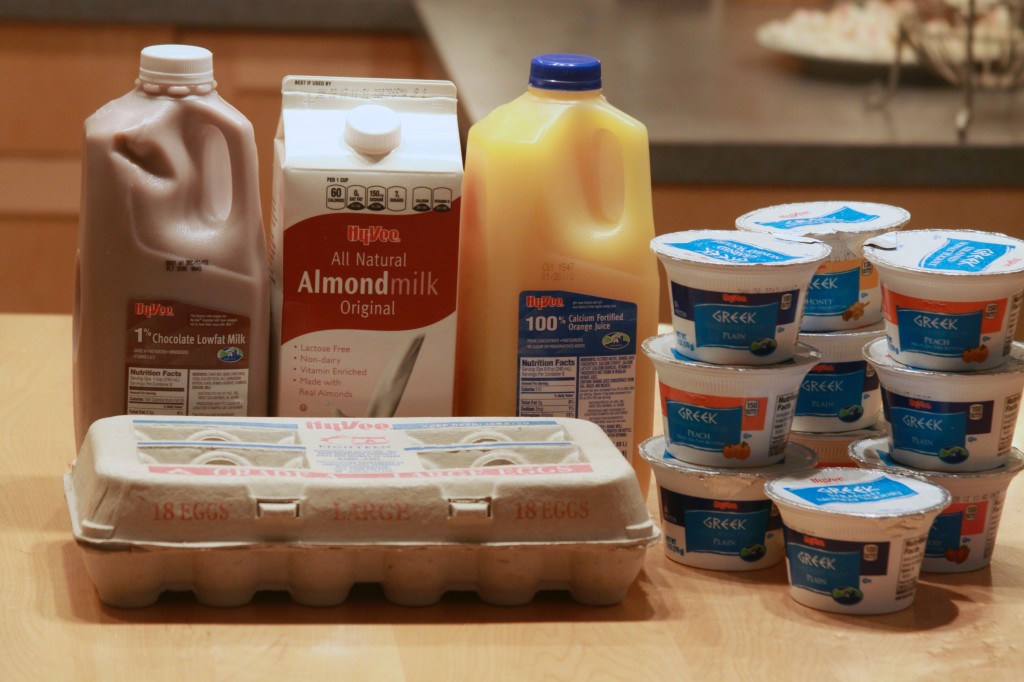 HyVee Greek Yogurt: 10/$7
18 Large Eggs: $1.69
HyVee Orange Juice: $0.99
HyVee Original Almond Milk: $2.50
HyVee Chocolate Milk: $2.19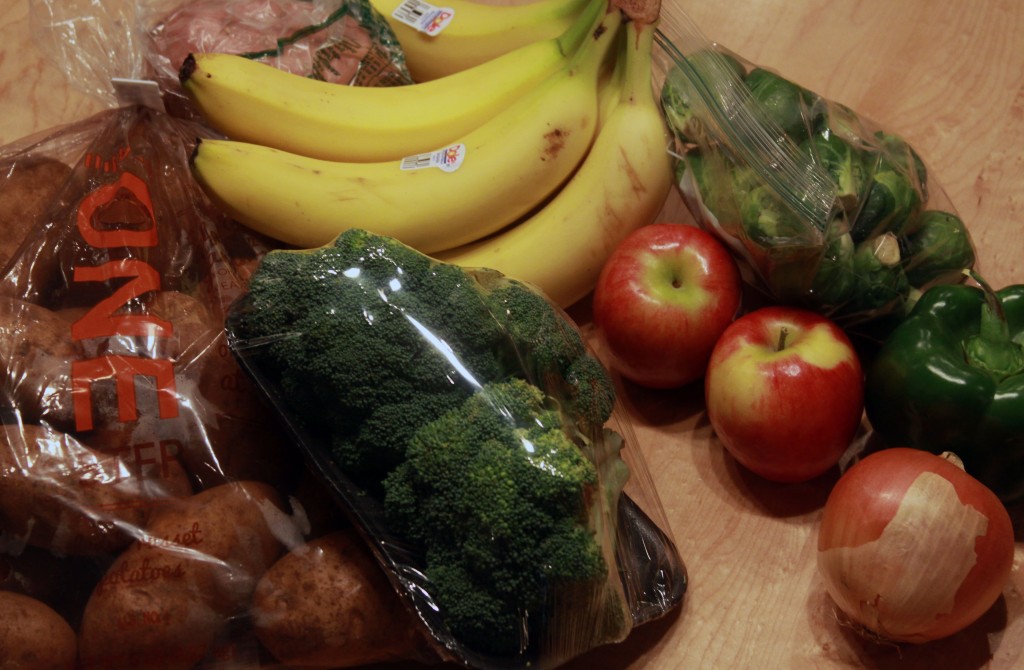 5 lb. bag of potatoes: $0.88
1 yellow onion: $0.39
Broccoli: $1.99
1 sweet potato: $0.34
1 green pepper: $0.50
8 bananas: $1.63
1 bag Brussels sprouts: $2.53
2 apples: $1.56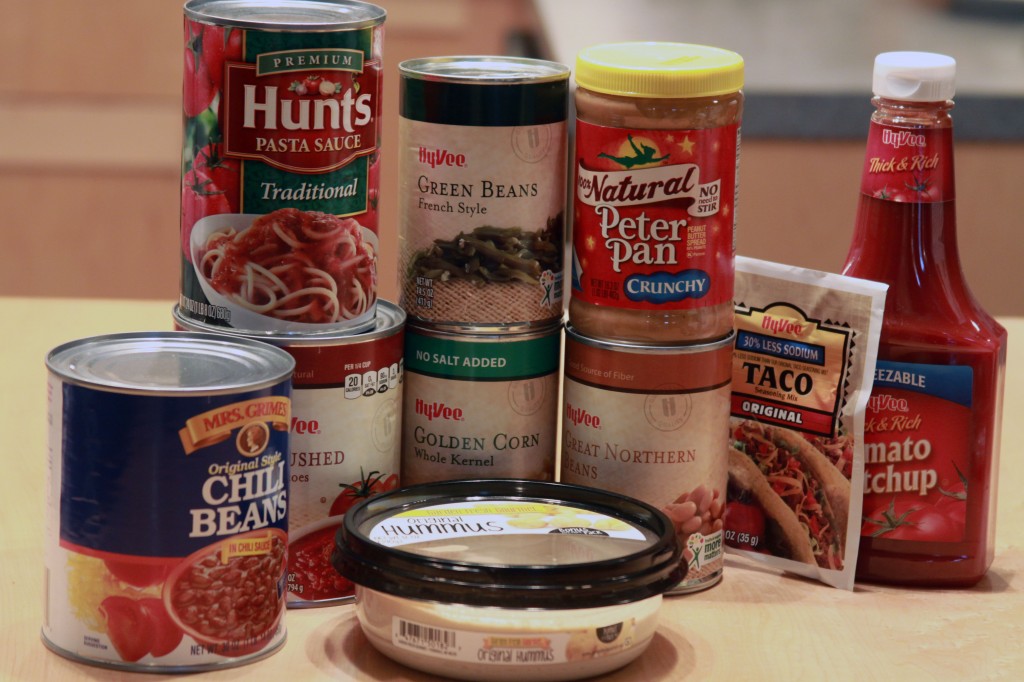 HyVee Crushed Tomatoes: $1.49
Garden Fresh Hummus: $2.99
Mrs. Grimes Chili Beans: $1.50
Hunt's Pasta Sauce 24-ounce: $0.88
HyVee Green Beans: $0.29
HyVee Corn: $0.29
HyVee Great Northern Beans: $0.50
Peter Pan Natural Peanut Butter: $1.69
HyVee Ketchup: $0.99
HyVee Taco Seasoning: $0.50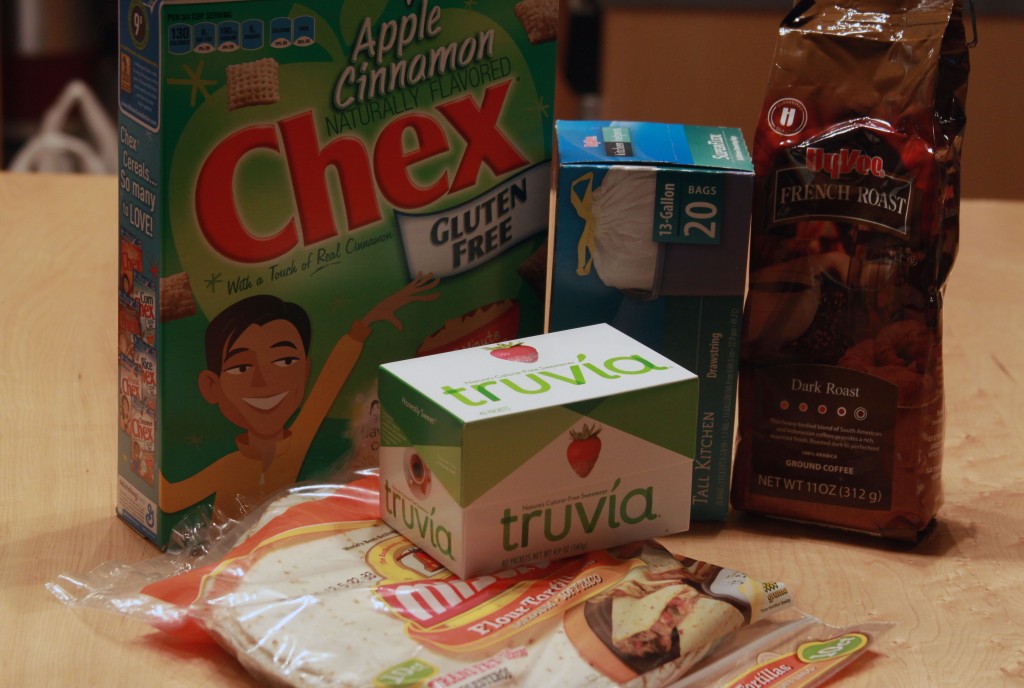 HyVee Coffee: $5.99
Mission Flour Tortillas: $0.99
Truvia: $3.59
Apple Cinnamon Chex Cereal: $1.88
Trash Bags: $3.49
TOTAL WITH TAX: $52.74
I soon realized that my savvy Pinterest friend was right. We had to learn to do without some of our favorite items/brands and shop the sales. Here's a look at what swaps and "sacrifices" were made:
The Smuckers Natural Peanut Butter I usually buy got replaced with Peter Pan Natural, which was almost $2 cheaper on sale. And potatoes weren't on the list this week until I saw that a 5 lb. bag was on sale for just $0.88! Although we don't usually eat many regular potatoes, this deal was too good to pass up. I didn't buy name-brand Greek yogurt but I was not willing to sacrifice on Greek yogurt all together. Instead, I found that HyVee was having a 10/$7 sale on their house brand. And that Starbucks coffee I'm so attached to? It didn't make the cut. Instead, I purchased house-brand coffee from HyVee. Truth be told, I can't even tell a difference.
As you can see, I was a few dollars over my budget, but not bad considering we practically cut our weekly spending in half. Based on what was purchased, this is what our week of eating looked like:
Monday: Breakfast for Dinner (eggs, toast (we have bread in the freezer), orange juice)
Tuesday: My Mom's Fabulous Chili (we can get at least two meals out of this, and vegetarians can enjoy it, too, if you keep the meat separate)
Wednesday: Enchiladas (with ground beef for Joe, green peppers, onions, sweet potatoes, etc.)
Thursday: We went to a friend's house for a bring-a-dish dinner and I brought mashed potatoes
Friday: Roasted Brussels Sprouts, Oven Fries (with the potatoes we bought), Black Beans
After going through the week, I was surprised to realize that I didn't feel deprived compared to the weeks in which I spent $100. Since it was relatively easy and we didn't feel as if we were missing out, I hope to keep this up. It's a super easy way to cut back on unnecessary spending.
Madison