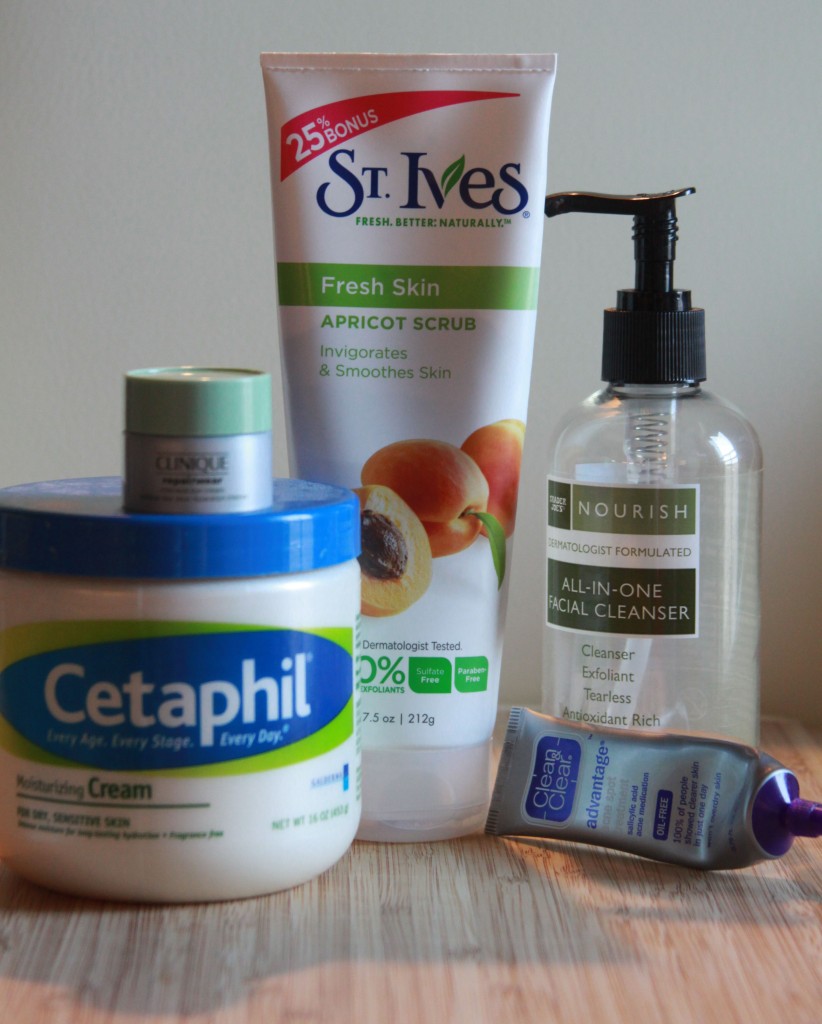 It's Friday! Let's talk about something fun, shall we? Since winter is just around the corner, it seems appropriate to talk about beauty products. During the summer, feeling pretty comes naturally. It's warm, chances are your skin has seen the sun just a bit, the weather isn't dry. But for me, winter is a different story. Static, dry hair, dry, pale skin. It's not my best season. But there are a few products that I use on a daily basis which keep me feeling pretty. I like the idea of fancy face creams and skin care products, but I can never stomach paying top dollar, so my daily routine is pretty basic. In no particular order…
1. Cetaphil Moisturizing Cream: This stuff is seriously thick, which is why I stick to using it at night on my face. When I put it on, it feels too heavy, but I love the way my skin feels in the morning when I wake up. Plus, this one jar lasts forever. $10.79
2. Clinique Repairwear Intensive Eye Cream: This is the most expensive beauty product I have in the bunch. I figure since I use very little each night, it's worth the cost. I'm not sure if it does anything magical, but at 25, I thought it was time to start using something around my eyes each night. $42.00
3. St. Ives Fresh Skin Apricot Scrub: I love St. Ives Apricot Scrub. I've loved it since I was in middle school. This isn't something I use every day, more like every other day or every third day when my skin is looking a little dull. Usually I mix a bit with my regular face wash. $3.79
4. Trader Joe's Nourish All In One Facial Cleanser: I picked a bottle of this cleanser up a few months ago and have been hooked ever since. It feels gentle on my skin and does a great job of removing makeup. And at $5.99 the price can't be beat.
5. Clean and Clear Advantage Spot Treatment: I could not survive more than a couple days without this stuff. I feel like a teenager every time I buy it. Doesn't Clean and Clear just shout teenager to you? But this gel, made with salicylic acid, is my favorite tool for clear skin. Even if I don't have any blemishes, I spread a thin layer over my trouble zones each night to keep blemishes at bay.
So now it's your turn! Do you have any beauty products that are must-haves for you? Specifically those that aren't too pricey?
Madison