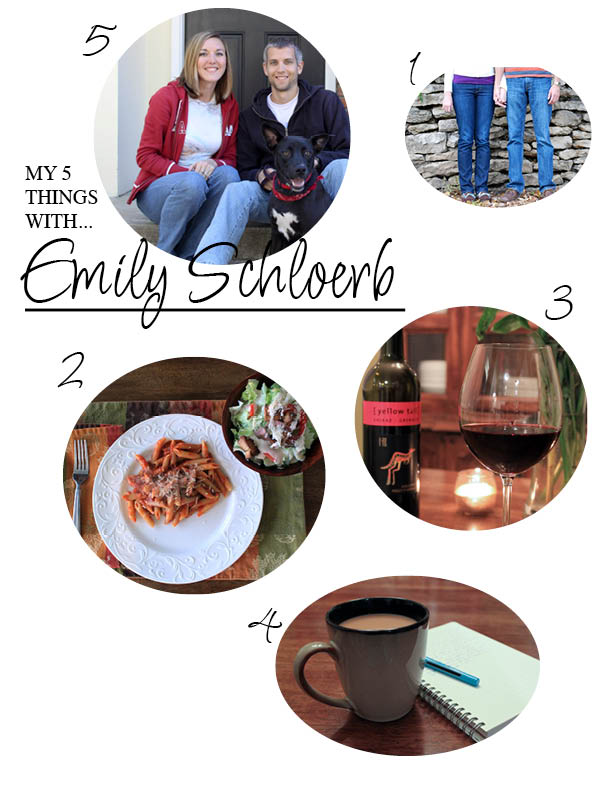 WHO: Emily Schloerb
WHAT: Marketing Coordinator
WHERE: Kansas City
BLOG: Country Roots & Cowgirl Boots
I'm a 23-year-old marketing coordinator at Westfall GMC, a trucking dealership in Kansas City. I grew up in Iowa, graduated from ISU with degree in journalism. I started blogging shortly after I got married as a way to keep family and friends in the loop. Unfortunately, I wasn't very consistent with my posts. This past summer I decided it was time to take it more seriously or let it go so I rebranded and now blog at Country Roots and Cowgirl Boots.
 1. Jeans That Fit: I have searched high and low for that perfect pair and my current favorite pair is Big Star Hazel. When I find a pair that fits just right I feel so confident.
2. Hosting Dinner Parties: There's something about planning and hosting dinner parties that makes me feel uber feminine. From the menu planning to the presentation, I enjoy every moment of it!
3. A Glass of Wine: I love a good craft beer, but there's also nothing like a glass of red wine with soft, jazzy music to set the scene of a relaxing evening with friends or my husband. Sometimes my husband will light a fire in our fire pit and we'll sit around it sipping wine and chatting about our day. It's so serene and peaceful.
4. Journaling: I took to journaling during a rough time for me in college. I was trying to find myself and journaling helped me gather my thoughts and track that journey. I still journal several times a week. Writing is therapeutic to me. I can sort through my hopes and dreams, vent my frustrations, and pray. Most mornings, I make myself a cup of coffee and sit down at the kitchen table with my journal, a pen and my Bible before I do anything else. It's my faith in God that has carried me through the ups and downs of life and I like to make that a priority in my day.
5. My Family: I met my husband, Ryan, in college. We met in the dorms, dated for most of my college career and married months after my graduation in 2010. We adopted Radley the following spring. He's a lab mix, a.k.a. mutt, but the cutest mutt I've ever seen. We named Radley after my favorite book, To Kill a Mockingbird. It's a classic.
Thank you so much for sharing, Emily! If you're interested in sharing your 5 things, send me an e-mail (madisonjanemayberry@gmail.com) for more information! – Madison