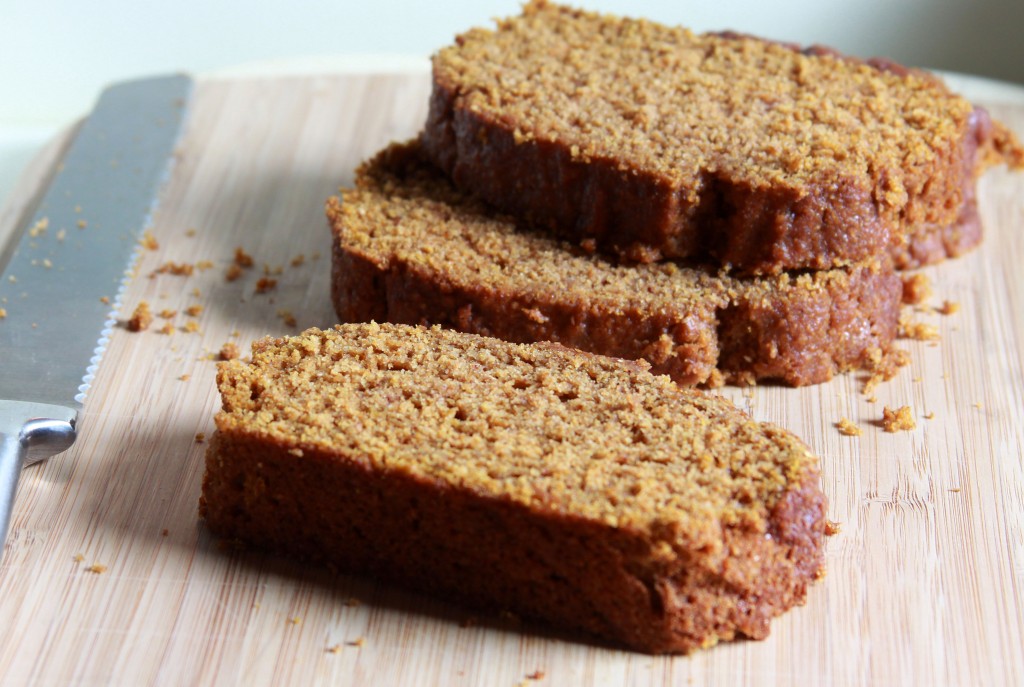 I'm so sorry that I left you hanging yesterday without a "5 Things" post. I was feeling under the weather and didn't go to work, so the post didn't get put together. But I promise I'll have something ready for you next Tuesday!
During last week's giveaway, so many of you mentioned that you were excited to bake pumpkin bread this fall. I don't know why, but I've never made pumpkin bread, despite making endless variations of banana bread. Crazy, right? So last weekend, I set out to make a loaf of pumpkin bread that was healthy enough to eat for breakfast (covered in peanut butter, of course) but flavorful and moist enough to enjoy as a sweet treat.
It turns out that the reason pumpkin bread is so good has something to do with the large amount of oil and sugar that is found in a lot of recipes. One recipe I found had four eggs and 1 1/2 cups of oil! I finally settled on a recipe from Bobby Flay that I found on Epicurious which seemed prime for some healthy swaps. To make it a little better, I:
-Swapped out the all-purpose flour for a majority whole wheat flour
-Cut back the butter and used a bit of applesauce
-Reduced the sugar by half
Joe and I were both blown away by how much we loved this recipe! I've been eating it almost every morning and today Joe finished off the last two pieces for breakfast. I think I might have to make another loaf tonight.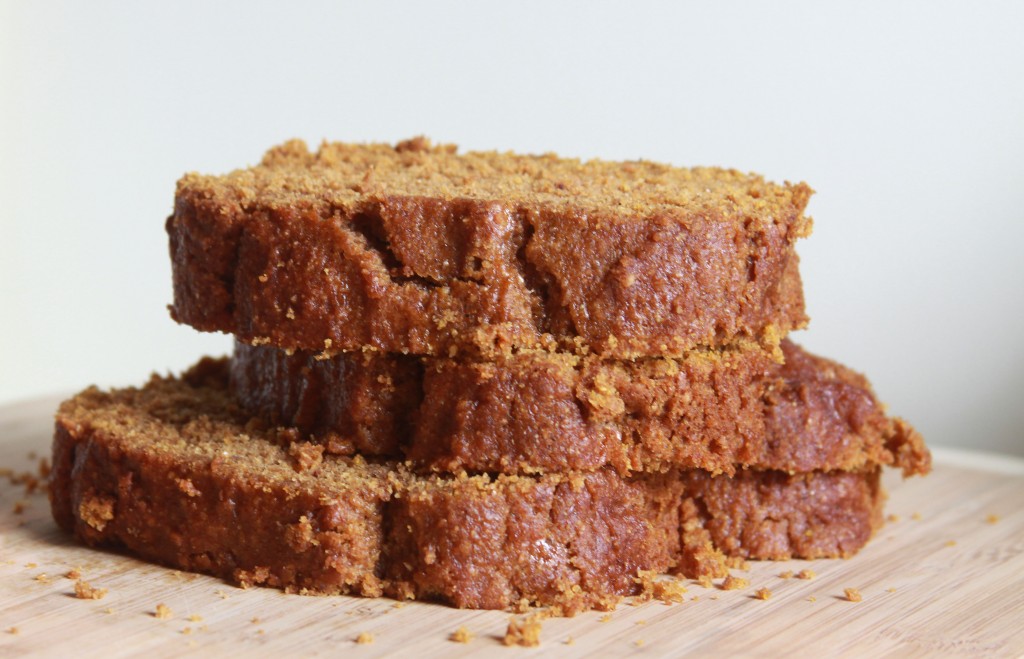 Whole Wheat Pumpkin Bread
Recipe adapted from Pumpkin Bread via Bobby Flay's Bar Americain Cookbook 
Ingredients
*2 tablespoons butter, melted
*3/4 cup sugar
*1/4 cup vegetable oil
*1/4 cup applesauce (I used cinnamon applesauce)
*2 large eggs
*3/4 cup canned pumpkin puree (not pumpkin pie filling)
*1 1/4 cups whole wheat flour
*1/2 cup all-purpose flour
*1 teaspoon baking soda
*1/2 teaspoon fine sea salt
*1/2 teaspoon baking powder
*1 1/2 teaspoons pumpkin pie spice
Instructions
*Preheat oven to 350°F. Lightly grease and flour an 9×5-inch loaf pan or line with aluminum foil. Set aside.
*In a large bowl, combine the butter, sugar, oil, applesauce, eggs and pumpkin puree. Beat until well combined. In another bowl, combine the flours, baking soda, salt, baking powder and pumpkin pie spice. Add dry ingredients to the wet ingredients and beat until combined. Transfer batter into the prepared loaf pan.
*Bake for 60 to 65 minutes, or until a toothpick inserted in the center comes out clean. Cool on wire rack. Cut into slices. Makes about 12 servings
Happy Baking!
Madison