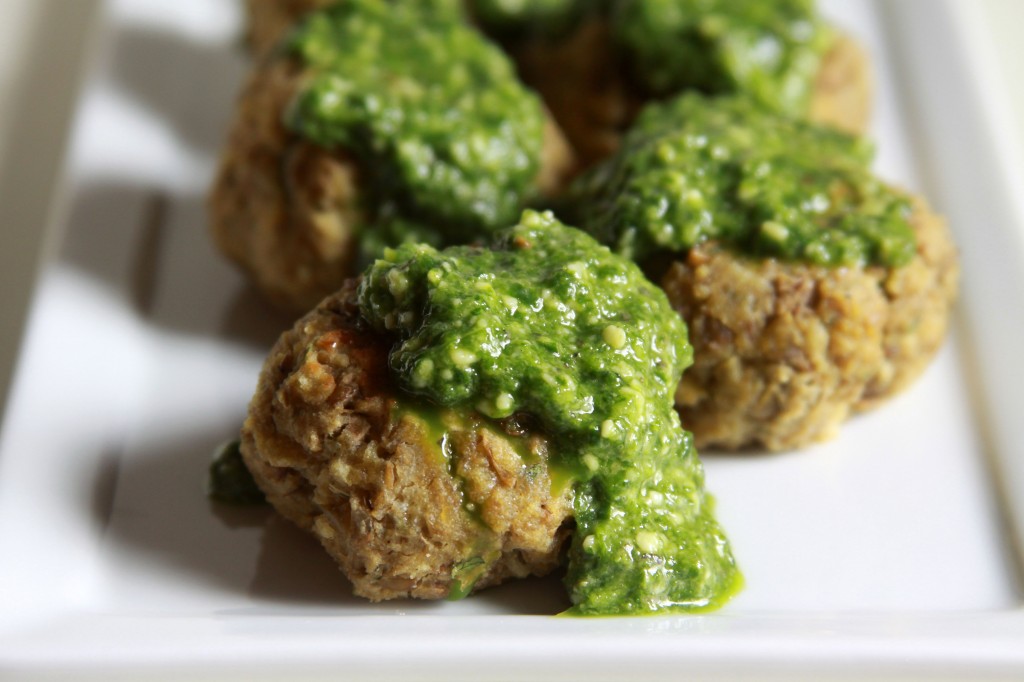 Happy Monday, friends! Thanks to everyone who entered the Anthropologie giveaway. I loved reading what you were going to make this fall. So many of you said that you were going to bake pumpkin bread that I whipped up a batch this weekend. I'll be sharing the recipe later this week! Without further delay, the winner of the giveaway is:

Anna, please send me an e-mail (madisonjanemayberry@gmail.com) with the address you would like to have the apron sent to!
On another note, will you please indulge me while I share one more recipe for vegetarian meatballs? I've been obsessed, to say the least, and have been playing around with a few different recipes that I found online last week. The other recipe I was dying to try? A recipe I found on Sprouted Kitchen for lentil meatballs in pesto. Unlike the recipe I shared last week, this recipe contains ricotta cheese and Parmesan cheese for a smooth, creamy texture and lots of great flavor. Instead of being served atop pasta, these meatballs are coated in a flavorful pesto sauce. But unlike the original recipe, which called for a lot of fresh basil ($$ at the store right now), I used my recipe for Spinach-Basil Pesto to cut back on cost and use up some of the spinach that I had at the bottom of my crisper.
I loved this recipe. In fact, I pretty much lived off these meatballs for the last three days, eating them for lunch and dinner, crumbled atop a salad, dipped in ketchup, you name it. And like the previous recipe, they make a great brown bag lunch at work.
Lentil "Meatballs" with Spinach Pesto
Adapted slightly from Sprouted Kitchen's Lentil Meatballs in Lemon Pesto
Ingredients
*2 cups cooked lentils
*2 large eggs, lightly beaten
*3/4 cup ricotta cheese
*1/4 cup grated Parmesan cheese
*1 clove garlic, minced
*1/2 teaspoon fennel seed, crushed
*2 teaspoons dried parsley
*1/2 teaspoon kosher salt
*1/4 teaspoon ground black pepper
*2/3 cup Panko bread crumbs
*1 recipe Spinach-Basil Pesto (recipe HERE)
Instructions
*In the food processor, pulse the lentils until they are fairly smooth with some lumps and whole lentils remaining. Transfer to a large mixing bowl.
*Add eggs, ricotta cheese, Parm, garlic, fennel seed, parsley, salt, black pepper and bread crumbs. Stir until well combined. Refrigerate for 20 minutes or until mixture is still moist but holds together when shaped into a ball.
*Form mixture into balls about 2-inches in diameter. Place on a parchment-lined baking sheet and bake at 350°F for 20 minutes, turning once halfway through baking, or until "meatballs" are golden brown on the outside. Cool slightly on baking sheet. Serve with Spinach-Basil Pesto. Makes 4 to 6 servings
Happy Cooking!
Madison