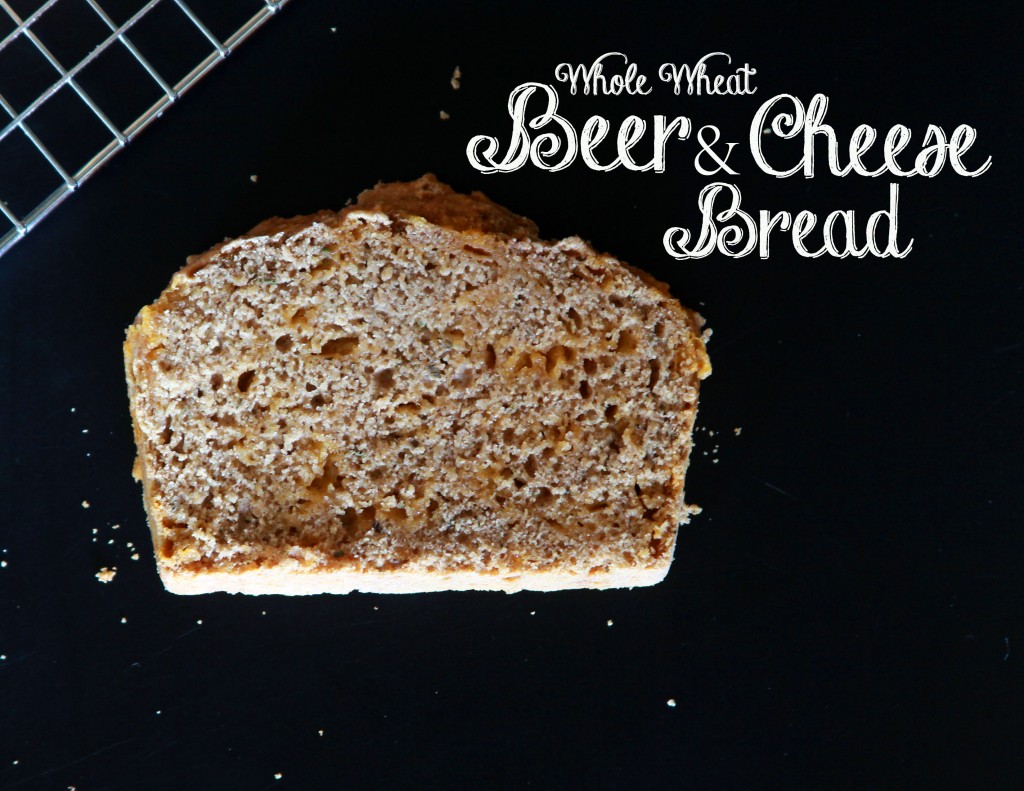 Okay, it's time for me to come clean about something that haunts me in the kitchen: I'm terrible with any type of baking that involves yeast. I've read up on the subject, and proofed dough in a warm oven, followed step-by-step instructions and experimented with going on the feel of the dough. But time and time again I fail. The results of my yeast-based dough baking aren't a complete disaster, per se. Once in a while I manage to pull something tasty out of the oven, and I do know how to make a good homemade pizza crust. But light, fluffy cinnamon rolls and perfect homemade bread escape me.
Maybe my struggles with yeast baking have something to do with my passionate, undying love for sweet and savory quick breads. There are at least four recipes for banana bread on this site, a lemon loaf and zucchini bread, too. But it surprised me when I realized that there isn't a single recipe that I can remember for savory quick bread on Espresso and Cream. Growing up, I remember making countless loaves of Irish Soda Bread from one of my mom's cookbooks, and there was something so comforting about the dense, salty bread slathered in butter straight from the oven.
Fall weather was here in a major way over the weekend, making it the perfect time to do a little savory quick bread baking to go with the chili we were having for dinner on Friday night. Our fridge is incredibly bare at the end of the week, so I found myself with little to work with except 1/2 block of cheddar cheese, a few of Joe's beers, a couple of eggs and a few other odds and ends. Hence, this Whole Wheat Beer-Cheese Bread was born.
Since quick breads are usually pretty dense to begin with, I was a little wary of using 100% whole wheat flour in the recipe, but decided to give it a go anyway. I was pleasantly surprised with the results – the bread wasn't overly dense, dry or chewy at all. However, if you're accustomed to eating white bread or like the texture of a lighter loaf, I would suggest using a combination of whole wheat and all-purpose flour, or 100% whole wheat pastry flour. Whatever combination you choose, I can promise you that you'll love this bread. It comes together quickly and has just enough salty, cheesy flavor to satisfy without leaving you feeling weighed down.
Side note: Since I was curious, I decided to calculate the nutrition information as well. Since there is no butter or oil in the bread, the stats are pretty good for something as comforting as beer-cheese bread. Assuming you get 15 slices out of the loaf, each slice comes in at around 137 calories, 4 grams of fat and 6 grams of protein (slathering with butter not included).
Whole Wheat Beer-Cheese Bread
Ingredients
*3 cups whole wheat flour (for a lighter bread, use 1/2 whole wheat and 1/2 all-purpose)
*2 1/2 teaspoons baking powder
*1 teaspoon salt
*2 tablespoons sugar
*1/2 teaspoon onion powder
*1/4 teaspoon ground black pepper
*2 teaspoons dried Italian herbs
*1 cup shredded cheddar cheese
*2 large eggs, lightly beaten
*12 oz. dark beer
Instructions
*Preheat oven to 350°F. Lightly grease and flour a 9×5-inch loaf pan. Set aside.
*In a large bowl, combine the flour, baking powder, salt, sugar, onion powder, black pepper, Italian herbs and cheese. Stir to combine.
*In a smaller bowl, combine the beer and eggs. Stir until well combined. With an electric mixer, beat together the egg-beer mixture with the flour mixture until ingredients are evenly incorporated. Spoon batter into the prepared loaf pan. Bake for 40 minutes, or until a toothpick inserted in the center comes out clean and the top is browned. Remove from oven, run a knife around the edges of the loaf and remove loaf from pan. Cool slightly on wire rack. Serve with butter.
Nutrition Information per slice (assuming loaf makes 15 slices): 137 cal., 4 g fat (2 g sat. fat), 33 mg chol., 213 mg sodium, 20 g carb., 3 g fiber, 6 g protein.
Happy Baking!
Madison