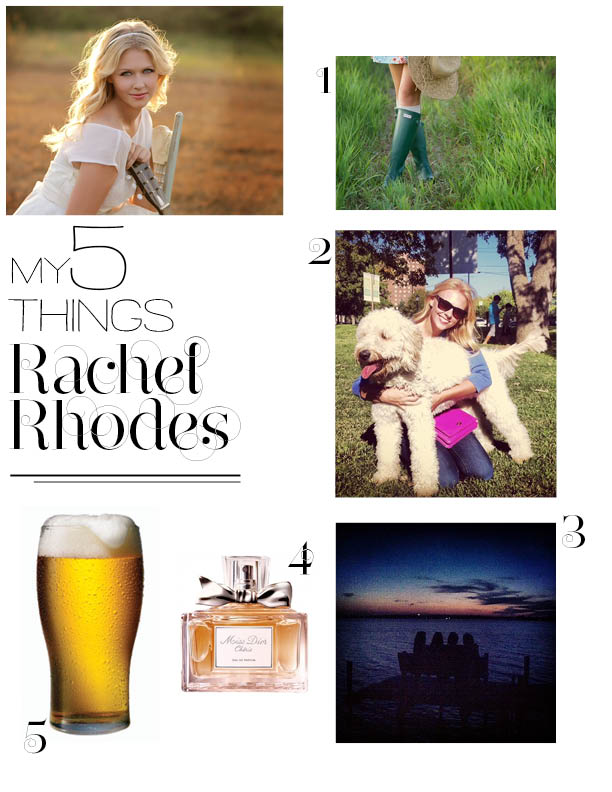 WHO: Rachel Rhodes
WHAT: Country Music Star-t0-Be
WHERE: Nashville
WEBSITE: Rachel Rhodes Music 
I've known Rachel from a distance for quite a while now. She went to a neighboring high school and our paths crossed during school activities from time to time. Now Rachel is living in Nashville getting ready to make it big in the music business. Seriously her music is amazing, just take a visit to her site to have a listen. Thanks for sharing, Rachel! 
Hi everybody! I'm Rachel, and currently I'm living in Nashville, TN, pursuing my dream as a country music singer and songwriter. I will be releasing my debut album this winter, and I couldn't be more excited to get it out! I am originally from a little farm town in the heart of northwest Iowa (about 10 minutes from Madison's hometown), so we knew each other a bit before we both moved away for college. I'm so excited to do an E&C guest post, and here are my five things!
1. Big rubber boots and power tools: Sometimes I feel like people take one look at me and think I'm a dainty little flower who wouldn't dream of dirtying her hands, but it's not true at all! I do have a serious love for all things pink and lacy and fluffy and sparkly, but I also live in my rubber Hunter boots, and I'm a big fan of power tools. True story: I recently built and installed a mantel above my fireplace. Girl Power.
2. My giant fluffy dog: Dolly is my 1 1/2 year old goldendoodle, and she is probably one of the best investments I have ever made. She is playful, cuddly, usually well-behaved, and my best buddy. And let's be honest, everyone looks cuter with a puppy.
3.  Having talented, intelligent, hilarious, and beautiful friends: How can I not feel beautiful when I'm surrounded by my best friends of life? It's sort of an "awesome by association" thing. I have a circle of strong, independent, super-intelligent, beautiful lady friends who are always there for me, and I am seriously honored that they even like me.
4. A signature perfume: It was love as first sniff for myself and Miss Dior Cherie. Sadly, I found out last week that it is being discontinued and I kid you not, I have traveled far and wide to buy out department stores and hoard what little is left.
5. Pizza, bratwurst, and beer: A girl who can hang with the boys is a girl who can hang with me. I'm not saying these foods are beautiful, or even leave me feeling great afterward, but sometimes there's a time and place to kick back, watch a ball game, and dig in. No kale chips allowed.