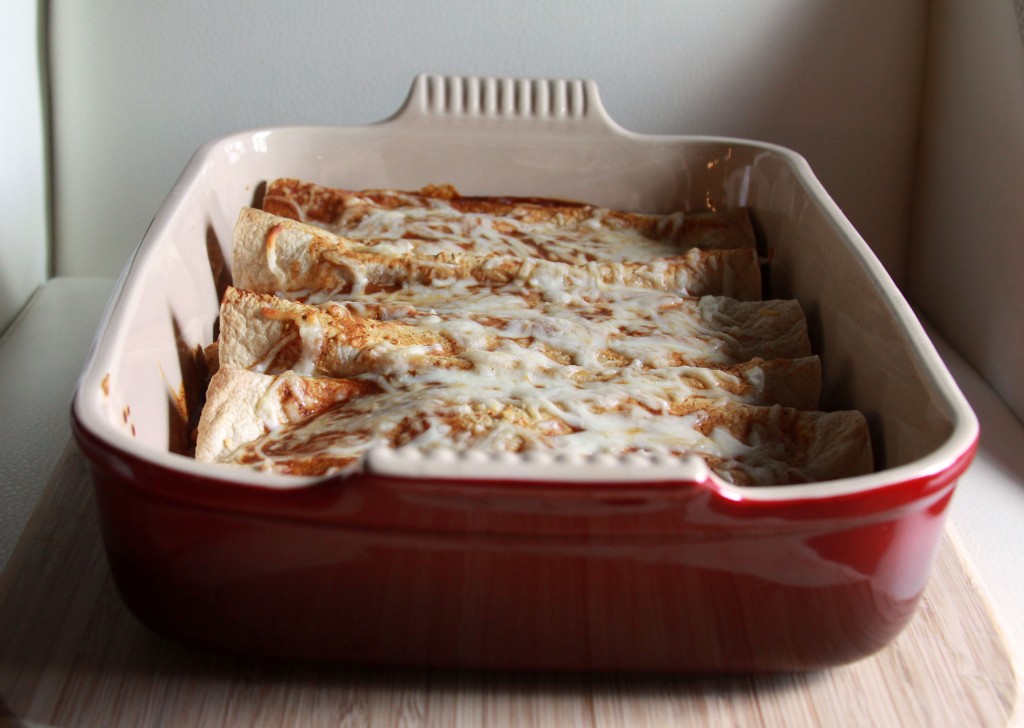 It's early Sunday morning and, per usual, our apartment is still, quiet and peaceful. Most mornings throughout the week, and even the weekends, I choose to rise earlier than Joe so I can have 30 minutes to an hour of quiet time to myself. I make my coffee, get breakfast ready and sit at the island table. Sometimes I work through my devotional or read a bit from my Bible, other times I catch up on blogs or sift through mail. This morning, I'm eating a slice of whole wheat apple bread (recipe to come!) with peanut butter and planning out the meals we'll be having in the week to come. Maybe you're planning your meals, too. In that case, add this recipe to the list.
I've read a lot about how you're not "supposed" to put up blog posts on the weekends if you care about traffic and stats, that people don't read blogs on the weekend as much as they do during the week, so it's a waste of time. But me? I read blogs on the weekend, and I"m guessing a few of you do, too. It's the weekends, with their abundance of free time, that give me the opportunity to catch up on my Google Reader and plan my meals for the week. Lately, I've been using blogs as inspiration for my dinner plans. And it's been fun to break out of the cooking rut and trying something new.
A few weeks back, I tried Oh She Glow's recipe for Vegan Black Bean and Sweet Potato Enchiladas. I love Angela's site, even though we don't eat vegan, and Joe and I were both enamored with her recipe. Although I thought they were perfect, Joe thought that they were a bit on the sweet side, with all the sweet potatoes and spinach and the lack of cheese. I didn't make a lot of major adjustments, just a few tweaks here and there. I added mushrooms to the mix and eliminated the spinach (it got a bit funky in the leftovers). And since neither of us are vegan, and we really love cheese, I added cheese to the top of the enchiladas for an extra hit of saltiness.
I love these enchiladas. Can I say it again? I love them! For the past three weeks, I've been making a pan on the weekend, then heating them up for lunches and quick dinners throughout the week. I just made my third batch yesterday. And Joe loves them, too! Which is saying a lot from my husband who usually doesn't care for vegetarian food. The are hearty and filling, thanks to the black beans and sweet potatoes, with just the perfect combination of sweet and spicy. He did say they would be fantastic with a bit of shredded chicken, and I can totally see why. So if you have some cooked chicken breasts around, or meat from a rotisserie chicken, I wouldn't hesitate to add in a cup.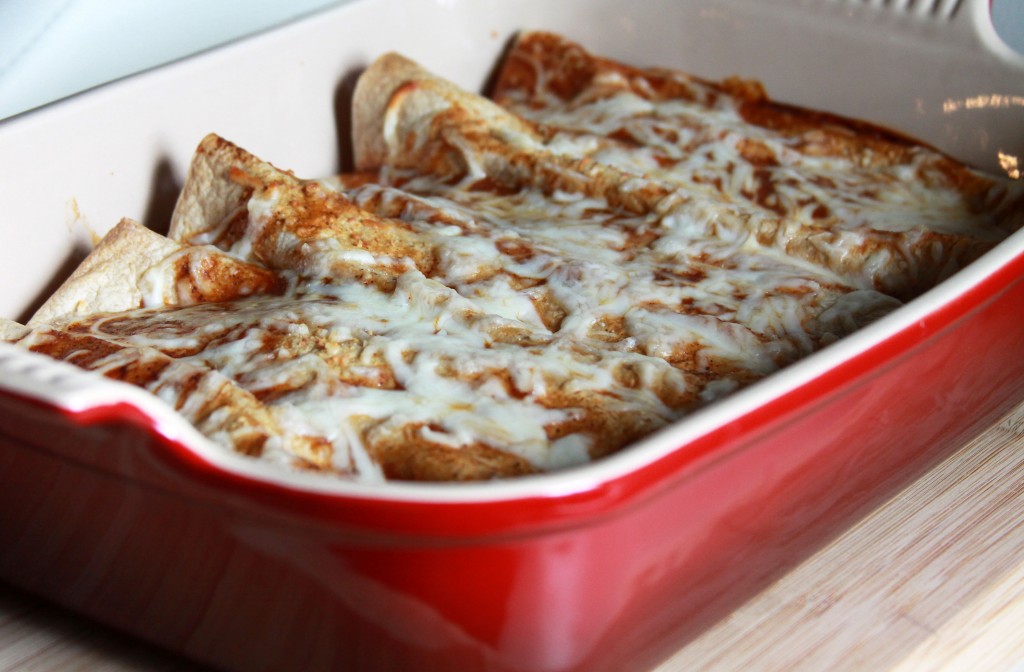 Sweet Potato and Black Bean Enchiladas
Recipe adapted from Oh She Glow's Vegan Sweet Potato and Black Bean Enchiladas
Ingredients
*1 medium sweet potato, peeled and cut into small pieces
*1 can enchilada sauce (I use mild, but if you like things on the spicy side, use medium)
*1/2 tablespoon olive oil
*1 medium red sweet pepper, chopped
*1 cup baby bella mushrooms, chopped
*1 teaspoon cumin
*1/2 teaspoon chili powder
*1/4 teaspoon kosher salt
*2 cloves of garlic, peeled and minced
*1 (15-ounce) can black beans, rinsed and drained
*6 whole wheat tortillas
*1/2 cup shredded cheese
Instructions
*Fill a medium saucepan with water. Bring water to a boil over medium high heat and add sweet potatoes. Boil for 4 to 5 minutes or until sweet potatoes are tender but not mushy. Drain and set aside.
*In a 9×13-inch baking dish, spread 1/3 cup of the enchilada sauce in the bottom of the pan. Set aside.
*In a large skillet over medium high heat, add oil, red pepper, mushrooms, cumin, chili powder and salt to the skillet. Cook for 5 to 6 minutes, until peppers and mushrooms are soft. Add garlic and cook for 2 minutes more, stirring frequently. Add black beans and sweet potatoes to the skillet, along with the remaining enchilada sauce, reserving a small amount of the enchilada sauce for the top of the enchiladas. Stir mixture until well combined.
*Divide the mixture among the whole wheat tortillas. Wrap up and arrange in the prepared baking dish. Top with the remaining enchilada sauce and the cheese, if desired. Bake in a 375°F oven for 15 minutes. Turn oven to broil and broil the enchiladas for 2 to 3 minutes more, until cheese is bubbly and melted. Remove from oven and serve immediately.
Happy Cooking!
Madison