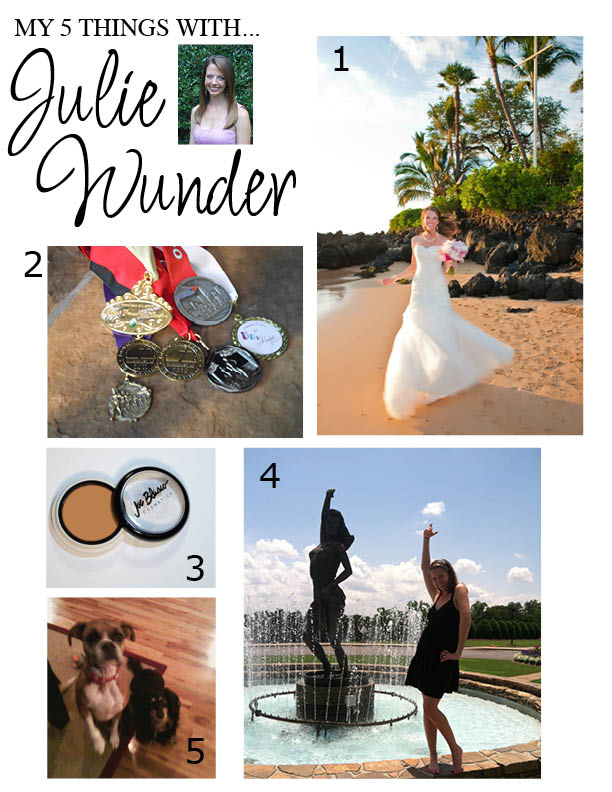 WHO: Julie Wunder
WHAT: Meteorologist, Runner, Animal Advocate and New Blogger
BLOG: Running in a Skirt
Hello, E&C readers! My name is Julie, and I love smiles, the color pink, football and country music. I have been reading and enjoying Madison's "My 5 Things" series on Espresso and Cream. It seems like life gets so crazy these days that sometimes we forget to step back and appreciate all the beautiful things in the world. I think it's amazing she's bringing girls together so we can all realize that beauty comes from so many places and we don't have to be the same or look like a model to have beauty. I know I have so many things to be grateful for and I appreciate the opportunity to share a few things from my life that make me feel beautiful. Thanks, Madison!
1. My Wedding Day & Husband: I felt so beautiful and happy the day I married my husband. The picture sums up the joy of the day. He has made me feel beautiful, strong, smart and funny every day since then. I am so blessed and grateful to have him.
2. My Running Medals: Most of them are finisher medals, but a few of them are age group awards from small community races. I picked up running a few years ago as a hobby and have been blown away at how strong it makes me feel. I even just finished my first marathon! And isn't strong the new beautiful? Check out my race recap of the Chicago Marathon where I picked up some awesome hardware.
3. Joe Blasco Cosmetics Concealer: I know beauty comes from the inside, but sometimes a little help on the outside can make you feel more like yourself. I wake up at 2:50 AM for my job in morning news and as much as I try to get enough sleep, sometimes it's impossible. I also have haywire allergy problems. That's a dangerous combo for bad dark under eye circles. I've tried almost every concealer product out there, and this one can wake up my tired eyes, making me feel as beautiful as someone who works a 9-5!
4. A Smile: I watched the musical "Annie" over and over again as a kid. Remember the song, "You're Never Fully Dressed Without a Smile?" Well, that idea stuck with me because I feel most put together and most beautiful when I top off my outfit with a big, bright smile. I believe your inner beauty can shine through a grin no matter what you are wearing or what you are doing – even if it's something super silly like having fun on vacation in a simple dress with no makeup.
5. My Dogs: I have an odd pair of puppies (They will always be babies in my mind); an 11-year-old Dachshund, Rhett, and a 7-year-old Boxer, Reina. They love unconditionally with all their hearts. Nothing makes me feel as beautiful from the inside as the unrivaled adoration of Rhett and Reina.
Thanks for sharing, Julie! If you're interested in sharing your 5 things, shoot me an e-mail (madisonjanemayberry@gmail.com) for more information! – Madison