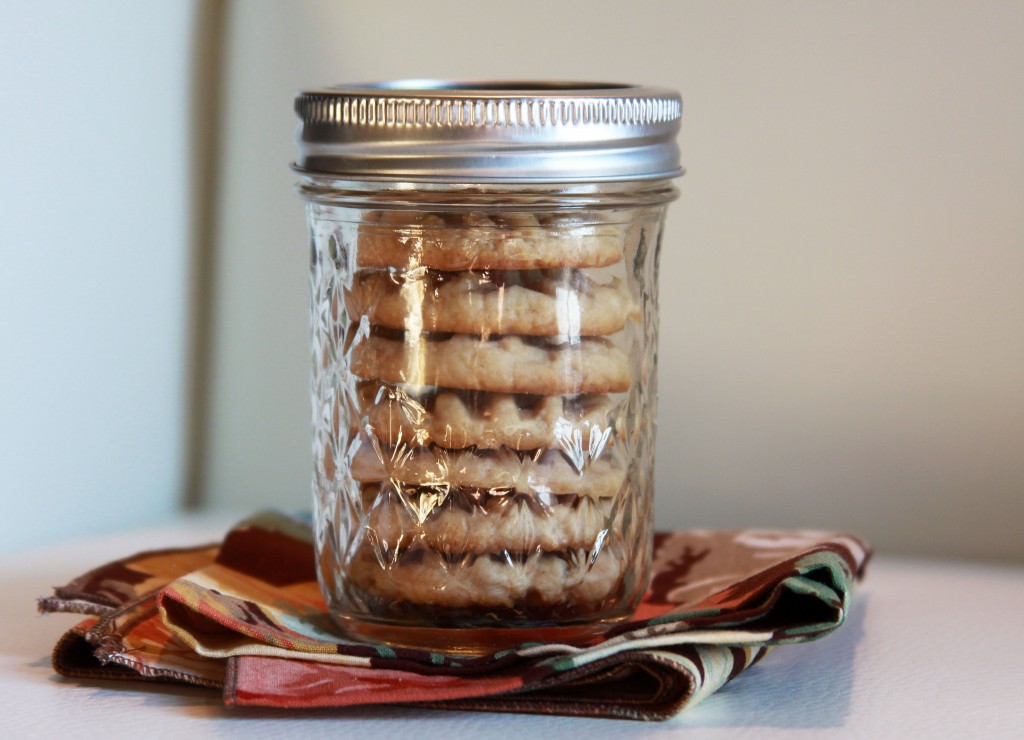 I have a lot of peanut butter recipes on Espresso and Cream, probably because peanut butter is, without doubt, my favorite food. We go through a jar of peanut butter each week in our house I love it so much. So it comes as a bit of a surprise to me that I don't have a single recipe for basic peanut butter cookies on the site. Today, I'm here to remedy that with these bite-sized peanut butter cookies based off a recipe that originally ran in Bon Appétit over 10 years ago.
These cookies are everything a peanut butter cookie should be. Crispy around the edges and soft in the center, with just the right amount of saltiness balanced out with the combination of brown and granulated sugar. I used crunchy peanut butter, because to me a peanut butter cookie needs a bit of crunch from actual peanuts, but feel free to use creamy if you disagree.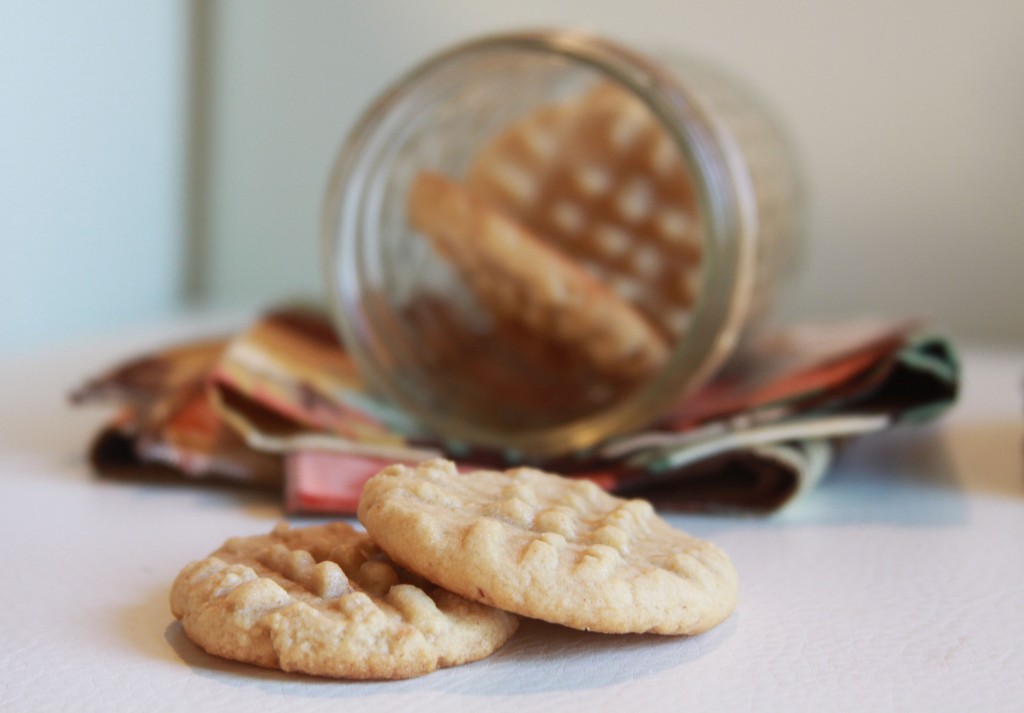 I know that mason jars are pretty much everywhere these days, but I couldn't resist using the pint-sized jars in my cupboard as a fun way to present these cookies. The idea actually came from an old episode of Giuliana and Bill (which I DVR and watch when Joe is not around). They had the idea of putting a "Cookie Jar" filled with small chocolate chip cookies on the menu of their Chicago restarant. And today, I'm doing the same with peanut butter cookies. It would make a really fun idea for bringing over to neighbors, co-workers or friends during the holidays, or for no reason at all. Just make sure to bake the cookies small enough so that they fit inside the mouth of the jars and stack nicely.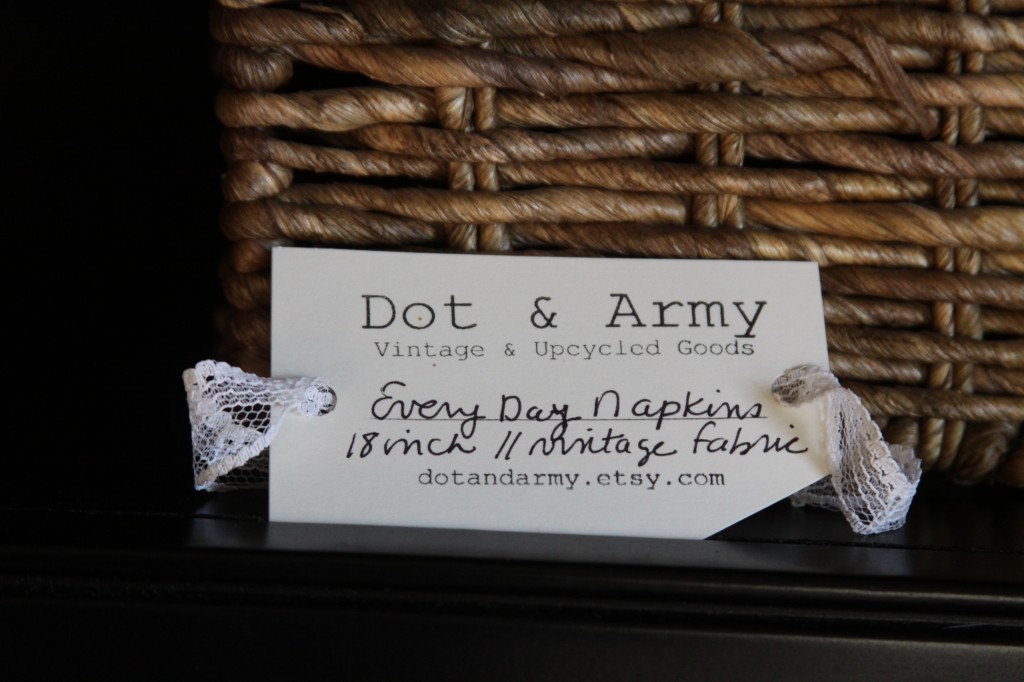 I also want to take a minute to give a VERY long overdue thanks to the team over at Dot and Army for sending me these amazing napkins that you may have seen in a number of shots recently. They sent me the napkins months ago, but with the craziness of summer and all that has been going on, I let the thank you slip to the wayside. I can say from experience that their products are fantastic, and I love the idea of taking vintage materials and making them into napkins that you can use again. Upcycling at its best!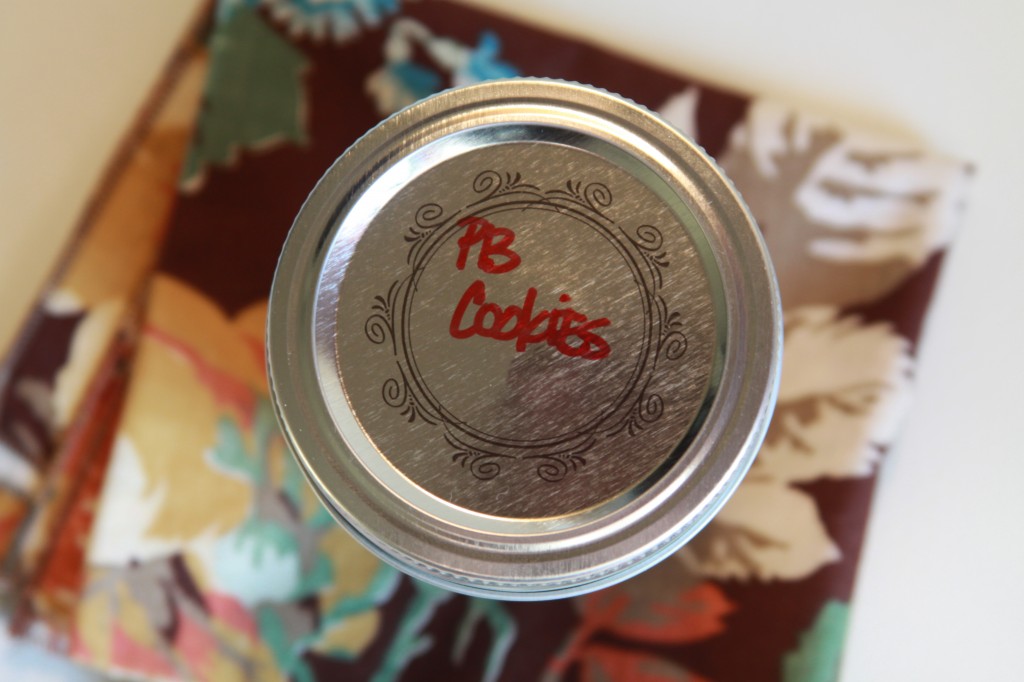 Old-Fashioned Mini Peanut Butter Cookies
Recipe from Epicurious.com
Ingredients
*1 1/2 cups flour
*1/2 teaspoon baking powder
*1/2 teaspoon salt
*1 stick unsalted butter, softened
*1/2 cup crunchy peanut butter (do not use natural peanut butter for this recipe)
*1 teaspoon vanilla extract
*1/2 cup packed brown sugar
*1/2 cup granulated sugar
*1 large egg
Instructions
*Preheat oven to 350°F. Line a baking sheet with parchment or a nonstick baking mat, such as a Silpat.
*In a bowl, combine the flour, baking powder and salt.
*In the bowl of an electric mixer, combine the butter, peanut butter, vanilla and sugars and beat 2 to 3 minutes, until well combined and fluffy. Add in the egg and beat until well combined.
*Add the flour mixture to the butter mixture and beat until just combined.
*Scoop teaspoon-sized balls into hands and roll between hands until smooth and round. Place about 1-inch apart on the prepared baking sheet. Dip a fork in water or lightly spray with nonstick cooking spray and press down on top of cookies to form a crossed pattern. Bake cookies for 9 minutes, until lightly golden brown around the edges. Cool for 2 to 3 minutes on the baking sheet and transfer to wire rack to cool completely.
*If desired, place cookies in small mason jars and give away to friend and family.
Happy Baking!
Madison