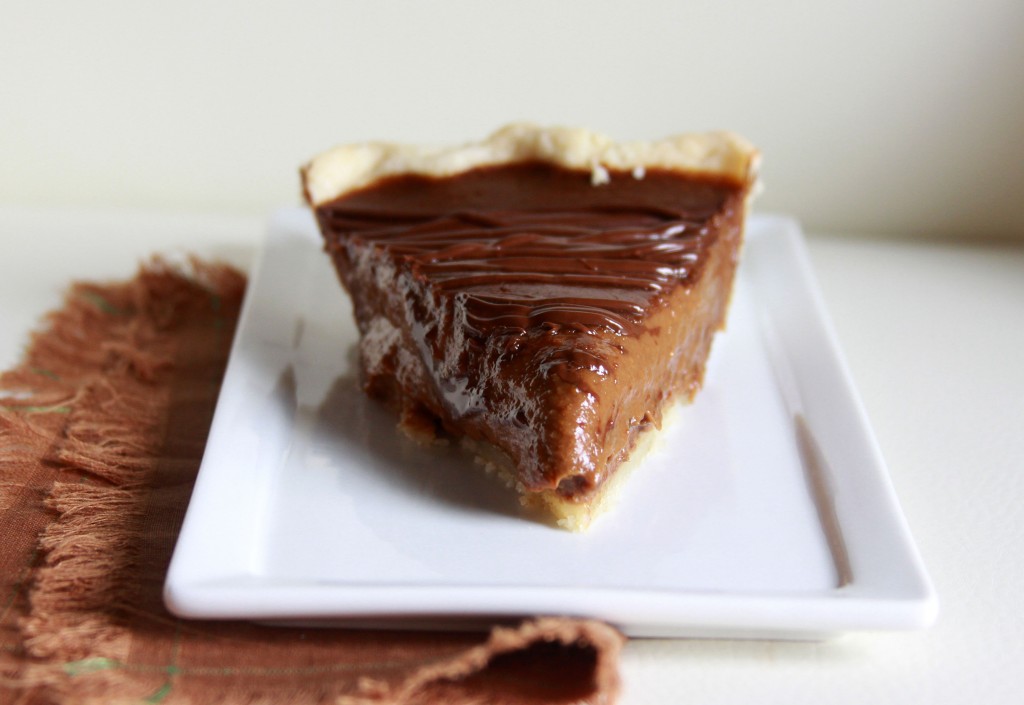 Today, my friends, was the ultimate relaxing Sunday. In fact, Joe and I had an entire weekend full of relaxation, which was exactly what the doctor ordered. Both of us seem to be coming down with a bit of a head cold, and it was incredibly rainy/stormy for most of the weekend, giving us an excuse to do very little other than watch football, bake (things like this Chocolate Pumpkin Pie) and run some errands that have been on the to-do list for quite a while.
Another exciting development? Grinnell got a new restaurant this week. Joe and I have eagerly been awaiting the opening of Prairie Canary in our small town, since the owner is known around Des Moines for being quite the restauranteur. We swung by for brunch on Sunday, and although there were a few kinks to be worked out in the service department (understandable for it only being the third day open) the food did not disappoint. There were a bunch of vegetarian options (I had the tofu curry scramble) as well as options to please my meat eating husband (bacon and eggs, anyone?) If you're in the Des Moines area, I think it's worth the trip to Grinnell for dinner some night.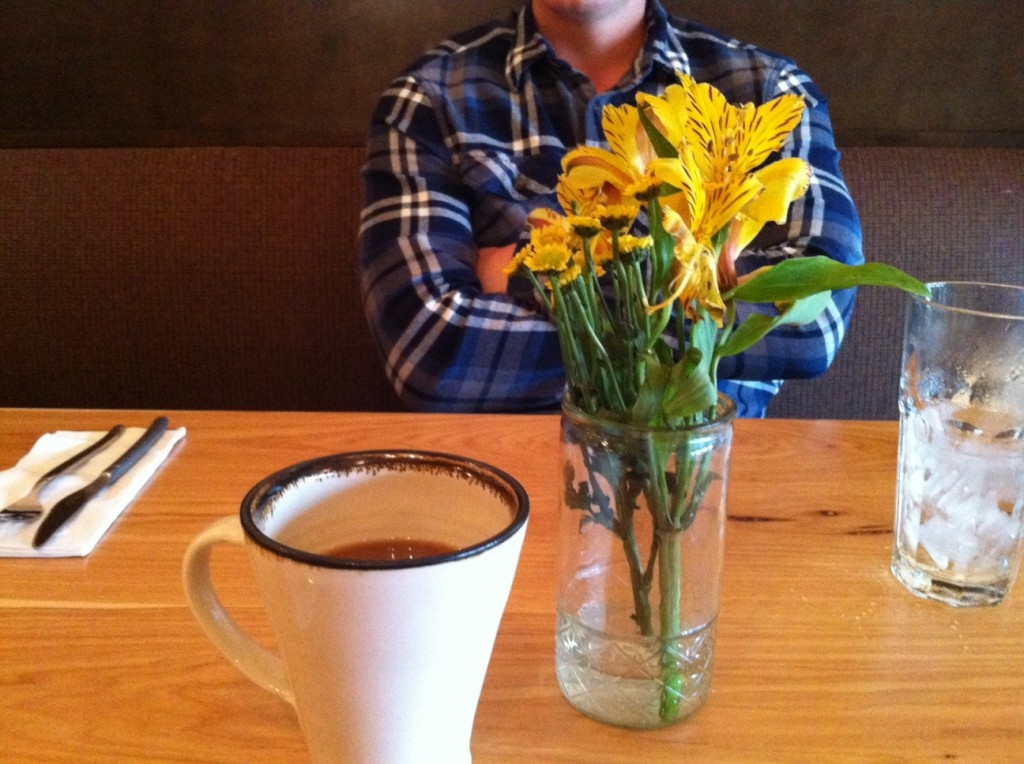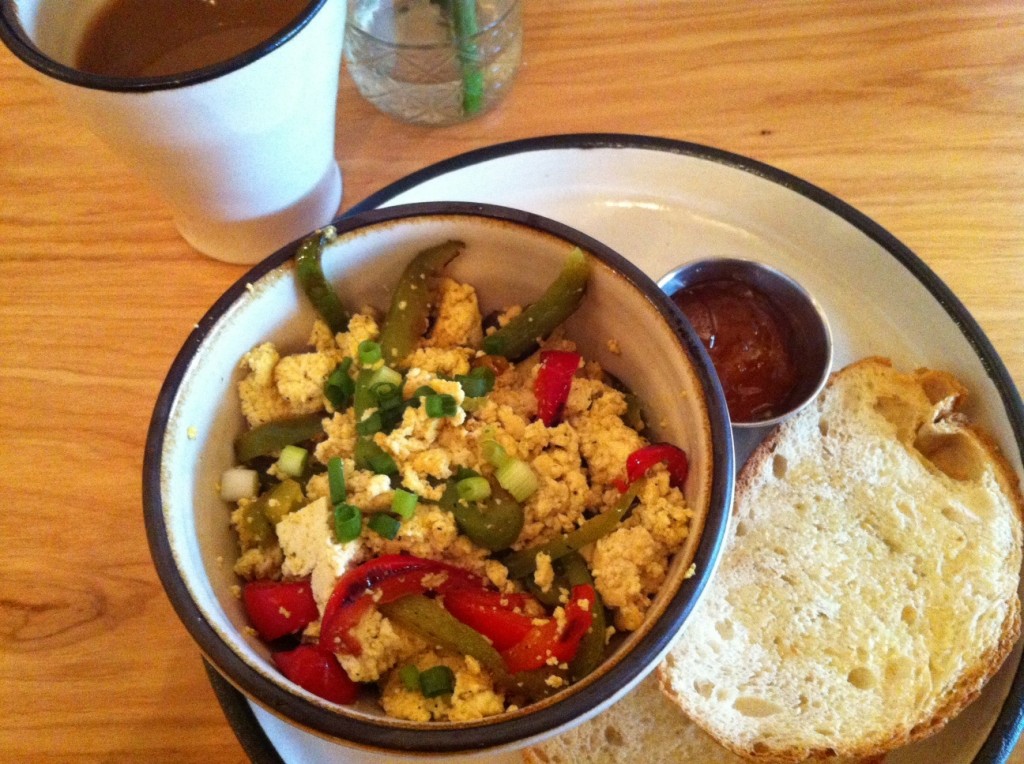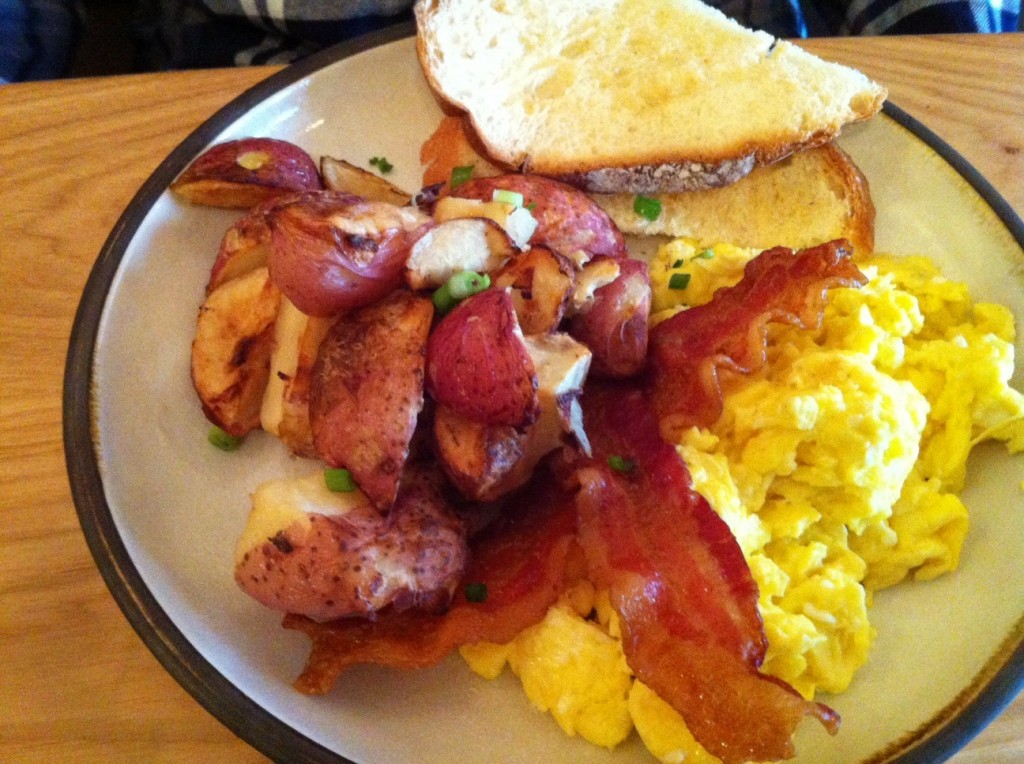 And that baking I did? Well, in addition to my weekly double batch of bran muffins, I also baked this Chocolate-Pumpkin Pie. Since we're halfway through October, I thought it was high time to make some version of my favorite pie. Last year, it was Caramel Pumpkin Pie, and this year's twist came from chocolate.
Pumpkin and chocolate have long been one of my favorite combos, and adding a little bit of melted semi-sweet chocolate to the custard base gave the filling an extra smooth texture and sweet, creamy flavor. Joe said this was the best pumpkin pie he's ever had and likened it to a Pumpkin Spice Latte in pie form. Sounds like a ringing endorsement if you ask me!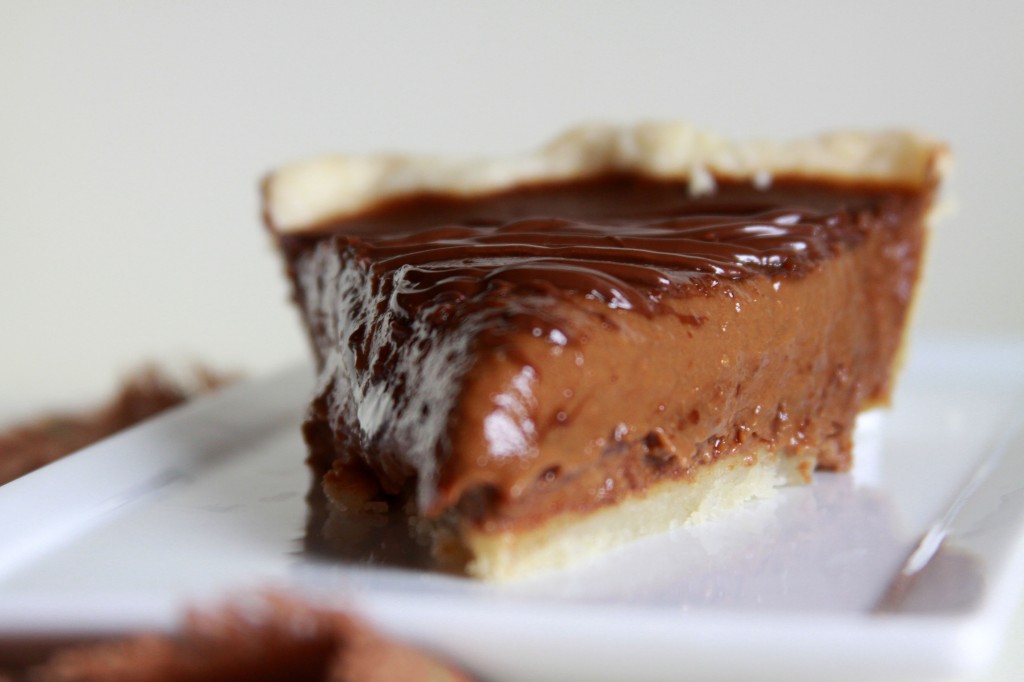 Chocolate Pumpkin Pie
Inspired by Martha Stewart's Triple Chocolate Pumpkin Pie
Ingredients
Crust from Desserts By The Yard by Sheri Yard
*2 1/2 cups flour
*2 tablespoons sugar
*1 teaspoon salt
*1 tablespoon white wine vinegar or apple cider vinegar
*16 tablespoons (2 sticks) butter, cut into small pieces
*1/2 cup ice water
Filling
*6 ounces semi-sweet chocolate chips
*4 tablespoons unsalted butter, cut into pieces
*15 ounces (1 can) pumpkin puree
*1 can (12 ounces) evaporated milk
*3 large eggs
*3/4 cup brown sugar
*1 teaspoon vanilla extract
*1 tablespoon corn starch
*1 teaspoon ground cinnamon
*3/4 teaspoon ground ginger
*1/4 teaspoon nutmeg
*1/2 teaspoon salt
*1/4 cup milk chocolate chips, melted (can substitute semi-sweet if desired)
Instructions
*Preheat oven to 350°F. In the bowl of a food processor, combine the flour, sugar and salt. Add the butter and pulse with on-off turns until the mixture resembles a coarse meal. Combine the vinegar and ice water. Slowly add the ice water to the flour-butter mixture and pulse with on-ff turns until the mixture just comes together. Divide into two portions and wrap in plastic wrap. Refrigerate for at least 30 minutes.
*Meanwhile, prepare the filling. In a medium saucepan over medium heat, combine the butter and chocolate chips. Melt, stirring frequently, until chocolate and butter are melted and smooth. Remove from heat.
*In a second bowl, combine the remaining ingredients except the milk chocolate chips. Stir until well combined and smooth. Add the chocolate-butter mixture to the pumpkin mixture, stirring until smooth and well combined.
*Remove one of the dough portions from the fridge. Roll out onto a lightly floured surface into a 1/4-inch thick circle. Transfer to a 9-inch pie pan. Crimp the edges with your fingers. Pour the filling mixture into the unbaked pie shell. Bake for 55 to 60 minutes, or until the edges are set and the center is still slightly jiggly. Cool for 30 minutes on wire rack. Refrigerate for at least 8 hours or overnight. Before serving, drizzle with the melted milk chocolate. Makes 8 servings
Happy Baking!
Madison