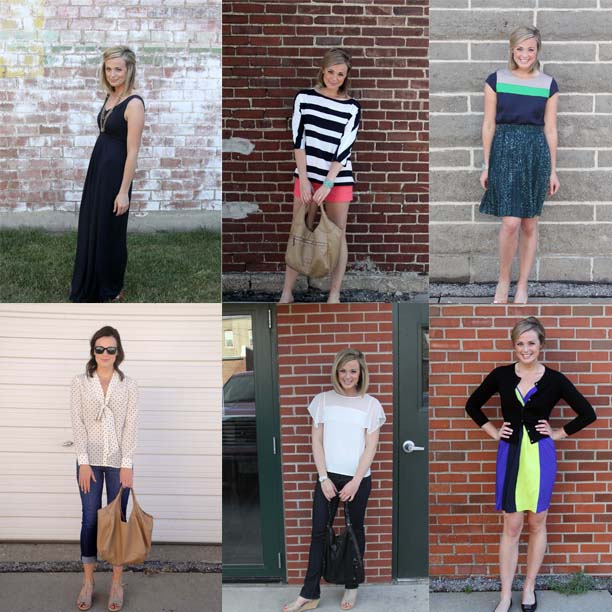 Last week I was browsing through my Google Reader (man, I start a lot of stories like this…) when I came across a post on Sarah's blog that really caught my attention. Sarah had read a couple other posts by bloggers about dressing like a blogger vs. dressing for their husbands. The blogger Sarah mentioned had husbands with some pretty strong opinions about their fashion choices, which got me thinking about what I wear and what Joe thinks about what I wear.
To be honest, I've never really asked Joe what he thinks about my fashion choices. When I wear something he really likes, he'll tell me how cute I look. And occasionally, he'll mention lightly that I'm wearing something he thinks looks a little different. But overall, Joe is not one to make comments about fashion. In order to find out what he likes and doesn't like about what I wear, I sat him down at the kitchen counter last week and asked him to lay out what he does and doesn't like. His responses were really fun/funny and had me laughing the entire time. In no particular order…
What He Likes
*Shorter, flowy skirts
*The tall brown leather boots I wear in the fall
*My boyfriend jeans
*When I wear my diamond engagement ring (vs. the gold band I sometimes wear)
*Hair pulled back out of my face
*Bright colors
*Colored shorts
*When I wear mascara
*Matching socks? (my socks never match)
*Maxi dresses
What He Doesn't Like
*My nerdy/big glasses
*My tall yellow rain boots
*Neutral colors
*Jean shorts
*Lipstick
Is it just me, or do you find that list completely random? I think my favorite is the "matching socks" comment. I guess I'll need to do a better job of pairing together my socks after they come out of the laundry instead of just picking two socks that fit my feet!
But in all seriousness, some of the bloggers who did this experiment decided after asking their husbands what they did/didn't like decided to change the way they dresses or avoid wearing certain items of clothing around their husbands. Maybe I'm alone on this one, but I find that kind of crazy. Do I want Joe to think I'm beautiful and do I like to look nice for him? Absolutely! Am I about to quit wearing neutrals (which I love) just because they are on the list of things he doesn't like? You bet not.
It was fun to play the game and have a few laughs over what he likes and doesn't like, but I don't think I'll be turning in my rain boots next time it rains. And I'm still eyeing a pair of nerdy glasses I spotted online.
Ladies, what do you think? Would you (or have you) changed the way you dress for your man?