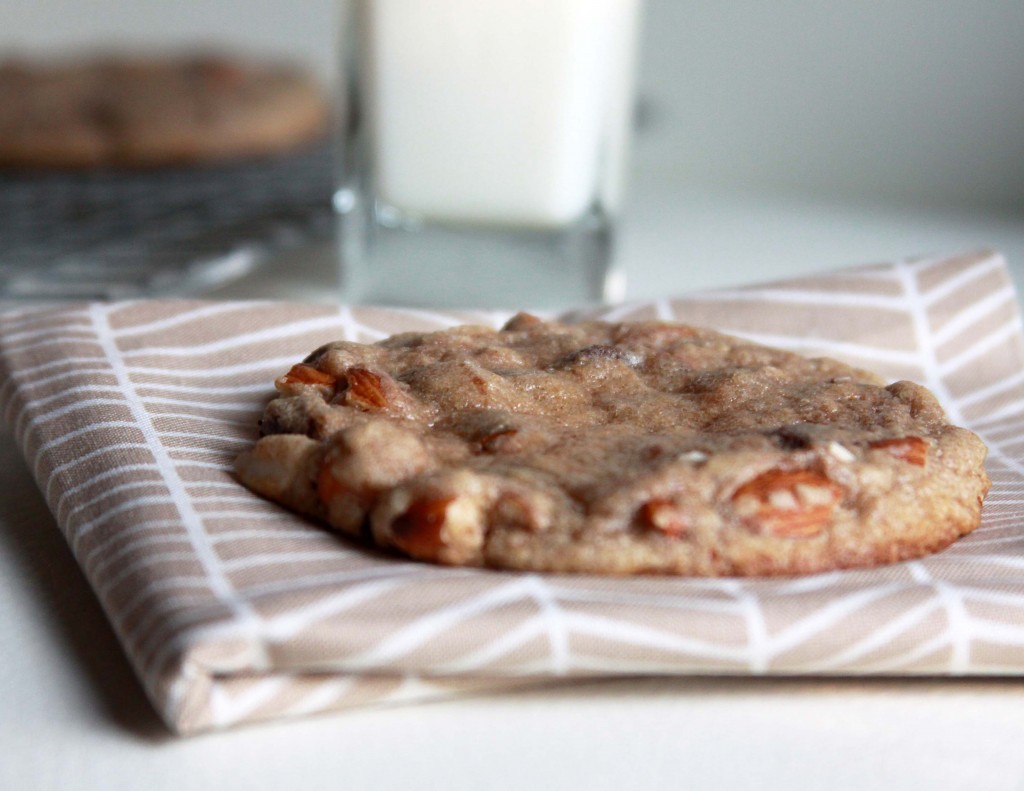 I'm sure you all already know this, but my friend Christina has an fabulous blog that is dedicated to all things dessert, scaled down in size to feed two people. What a great idea, right? I can't tell you how many times I've wanted to do some baking but stopped myself because I didn't really want two dozen cookies or an entire cake sitting around my kitchen, tempting me for days on end. Christina has remedied this with her creative, tasty recipes that give all of us with small families a reason to bake more frequently.
Being inspired by Christina, I decided to do a little small-batch cookie baking last weekend. I used my favorite chocolate chip cookie recipe as the base for this recipe, then scaled it down so that instead of making 12 to 16 cookies, it now makes 6 to 8. In addition to making the batch smaller, I also added in chopped toasted almonds and used a little bit of whole wheat flour in the dough to make these cookies hearty and give them a bit of crunch.
We both loved that these cookies felt substantial, and something about using whole wheat flour, toasted almonds and dark chocolate made them seem a little healthier. Almost like a really awesome granola bar or breakfast cookie. Okay, so they aren't exactly health food, but they could be a whole lot worse! So next time you get a craving for chocolate chip cookies but don't want to be tempted to eat the entire batch in only a couple days, give these cookies a try.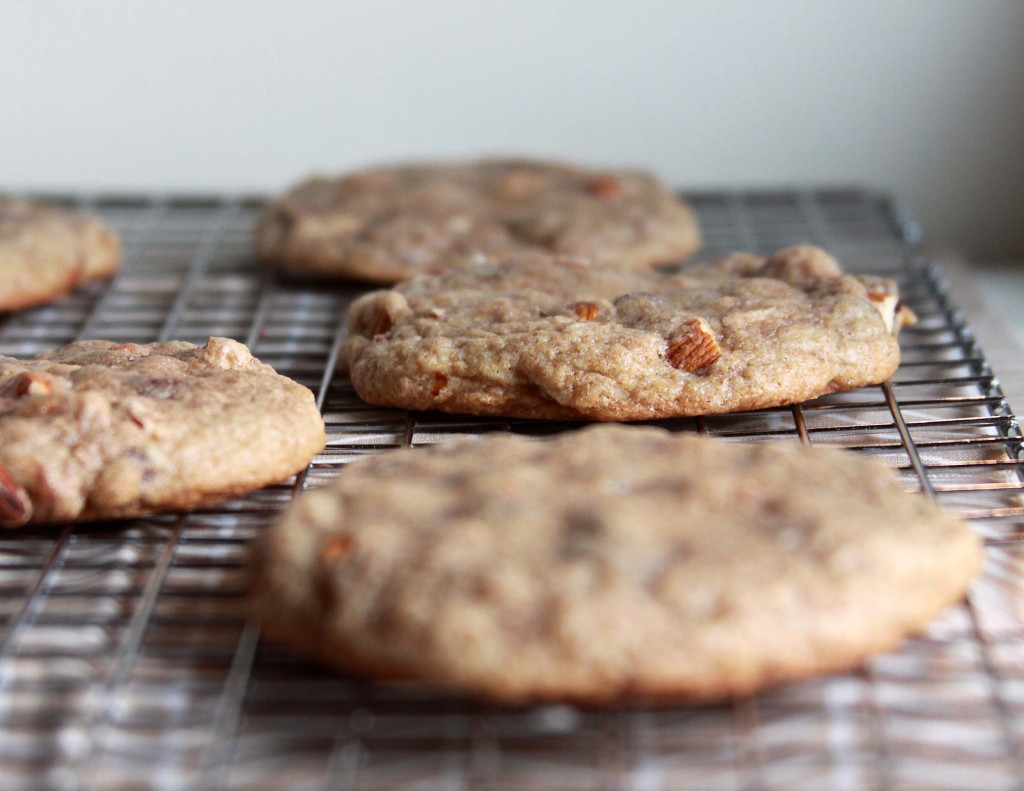 Small-Batch Dark Chocolate Chip Cookies with Almonds
Ingredients
*4 Tablespoons butter, softened
*1/4 cup brown sugar
*1/4 cup sugar
*1/2 teaspoon vanilla extract
* 1 large egg
*1/4 cup all-purpose flour
*1/2 cup whole wheat flour
*1/4 teaspoon baking soda
*1/8 teaspoon salt
*1/4 cup chopped, toasted almonds
*1/3 cup dark chocolate chips
Instructions
*Preheat oven to 350°F. Line a baking sheet with parchment paper or a non-stick baking mat (such as a Silpat); set aside.
*In the bowl of an electric mixer, cream together the butter, brown sugar and sugar. Beat until light and fluffy, about 2 minutes. Add in the egg and vanilla extract. Beat until combined.
*In a small bowl, combine the flour, whole wheat flour, baking soda and salt. Add dry ingredients to butter-egg mixture in bowl. Beat until just combined. Stir in the toasted almonds and dark chocolate chips by hand.
*Scoop dough by heaping tablespoons onto baking sheet. Flatten slightly with your hand. Bake for 9 to 11 minutes, until the edges are slightly browned and centers are still slightly soft and glossy (this is for chewy cookies, if you like a crunchier cookie, bake 11 to 13 minutes). Cool for 5 minutes on the baking sheet. Transfer to a wire rack to cool completely. Makes 6 to 8 cookies
Happy Baking!
Madison