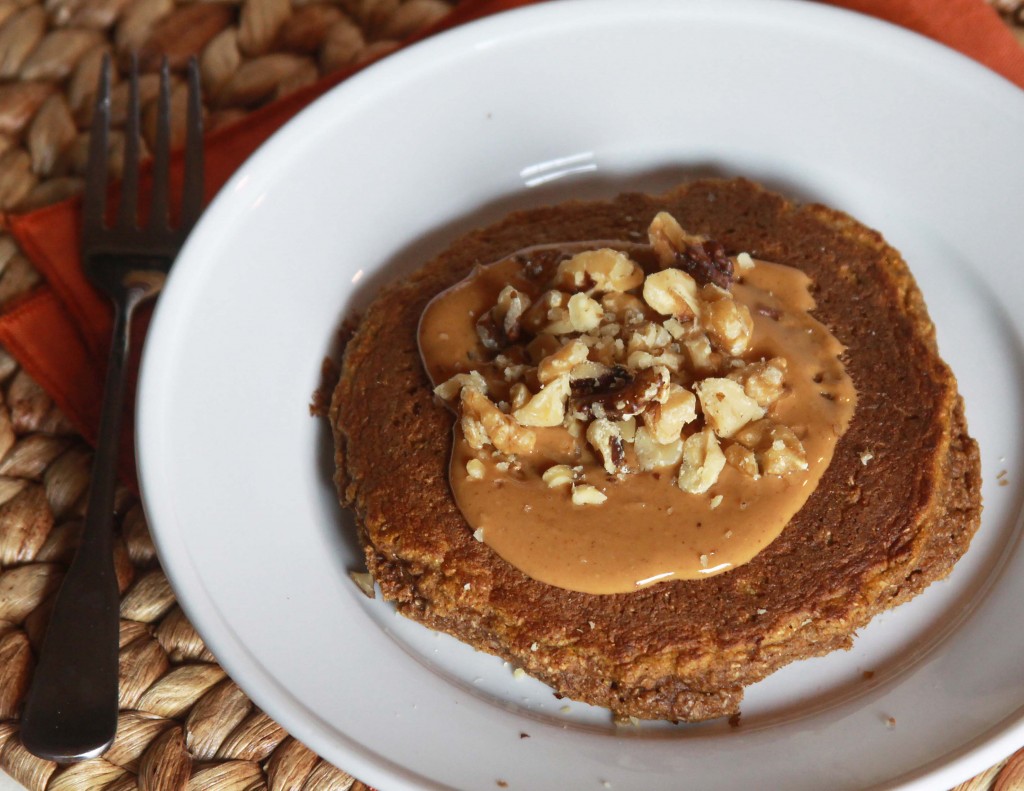 To say that I've been obsessed with making bran muffins is probably an understatement. Just ask my husband. Ever since making my first batch of these muffins, I've been experimenting every few days with new mix-ins and flavor combinations. Joe and I both eat them frequently for breakfast, and I find that they make a great mid-afternoon or pre-workout snack. Basically, I love them, in case you couldn't tell. If you haven't made them yet, I would strongly suggest giving them a try.
This weekend I took things a step further by turning my beloved bran muffins into pancakes. It was surprisingly easy, and the results got rave reviews by both members of the Hofmeyer house. Adding bran to the whole wheat flour keeps these pancakes moist and soft and prevents them from becoming dry and chewy like a lot of 100% whole wheat pancakes.
Of course, I was curious about the nutrition information of these hearty cakes, since I like to make sure that our first meal of the day is healthy and balanced. Assuming that this batch of pancake batter makes 4 servings (1 generous sized pancake per person), the nutrition information is impressive. Each pancake has 145 calories, just 2 grams of fat (assuming you use 1% milk), 7 grams of fiber and 7 grams of protein. Crazy good, right?  Top one of these pancakes with a little peanut butter, some walnuts or sliced bananas and you've got yourself one heck of a healthy breakfast.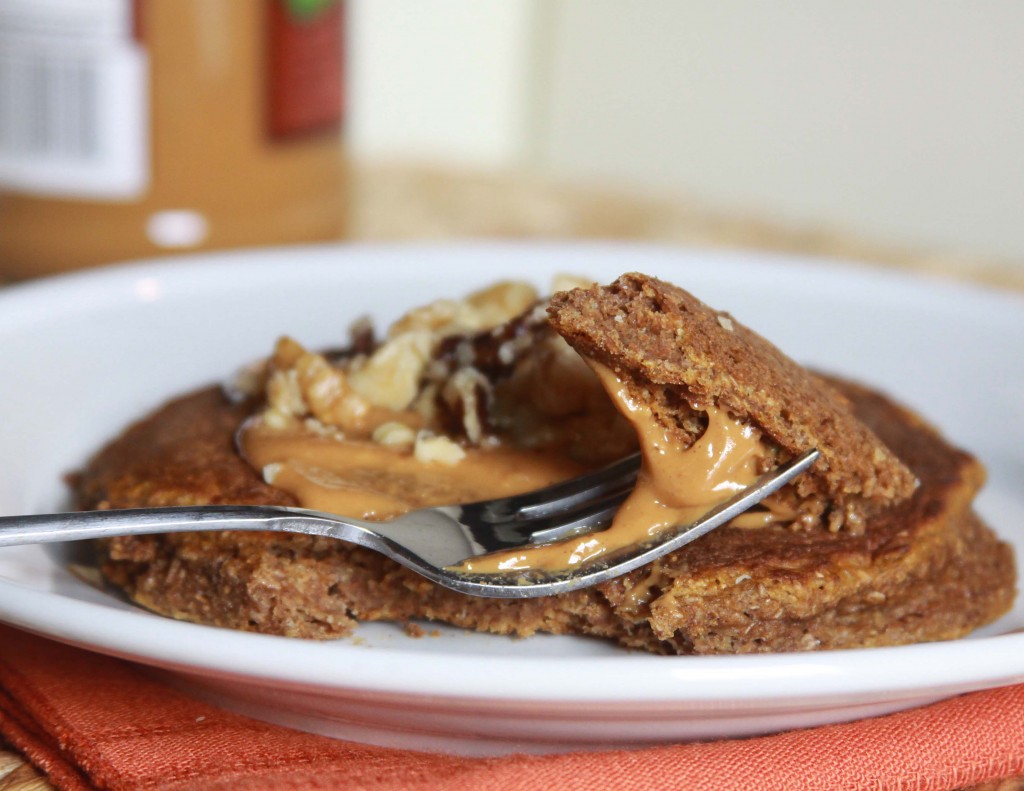 Pumpkin-Bran Pancakes 
Ingredients
*3/4 cup wheat bran
*1/2 cup whole wheat flour
*1 teaspoon baking soda
*1/2 teaspoon pumpkin pie spice or cinnamon
*2 tablespoons brown sugar
*3/4 cup milk
*1 large egg, lightly beaten
* 1/4 cup pumpkin puree
Instructions
*In a medium bowl, combine the wheat bran, flour, baking soda, spices and brown sugar. Stir until well combined. Add in the milk, egg and pumpkin puree and stir until wet and dry ingredients are evenly combined.
*Preheat a nonstick skillet over medium heat. Lightly grease with nonstick cooking spray or butter. Add batter (a heaping 1/3 cup per pancake) into the skillet and cook for 2 to 3 minutes, or until bubbles start to form at the surface of the pancakes. Flip and cook for 1 to 2 minutes more. Remove from heat and transfer to plate. Top with peanut butter and walnuts, if desired. Makes 4 pancakes
Nutrition Facts per pancake: 145 cal., 2 g fat, 49 mg chol., 332 mg potassium, 31 g carbohydrate., 7 g dietary fiber, 7 g protein
Happy Cooking!
Madison