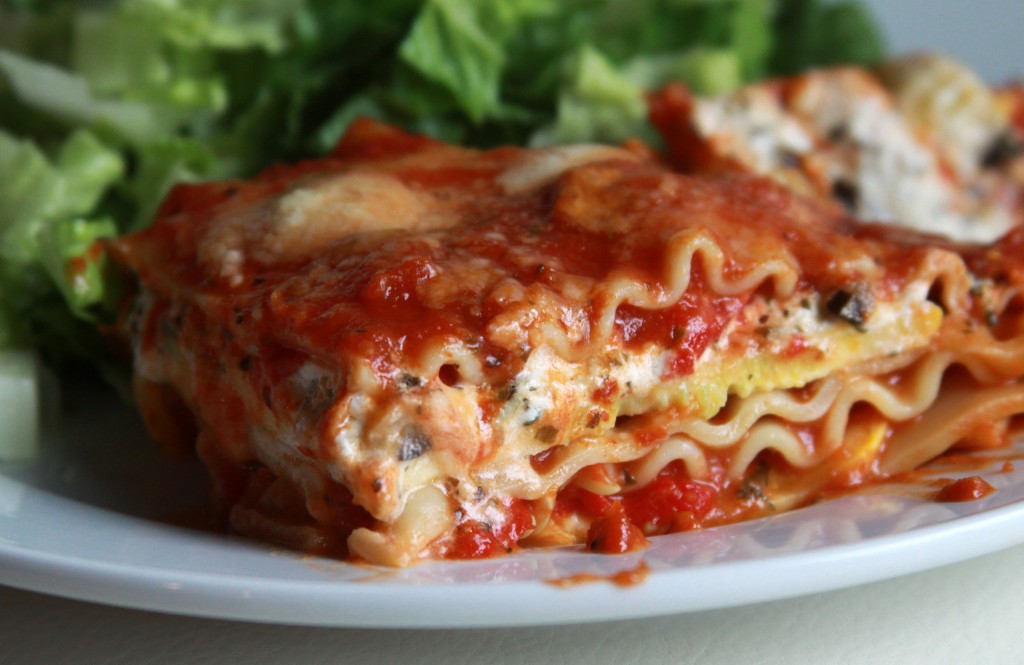 Happy Monday, all! Did anyone do anything fun this past weekend? Joe and I had an incredibly relaxing weekend at home which was just what we needed. I'm not sure what I did to deserve it, but Joe really spoiled me this weekend by taking me shopping to the outlet malls on Friday night and going to a drive-in movie for the first time in years. Oh, and did I mention that my husband who never cooks told me on Saturday that he was going to make dinner and I was not allowed to help.
When he told me that he was going to make a Vegetarian Lasagna with Goat Cheese and Summer Squash that he found on Epicurious.com, I was a little nervous for him. (Pace yourself, Joe! Go with something easier!) But he insisted that this was what he was going to make and there was nothing I could do about it, except go with him to the grocery store to make sure he bought the right ingredients. I followed along, helping him select summer squash, goat cheese, roasted red peppers and olives, and then tried my best to be hands-off in the kitchen. I may have gotten scolded a few times for trying to help. I think I have control issues in the kitchen. I'm working on it, okay?
When we sat down for dinner I was floored! The lasagna was honestly one of the best I've ever had, filled with tangy, creamy goat cheese, layers of perfectly-cooked summer squash and sweet tomato sauce. Joe really outdid himself, and now I'm thinking that he should make Saturday night dinner part of our regular routine. The original recipe called for raw minced garlic, which Joe and I both agreed was a bit pungent and harsh in the lasagna, so I've modified the recipe to include a little cooking before adding it to the goat cheese mixture. And instead of dicing the summer squash, we decided to cut it into strips for ease and texture. And for those of you who steer clear of lasagna because of the hefty calorie load, the original recipe says that a serving contains just 312 calories and 5 grams of fat, so you can feel good while eating this tasty dish.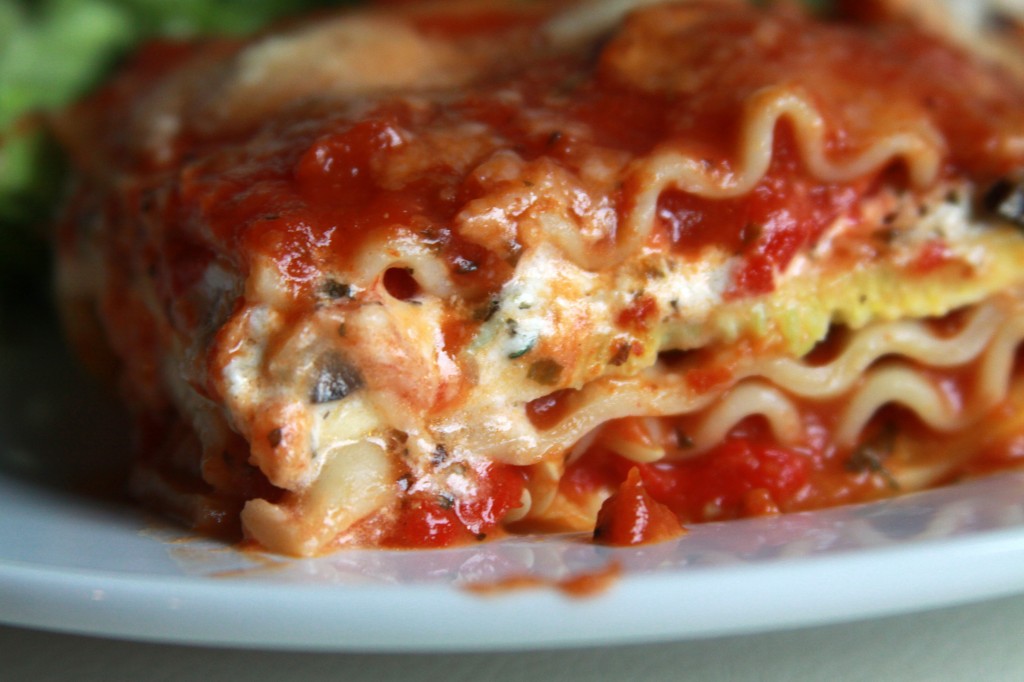 Vegetarian Lasagna with Goat Cheese and Summer Squash
Recipe only slightly adapted from Epicurious.com
Ingredients
*5 to 7 ounces goat cheese (depending on how much you like cheese/goat cheese, Joe and I thought 5 would have been enough)
*1/3 cup chopped pitted black olives
*1 tablespoon chopped fresh thyme
*1/2 tablespoon dried basil
*1/2 tablespoon dried oregano
*2 teaspoons minced garlic
*1 teaspoon olive oil
*4 cups prepared pasta sauce
*1 lb. whole wheat or regular lasagna, cooked according to package instructions
*Freshly ground black pepper
*1 medium zucchini, cut into 1/4-inch slices
*1 medium summer squash, cut into 1/4-inch slices
*3/4 cup bottled roasted red pepper, drained and chopped
*1/4 cup grated Parmesan cheese
Instructions
*Heat oven to 375°F. Lightly grease an 8×11-inch baking dish. Set aside.
*In a small bowl, mix together the goat cheese, olives, thyme, basil and oregano. In a small skillet, combine the garlic and olive oil until garlic is fragrant and lightly browned. Add the garlic mixture to the goat cheese mixture and stir until well combined and smooth.
*Spread one cup of the pasta sauce at the bottom of the prepared baking dish. Add one layer of lasagna and season with black pepper. Add a layer of zucchini/squash (we alternated zucchini/squash in a single layer), and red pepper. Dollop spoonfulls of goat cheese mixture over vegetables and spread to cover. Repeat layers, finishing with pasta and sauce. Sprinkle Parmesan on top of sauce and bake, covered with aluminum foil, for 40 minutes. Uncover and bake 5 minutes more or until top browns. Let stand 5 minutes before serving. Makes 8 servings
Happy Cooking!
Madison