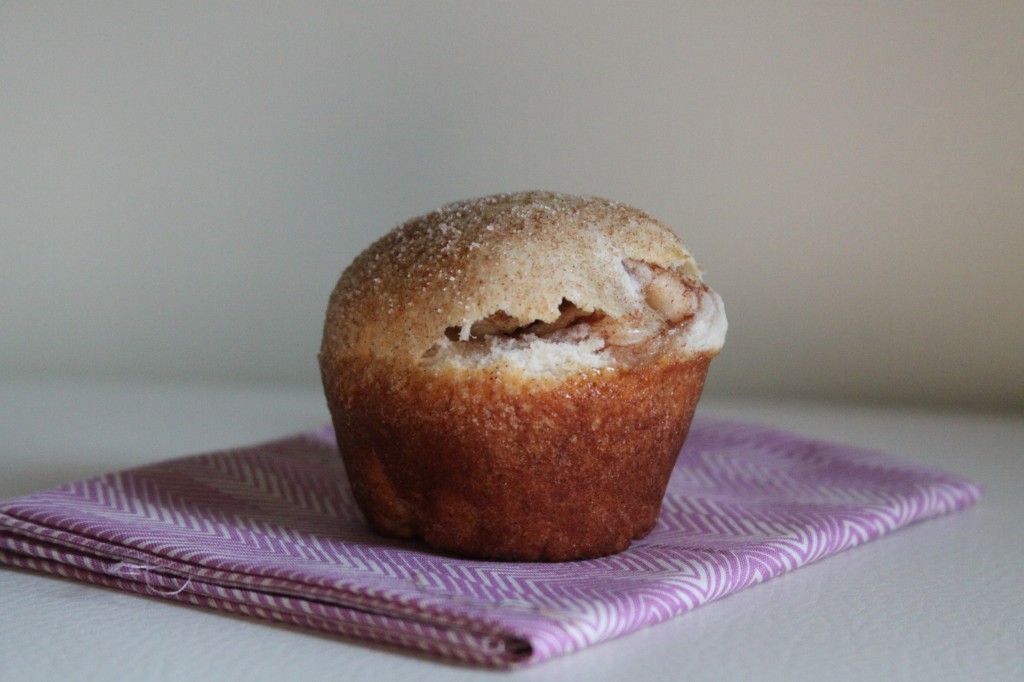 You're all already aware of the fact that I like to keep things pretty healthy and un-processed around here, right? So may it's a bit of a dichotomy to be posting a recipe based around a can of Pillsbury Grands Biscuits. I'll admit, it's not innately "me" but I have a husband who loves those buttery little biscuits from a can. And so, from time to time, they make it into our shopping cart.
Since there are only two of us at mealtime (excluding Nutmeg, who begs to be a part of each meal) there are always plenty of leftover biscuits. Eight is just too many! Sometimes I'll bake them all up, and other times I'll keep the unbaked biscuits in the fridge only to throw them out the next week. Instead of tossing the extra biscuits, I decided to find a different way to make use of the ones we don't need at dinner. Hence, Cinnamon-Banana Stuffed Muffins were born.
Hardly a culinary feat, I like to think of these babies as "cheater breakfast" since they require very little actual cooking and aren't going to transform the way you bake any time soon. But they're downright delicious and really easy. Perfect for using up leftover biscuits or on a weekend morning when pancakes just seem like too much work, with all that flipping and tending to the skillet.
Cinnamon-Banana Stuffed Muffins
Ingredients
*1 (8 biscuit size) can Pillsbury Grands Flaky Layers Biscuits
*2 large bananas, sliced
*1/2 to 1 teaspoon ground cinnamon
*2 tablespoons brown sugar
*1 tablespoon butter, sliced into 8 thin pats
*Cinnamon sugar for dusting
Instructions
*Preheat oven to 350°F. Lightly grease 8 muffin cups with nonstick cooking spray. In a small bowl, combine the banana slices, cinnamon and brown sugar. Toss to coat.
*Flatten each of the 8 biscuits into circles 1/4-inch thick. Place 3 to 4 banana slices in the center of each circle, along with some of the brown sugar and cinnamon in the bowl and one of the butter pats. Seal up the edges to form a crescent shape, then pinch together the long ends of the crescent to form a circle. Repeat with remaining biscuits, bananas and sugar. Place the biscuit pockets, sealed side down, in the prepared muffin tins. Sprinkle the tops of each biscuit with cinnamon sugar.
*Bake for 12 to 15 minutes, or until the tops are golden brown and puffed up. The biscuits may break open slightly, as shown above. Serve immediately with butter or honey, if desired.
Happy Baking!
Madison