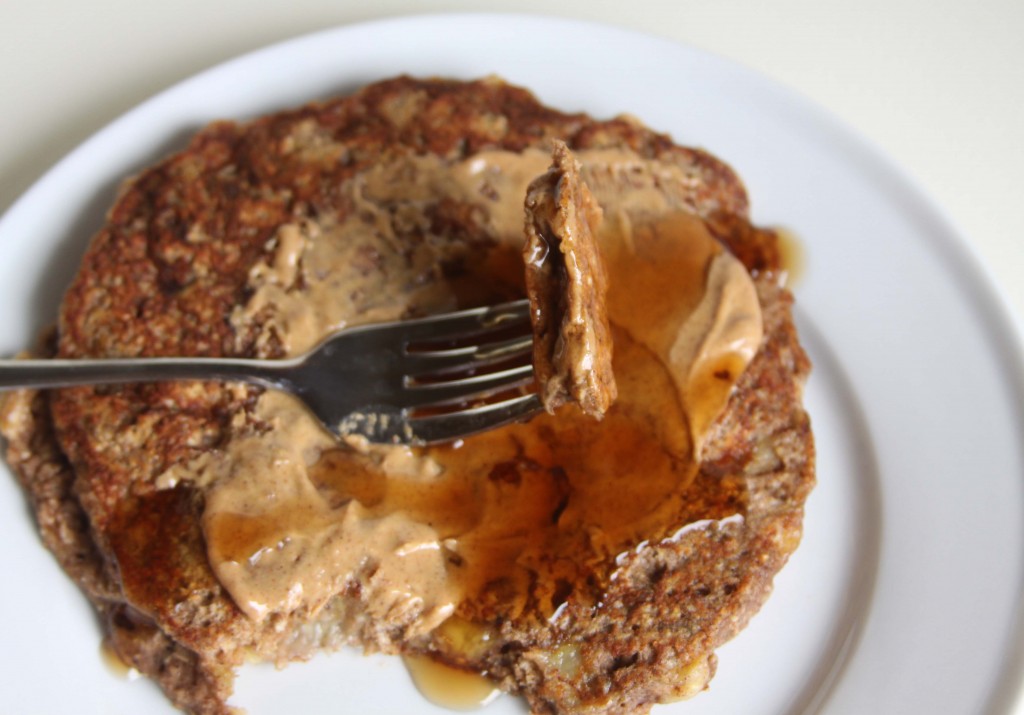 Here I am, yet again, with another pancake recipe. Are you sick of them yet? I hope not, because no matter how many pancake recipes I try, I'm always up for another variation on one of my favorite breakfasts. For the last six months, I've been eating the same breakfast almost every morning (1/2 cup oats, 1 medium banana, sliced, cinnamon, 2 tablespoon natural peanut butter). It amazes Joe that I never get sick of this repetitive morning meal, but when something works, it just works. But every once in a while I get the hankering for something different, usually on the weekends or when I'm eating breakfast for dinner.
Last week I tried a new protein pancake recipe from a source that shall remain unnamed. The source said that the pancake "batter" could be used to make waffles, too. So, I decided to give it a go. I was skeptical because the batter was made primarily of protein powder and egg whites, but since I had heard great things about the recipe I decided to give it a go. Never have I ever had such a mess on my hands! The runny batter spilled out all over my waffle iron and onto my counter and took me forever to clean up. I'm guessing it would have probably made a pretty awful pancake, too.
Since I was still craving pancakes I decided to make up a recipe that would work more consistently than the recipe I had just tried. Since I don't really love the idea of using protein powder as a base for breads and cakes I decided to use something more natural – oat flour. If you've never made your own oat flour, it's incredibly simple. All you need to do is pulse regular rolled oats in your coffee grinder or food processor until the oats turn into a flour-like fine meal. Oat flour doesn't contain gluten (as long as you're using gluten-free oats), so I added in a tablespoon of whole wheat flour to the mix, too, in order to give the pancake familiar texture and chew. The protein in this cake comes from an egg white and the sweetness from a mashed ripe banana. If you love things super-sweet, I've provided a small optional amount of stevia which can be added to the batter. I find that the pancake is sweet enough with just the banana, but it's entirely up to you.
I was really surprised with how much this pancake tasted like banana bread! The center is just slightly gooey and soft, which only adds to the banana bread effect. For those of you interested in the nutritional stats of this pancake, I did a rough calculation and found that it clocked in around 200-220 calories without the nut butter or pancake syrup. Not bad considering that this pancake is a very generous serving and most definitely fills you up, especially with the extra protein from the nut butter.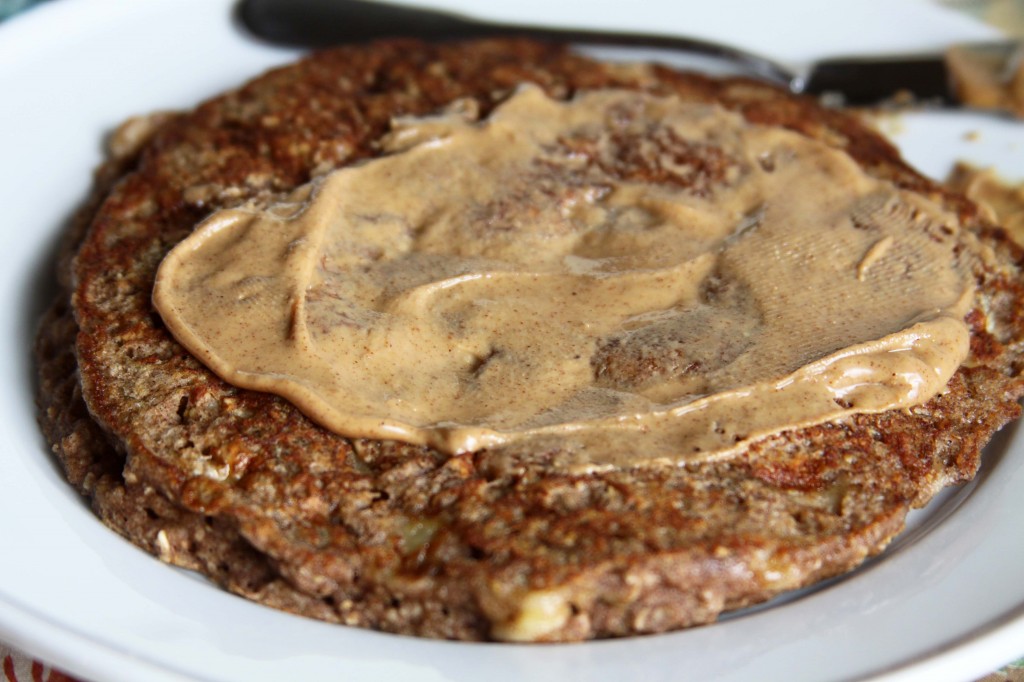 Banana Bread Protein Pancake
Ingredients
*1 egg white, lightly beaten
*1 medium ripe banana, mashed
*1/2 teaspoon cinnamon
*1/4 teaspoon baking soda
*1 packet Stevia (optional, if you like things very sweet, but I think they are plenty sweet from the banana)
*3 tablespoons oat flour (I just pulse rolled oats in my coffee grinder until finely ground to make oat flour)
*1 tablespoon whole wheat flour
*Sugar-free syrup and almond or peanut butter, if desired
Instructions
*Preheat a nonstick skillet sprayed with nonstick cooking spray over medium heat. In a small bowl, whisk together the egg white and banana until well combined and slightly foamy. Stir in the cinnamon, baking soda, and stevia, if using. Stir until well combined. Stir in the oat flour and whole wheat flour until just combined. Do not over-mix.
*Spoon batter into preheated skillet. Cook for 2 to 3 minutes on one side, until bubbles form on the surface of the pancake. Flip and cook 1 to 2 minutes more. Top with almond butter or peanut butter and sugar-free syrup, if desired.
Happy Cooking!
Madison