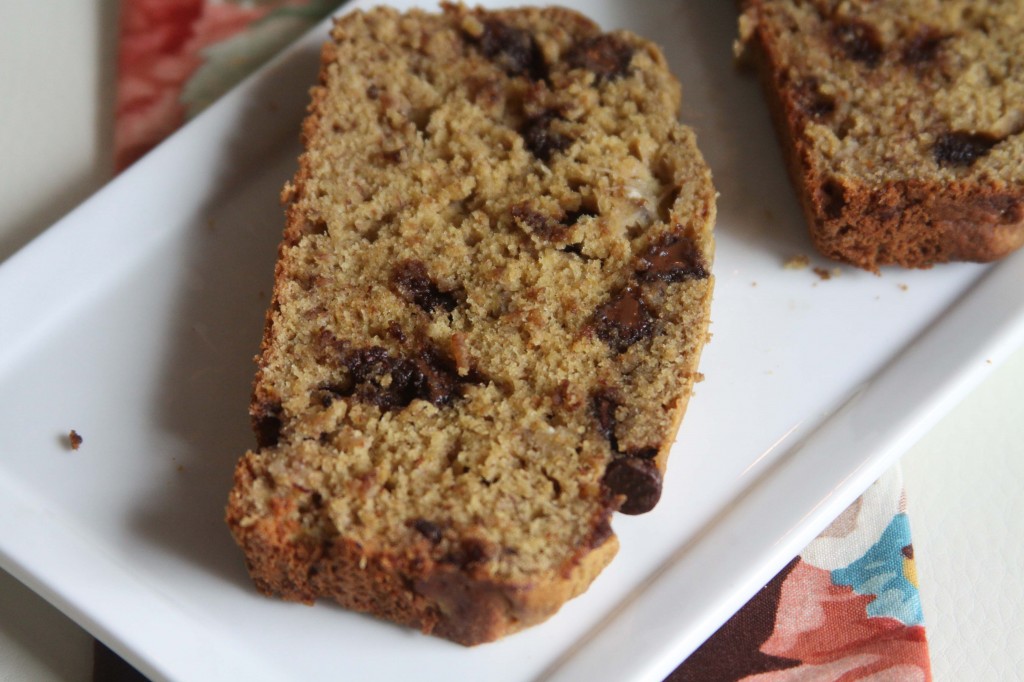 Espresso and Cream has been pretty light on the recipes lately, and I think it's time to remedy that! I've been doing a bit more baking and experimenting with quinoa flour over the past couple months. Initially, I thought it was a difficult flour to work with. It has a slightly stronger, nuttier taste than whole wheat flour, and it doesn't contain gluten, so it typically needs to be cut with another type of flour. But once I started working with it a little more, I grew to love the flavor of quinoa flour when mixed with a little all-purpose or white whole wheat flour. I also love that it is higher in protein that tradition flours, which makes it a great addition to quick breads and other treats you want to make a little healthier, like banana bread.
Each week, we buy somewhere between 8 and 10 bananas, which means I'm always looking for new ways to dress up banana bread. There are already a number of recipes for banana bread on Espresso and Cream, but I don't really believe there is one, ultimate banana bread. There are just too many ways to adapt the bread depending on what you're in the mood for. Last week, I happened to be in the mood for something that was slightly healthier than traditional banana bread, but still packed with hits of sweet chocolate. This is the perfect breakfast bread or afternoon snack, and Joe even called it the "best banana bread you've ever made."
One measure I use to judge the quality of a banana bread recipe is it's "aging potential." In my opinion, a really good banana bread tastes better as the days go by. Somewhere between the second and third day after baking it, the bread truly tastes the best. After taking this bread with us to Minneapolis last weekend and eating it throughout the days we were there, I can assure you that the aging potential is spot-on.
Higher Protein Chocolate Chip Banana Bread
Ingredients
*3 bananas, mashed
*1/4 cup butter, melted
*1 large egg, lightly beaten
*1/4 cup granulated sugar
*1/4 cup milk
*1 teaspoon baking soda
*1/2 teaspoon salt
*1 teaspoon ground cinnamon
*1 1/4 cup white whole wheat flour or all-purpose flour
*1/2 cup quinoa flour
*1/2 cup milk chocolate chips
Instructions
*Preheat oven to 350°F. Lightly grease and flour a loaf pan. Set aside.
*In a large bowl, combine the bananas, butter, egg, and sugar. Beat until well combined. Add in the milk, baking soda, salt and cinnamon and beat until combined.
*In a small bowl, combine the white whole wheat flour and quinoa flour. Add the flour to the wet ingredients and beat until just combined. Do not over beat. Stir in the chocolate chips.
*Pour batter into the prepared loaf pan. Bake for 40 to 45 minutes or until lightly browned and a stick inserted in the center comes out nearly clean. Cool on wire rack.
Happy Baking!
Madison