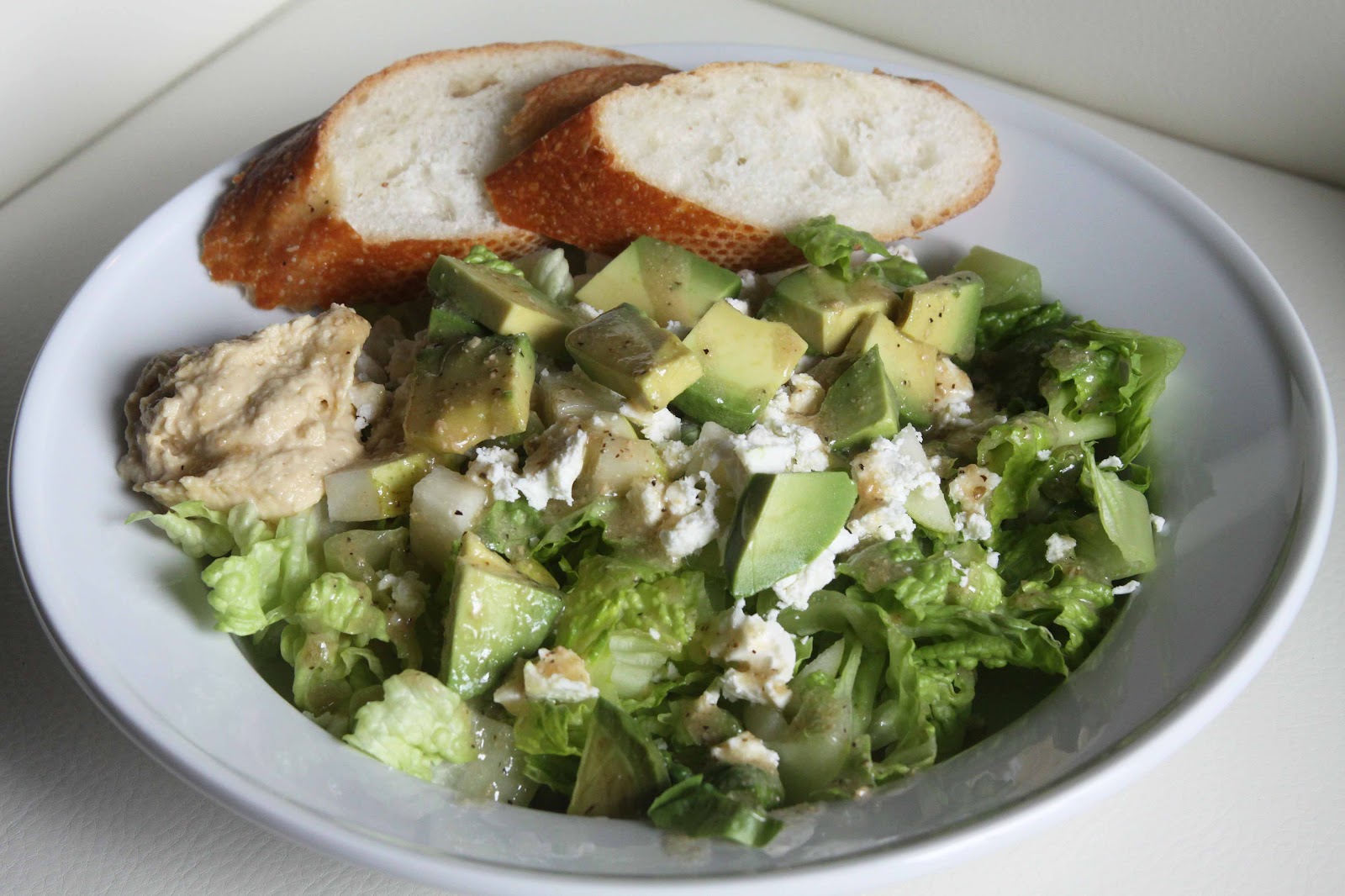 Lunches are difficult for me. Are they difficult for you? The whole process of packing a lunch, trying to find something in the fridge that will transport well and keep me filled throughout the afternoon. Something that's not going to stink up the office fridge (which is already its own kind of disgusting). It's really a drag, isn't it? But since I'm trying to eat out less during the week and save us a little extra money, brown-bagging it is the way to go. 
A couple weeks back, I made an effort to specifically buy ingredients that would make for a killer salad. Avocados, feta cheese, hummus. And then I proceeded to eat this salad four days in a row. Sometimes when something is that good, you don't get sick of it. 
From a vegetarian's perspective, this salad also meets my need for protein thanks to the hummus and cheese, and healthy fat from the avocado. Though you certainly don't need to be a vegetarian to enjoy it, since my husband found it equally delicious.
Now it's your turn: What are your favorite 'sack lunches' to take to work? I'm always looking for new ideas to add to the mix. 
Spring Green Salad
Makes 1 serving 
Ingredients
*1 1/2 cups chopped Romaine lettuce
*1 oz. crumbled feta cheese
*1/4 of a medium avocado, peeled and cut into pieces
*2 tablespoons hummus
*2 tablespoons Ken's Steak House Light Caesar Dressing (my favorite, but any light Caesar works)
*2 slices French baguette (optional)
Instructions
*Place Romaine in a sealable plastic lunch container. Top with the feta cheese, avocado and hummus. Place the dressing in a small container and toss right before serving. Serve with baguette, if desired. 
Happy Cooking!
Madison