When Joe and I first got married, Joe's mom, Lisa, gifted me with a recipe book filled with her grandmother's recipes. This binder, filled with scans of recipes both handwritten and clipped from various sources, is called 'Grandma Jacobs Recipe Book', and boy is it a gem. Although I don't think I'll be making many of the entrees or 'salads' out of this book, the desserts immediately won me over. As someone who develops recipes for a living, I was intrigued by the different methods and ingredients used to make many commonplace treats, like cookies and pies.
As I browsed through the dessert section of this book, one recipe stuck in my mind: Sour Cream Raisin Pie. Growing up in a Dutch community in Iowa, sour cream raisin pie isn't anything unusual; in fact, it's a recipe that many people I know hold near and dear to their hearts. Personally, I had always thought it sounded like a strange concept. A pie developed around sour cream and raisins?
I made the original Grandma Jacobs recipe a couple weeks ago and was shocked and how quickly Joe ate the entire pie in a matter of days. I'll be sharing the recipe with you later this week, for those of you who want the real deal. But when Chobani (Thank you, Lindsay! Your bosses should know how good you are at your job.) sent me more Greek yogurt than I know what to do with (a very good problem to have, indeed), I decided to whip up a healthier version of the pie.
Plain Greek yogurt and sour cream are nearly identical substitutes in cooking and baking, so I couldn't imagine a more natural way to incorporate the yogurt into a healthier dessert. While the calories aren't all that dramatically different between the two versions, this Greek yogurt version has twice the protein of the original, half the sugar, much less fat and just as much flavor.
Since I despise sour cream and love Greek yogurt (figure that one out), I enjoyed this version, complete with chopped pecan crust, much more than the sour cream original. That being said, the similarities between the two pies is astounding. And while sour cream raisin pie purists say you can serve this pie room temperature, I highly recommend serving it as chilled as possible. Somthing about the custard-like consistency just seems to call for being eaten cold.
Now let's get to the goodies and giveaway! I was excited when Chobani offered to send me some of their new flavors to try. The case they sent contained Apple Cinnamon, Passion Fruit and Blood Orange. Joe and I were both really eager to try the flavors. Here's what we thought.
1. Apple Cinnamon: I loved it and Joe liked it, which is probably due to the fact that I'm obsessed with cinnamon and usually add it to my plain Greek yogurt.
2. Passion Fruit: I had heard mixed reviews about the passion fruit flavor, especially the fact that it contains seeds, which some people said they don't like. Personally, I didn't mind the seeds and thought the flavor was pleasant. Joe, on the other hand, LOVED this flavor. He said it comes in second to his all-time favorite, black cherry.
3. Blood Orange: This was my favorite of the bunch. The tart, bright citrus flavor was spot-on and made for a perfect snack on its own.
Chobani wants to spread the Greek yogurt love to more than just me; they want to send some yogurt your way, too. They have generously offered to give away a case of their new flavors (Apple Cinnamon, Passion Fruit and Blood Orange) to one lucky reader. And that's not all. A second reader will win 3 (32-ounce) containers of yogurt (0% plain, 2% plain and 0% vanilla). 
To enter, leave a comment below telling me what your favorite flavor of Greek yogurt is between now and Sunday, April 1st at 10 p.m.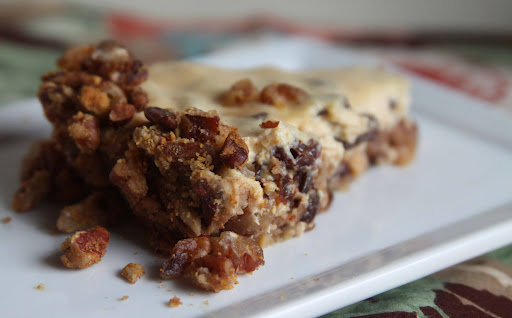 Greek Yogurt Raisin Pie
Ingredients
Crust
*2 cups chopped pecans
*2 tablespoons unsalted butter, melted
*1/4 cup graham cracker crumbs
*1 tablespoon granulated sugar
Filling
*1 cup Chobani 0% Plain Greek Yogurt (or other 0% plain Greek yogurt)
*1 cup raisins
*1/2 cup granulated sugar
*1/2 cup Egg Beaters liquid egg replacement (or 2 large eggs)
*1/2 teaspoon ground cinnamon
*1/8 teaspoon ground nutmeg
Instructions
*Preheat oven to 350°F. Lightly grease a 9-inch pie pan with nonstick cooking spray. Set aside.
*In a small bowl, combine the pecans, butter, graham cracker crumbs and sugar. Stir until well combined. Press mixture into the prepared pie pan and up the sides of the pan. Mixture will be crumbly and just barely hold together. Set aside.
*Next, prepare the filling. In another bowl, combine the Chobani, raisins, sugar, Egg Beaters, cinnamon and nutmeg. Stir until well combined and smooth. Pour mixture into the prepared pecan crust.
*Transfer unbaked pie to the middle rack of the preheated oven. Bake for 30 minutes, or until the filling of the pie is set around the edges and jiggles just slightly in the center. Remove from oven and cool on a wire rack for 15 minutes. Transfer to the refrigerator and chill for at least 2 hours. Makes 8 servings 
Nutrition Facts per serving: 359 cal., 23 g fat (2.8 g sat. fat), 4 mg chol., 43 g sodium, 36 g carbohydrate, 4 g dietary fiber, 8 g protein   Other notable nutrients: 330 mg potassium