Developing recipes, formulating story concepts and writing about food accounts for a large chunk of my day-to-day at work. That's not to say the less glamorous aspects don't exist. Budgets, schedules and scouring recipes for errors and misplaced commas also take up a good chunk of my day. But let's not focus on that right now.
The point is, I've become very familiar with recipe structure and formatting over the past four years, since the beginning days when I was an intern at Better Homes and Gardens. Before starting at the magazine, I actually had very little knowledge about what made up a complete, well-formatted recipe. And while there are many different ways to style and structure your recipe (it really depends on the magazine or company you work for), I thought it might be helpful to do a little post on recipe-writing 101. Whether you're a blogger who posts recipes or someone who enters recipes into cooking and recipe competitions, writing a recipe that is well-formatted can go a long way.
Let's break down a recipe, shall we?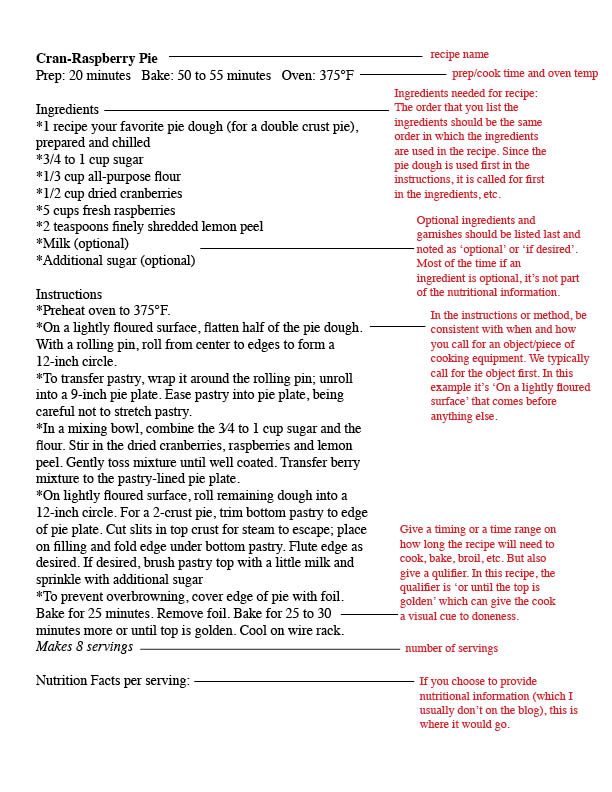 I realize this is a little hard to read in it's current form. If you click on the image, you can enlarge the photo to see the comments in closer detail. A few other things to note:
-This is just one way to write a recipe and by no means an exhaustive list of the do's and don'ts of recipe-writing. If you have any questions, leave a comment below and I'll get back to you!
 -Although I aim to write my recipes this way, I don't always include all the information above. It's something I'm working on doing a better job of in the future.
-I don't include nutritional information on most of my recipes, unless it's a recipe that is created specifically for health purposes (low calorie, high protein, etc.). If you're looking to calculate nutrition information
Spark Recipes
has a great tool online that I use frequently.
-Prep times can vary greatly. It really just depends on the cook and how quickly they move in the kitchen. Most of the time, I find it takes me longer than the suggested prep time listed in a magazine. 
Happy Cooking!
Madison