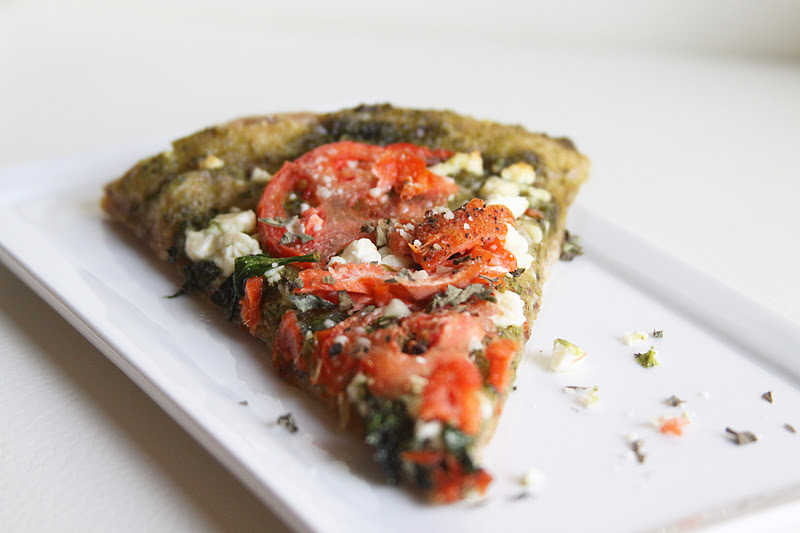 Hey everyone! How was your weekend? Joe and I had friends over on Saturday night to watch the Broncos game and eat chili. And as an added surprise, my mom joined us for the weekend. And although the Broncos lost, it helped to have company (and ice cream) around to keep us from feeling the pain of the loss too much.
And since my mom was around this weekend, we took advantage of having her snap a photo of us that wasn't taken with my computer. All ready to head to church…
Almost every week, Joey and I have homemade pizza for a weekday meal. Typically, our pizzas are of the standard variety – pepperoni and green peppers for Joe and mozzarella and basil for me. But on Friday night we dressed things up (a lot) and made a pizza you can't order from a standard take-out joint.
Inspired by our favorite dinner, salads topped with salmon and feta cheese, Salmon Salad Pizza was born. And boy is it mouthwatering. I cringed a bit at the idea of crumbling half a pound of wild Alaskan salmon atop a pizza, but the fact is it's a really economical way to feed high-quality salmon to a group of people. Instead of needing a pound or more, you can give everyone big salmon flavor for much less.
I was a tad bit skeptical about serving this pizza to Joe. Since he's pretty traditional when it comes to pizza, I wasn't sure if he would jump on board with this unique pie. Turns out, he was just as excited about it as I was. Between the two of us, we came pretty close to finishing up this pizza, with just a couple slices leftover for the weekend.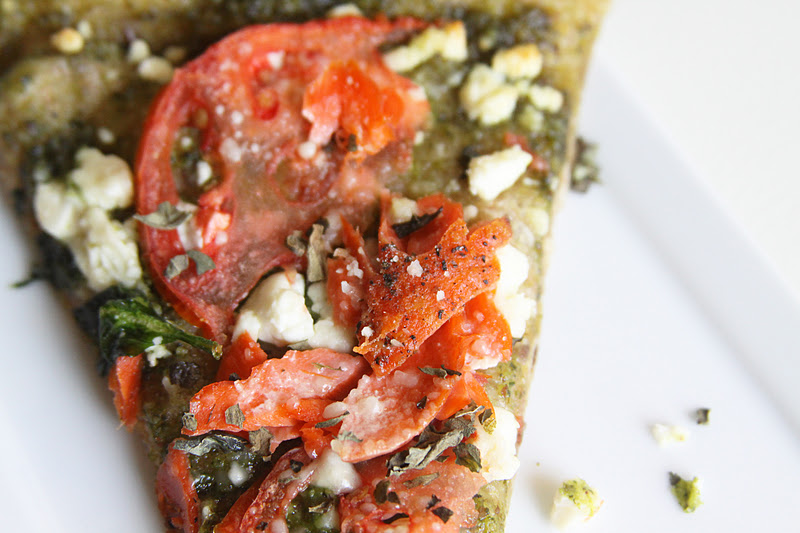 Salmon Salad Pizza
Ingredients
*1/2 lb. filet wild Alaskan salmon
*1 tablespoon olive oil
*3/4 cup baby spinach leaves, stems removed
*Whole wheat pizza dough for one 12-inch pizza (locals – Gateway Market has the best pre-made dough in Des Moines)
*1/3 cup pesto
*1/2 cup crumbled feta cheese
*1/2 of a medium tomato, thinly sliced
*1/2 tsp. dried oregano
Instructions
*Preheat oven to 375°F. Lightly grease a pizza pan or dust cornmeal on a baking stone and preheat the stone in the oven. Set aside.
*In a nonstick skillet over medium high heat, heat oil. Cook salmon, about 4 minutes per side. Salmon will not be completely cooked through, which is okay. This will prevent the salmon from being dry once it is cooked on the pizza. Flake salmon into bite-sized pieces. Set aside.
*With the heat still on, cook spinach for 1 to 2 minutes in the remaining oil in the pan. Spinach should be slightly wilted. Remove from heat and set aside.
*Press pizza dough into a 12-inch circle and transfer to baking sheet. Spread dough with the pesto sauce and sprinkle with the feta cheese. Layer tomato slices atop the feta, followed by the flaked salmon. Top with the spinach and sprinkle with the dried oregano.
*Bake pizza for 15 to 18 minutes, or until cheese is melted and dough is golden brown and crisp around the edges. Remove from oven and cut into pieces. Makes 8 slices
Happy Cooking!
Madison