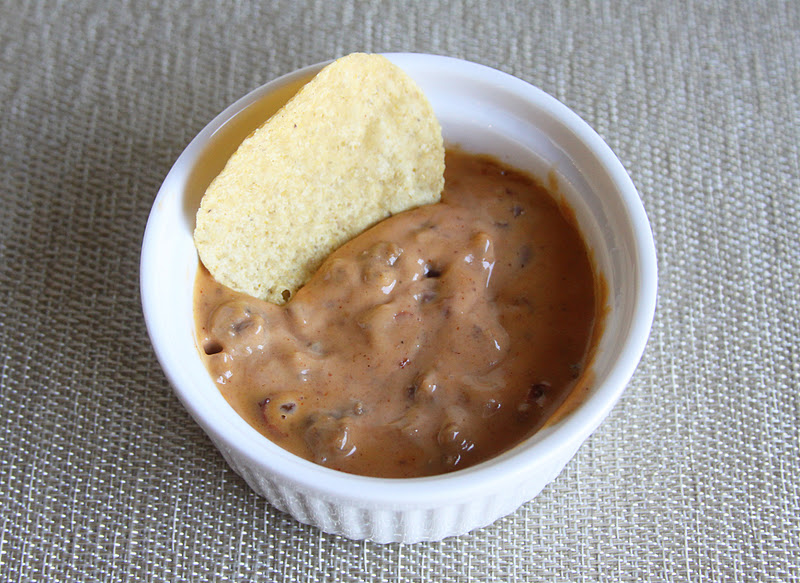 If you're anything like us, chances are you're going to spend at least a little bit of time watching a football game (or four) on Saturday and Sunday. And if you're really like us, you'll probably find yourself standing and shouting at the TV while watching the Broncos game on Saturday night.
When we're particularly interested in one of the games, I like to make things a little more exciting by preparing a few traditional football eats. And while I wish I could say this dip was a healthier version of the original, that's just not true. Every time we buy Velveeta at the store (which is only to make this dip and a rare occasion) I cringe a little. But it's one of Joey's favorites and a compromise made for marriage, if you will.
This recipe came to me via my mother-in-law, Lisa. It's a little different than the traditional Velveeta-Rotel dip that's quite popular. And Joe loves this version because it has a lot of substance (aka meat) in the form of an entire pound of ground beef.
While I wouldn't recommend making this often, it's a fun and easy way to celebrate some of the big games coming up in the weeks ahead. Go Broncos!
Velveeta-Chili Dip
Ingredients
*1 block of Velveeta cheese 
*1 standard-size can (14-ounces I believe?) Hormel Chili with Beans
*1 lb. ground beef, browned and crumbled
*1 (8-ounce) bottle Ortega mild taco sauce 
Instructions
*Place all the ingredients in a 4- to 5-quart slow cooker over low heat until cheese is melted. Stir to evenly combine. Serve with tortilla chips or, if you're trying to be a little healthier, veggie dippers. Makes enough for a crowd. 
Happy Cooking!
Madison