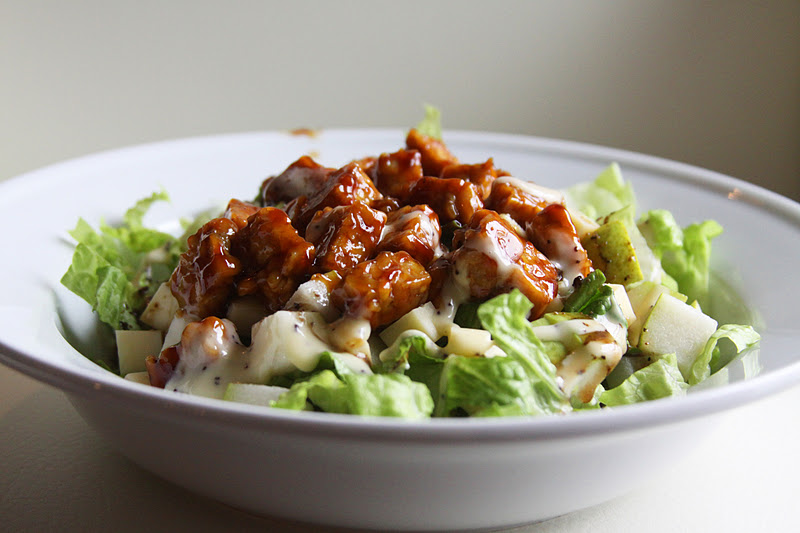 I got an e-mail from a reader last week asking about how I eat vegetarian even though my hubby doesn't. When we first got married, I was wondering the same thing! Since I do most of the cooking, figuring out how we could still eat healthfully at home within our dietary constraints was up to me.
This salad is a perfect example of how we eat together. My protein source for this dinner salad was tempeh glazed in a super simple sweet and sour sauce. While Joey's protein source was chopped cooked chicken breast cooked in the same method I cooked my tempeh. It's quick swaps like these that make dinnertime in our house easier than it may initially seem.
If you are unfamiliar with tempeh, you can find out more about this vegetarian protein source HERE. It's packed with health benefits, and from a cook's perspective, it's extremely versatile. Crumbled up, it can easily pass for the texture of browned and crumbled ground beef, and it works well as a chicken replacement, as in this recipe.
This salad is a slightly different adaptation of my Autumn Chopped Salad. I know a lot of people have made this recipe after finding it on Pinterest, but mentioned that they wanted it to have a bit more protein. Problem solved!
Sweet and Sour Tempeh Salad
Ingredients
*1/3 cup cubed, raw tempeh
*1 tablespoon low-sodium sweet and sour stir-fry sauce
*1 teaspoon olive oil
*2 cups chopped Romaine lettuce
*1/2 medium pear (firm), chopped into bite-sized pieces
*1 oz. sharp white cheddar cheese, cubed
*1 tablespoon poppyseed dressing
*2 tablespoons light balsamic vinaigrette
Instructions
*Combine the tempeh, sweet and sour sauce, and olive oil in a nonstick skillet over medium heat. Cook for 2 to 3 minutes until the mixture is bubbly and hot and tempeh is heated through. Remove from heat and set aside.
*In a large salad bowl, combine the lettuce, pear, and cheese. Top with the tempeh.
*In a small cup, combine the poppyseed dressing and balsamic vinaigrette. Pour over the prepared salad. Serve immediately. Makes 1 serving
Happy Cooking!
Madison