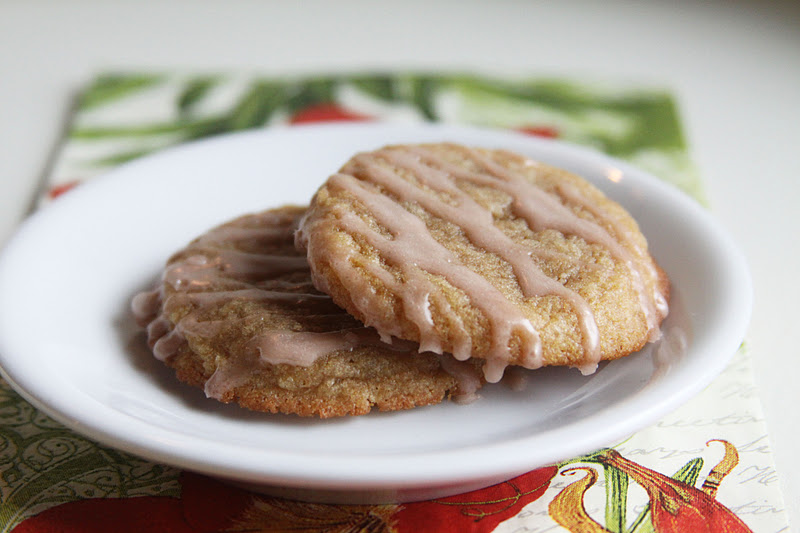 I created these recipes a while back to share as part of a Christmas cookie exchange on Amy's blog. Amy and I have a mutual friend: her cousin, Emily, happens to be a good high school friend of mine. When Amy asked if I would take part in her '25 Days of Cookies' I was excited to have another reason to bake and create something special.
These cookies really do deliver on the special. Instead of making traditional sugar cookies with granulated sugar, I decided to mix things up and use brown sugar mixed together with a bit of granulated sugar. The result was a moist, chewy cookie with oodles of depth. Much more than a traditional sugar cookie. I also used white whole wheat flour for added nutty flavor, but you could easily use all-purpose flour if you want.
Of course, no Christmas sugar cookie is complete without a little glaze, so I played of the mint-chocolate combination and made a super-simple icing. The resulting topper gave these cookies a bit of 'peppermint patty' appeal.
Brown Sugar Cookies with Mint Chocolate Glaze
Ingredients
*1 cup butter, softened
*1 cup firmly-packed brown sugar
*1/2 cup granulated sugar
*2 large eggs
*3/4 teaspoon baking soda
*1/4 teaspoon baking powder
*1 teaspoon vanilla extract
*1/4 teaspoon salt
*2 cups white whole wheat flour
*1/2 cup all-purpose flour
Glaze
*2/3 cup powdered sugar
*2 tablespoons chocolate milk
*1/2 teaspoon peppermint extract
*2 teaspoons chocolate milk powder (optional)
Instructions
1. In a large mixing bowl, beat the butter with an electric mixer on medium high speed for 30 seconds or until butter is soft and fluffy. Add in the sugars and beat for 1 to 2 minutes more. Add in the eggs, baking soda, baking powder, vanilla and salt. Beat until well combined. Add in the flours and beat until just combined. Chill for 2 hours.
2. Preheat oven to 375°F. Line a baking sheet with parchment paper or a silicone baking mat. Roll dough into 1-inch balls. Place on the baking sheet, 2 inches apart, and bake for 8 minutes. Cookies will look slightly puffy and under-baked/glossy on the tops. Cool for 5 minutes on the baking sheet. Transfer to a wire rack to cool completely.
3. Meanwhile, prepare the glaze. Combine the powdered sugar, chocolate milk, peppermint extract and chocolate milk powder (if using) and stir until combined. Drizzle glaze over cooled cookies and allow glaze to harden. Makes 3 dozen cookies.