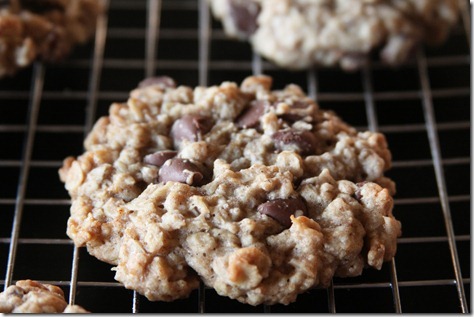 Happy Friday, everyone! I don't know about you, but I'm almost as excited about this weekend as I am about Christmas. Joey and I have been traveling on the weekends like crazy people – I think we've been gone five out of the last six weekends and a majority of the weekends this fall. So this weekend, we have a lazy weekend planned at home.
We'll also be hosting a pre-Christmas dinner party with some of our friends from Bible study, so there will be a little cooking and cleaning on the schedule. But aside from that, just a lot of nothing. I can hardly wait!
In other, more exciting, news, I'm honored to be guest posting over at Daily Garnish today. While Emily is adjusting to life as a new mom, she asked me to share a recipe. When I came upon this super-simple recipe for Vegan Oatmeal Chocolate Chip Cookies, I couldn't resist sharing it with everyone I know.
If you are new to vegan baking, this recipe is for you, since it contains no hard-to-find ingredients. Drop on over to Daily Garnish for the recipe!
Have a great weekend!
Madison