I'm a little late to the game, but I'm finally getting around to doing my Seven Links post after being tagged by Emma a few weeks back. It was so much fun to dig through the Espresso and Cream archives to put this post together. I hope you enjoy!
Most Popular Post: Autumn Chopped Salad
    By far my most popular post has been my fall adaptation of a family-favorite salad recipe. This salad is one that my mom brings to every family gathering and everyone raves about it. The secret is the amazing dressing combination that is made with poppyseed dressing and balsamic vinaigrette. GIve it a try!
Most Beautiful Post: Our Wedding: The Ceremony 
    There aren't many words in this post, but I think the photos speak for themselves. It was, by far, the most beautiful day of my life and I was thrilled with how the photos captured the joy and excitement of the day.
Most Controversial Post: The Great Meat Debate
    My husband grew up on a cattle farm that raises cattle the traditional mass-produced way, as did my uncle and others in my family. And although I have a great respect and appreciation for meats raised free of hormones with plenty of room to roam, I also have a great deal of respect for the hard-working farmers in America's heartland. This post still continues to rustle up controversy.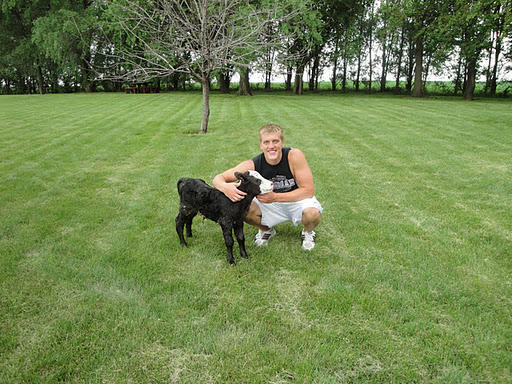 Most Helpful Post: Green Cleaning: Stainless Steel
    My mom actually turned my onto this easy, green way to clean stainless steel. It's much more effective than any commercial cleaning product I've ever tried. My stainless steel bathroom fixtures and appliances look amazing – even my hubby noticed!
Surprise Success Post: Homemade Larabars 
    I had no idea that this recipe would be such a huge success. Thanks to some major play on StumbleUpon, a lot of people are now making Larabars at home, which I think is a great thing!
Post That Didn't Get the Attention It Deserved: The Only Chocolate Chip Cookie You'll Ever Need
    This cookie recipe really is out-stand-ing! I was blown away with how it seemed to capture the perfect balance between soft, chewy and crispy all in one cookie. And any cookie that can do all that is a winner in my book. If you're looking for that signature cookie, this would be the one.
Post I'm Most Proud Of: We Did It! 
    Running (and completing!) our first half marathon just five days before our wedding was such an amazing feeling of pride and accomplishment. Although people told us we were crazy for attempting such a feat before our big day, I was so happy we did it. Training together while preparing for marriage proved to be a great way to grow even closer.