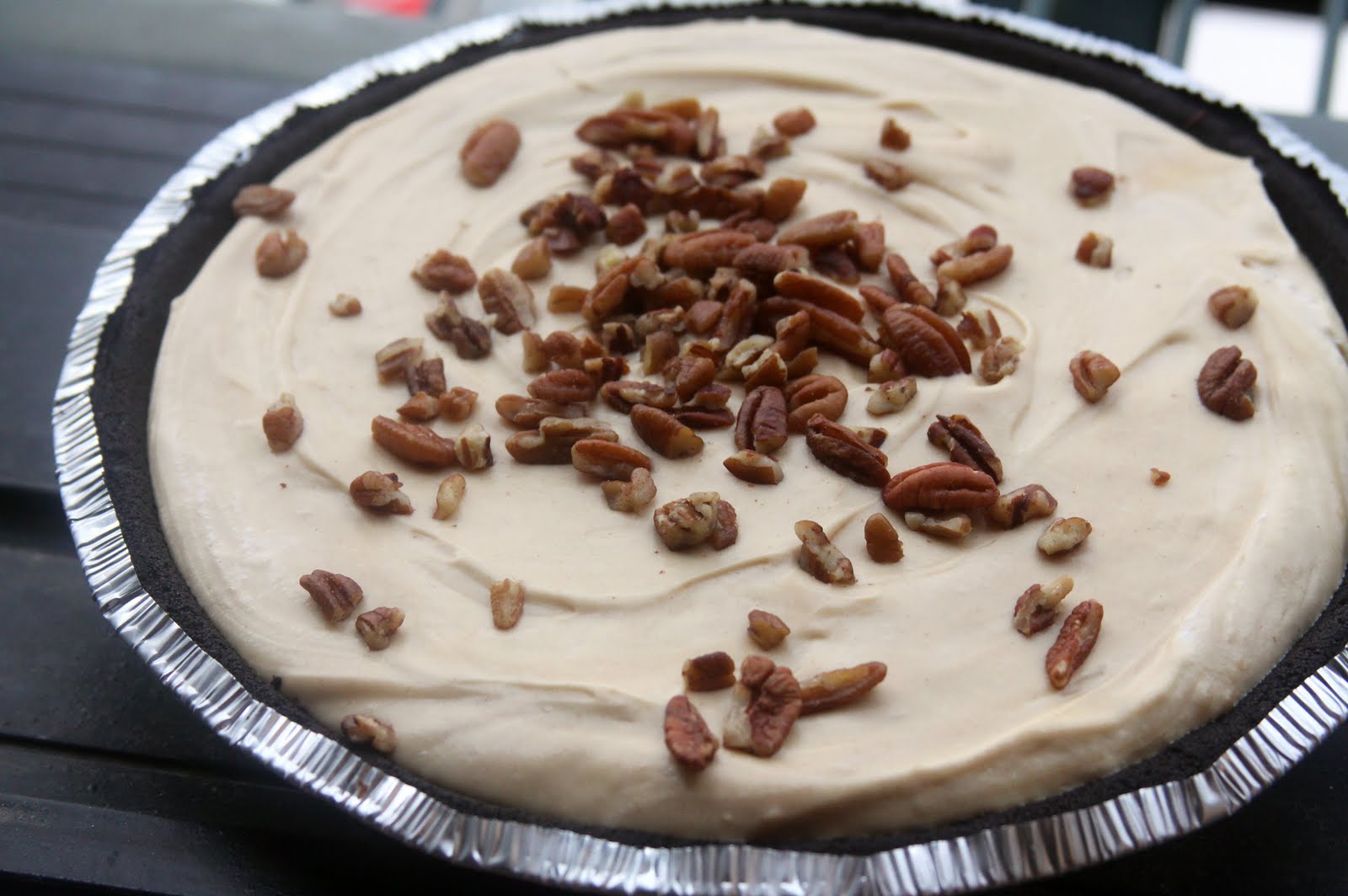 I don't personaly know Jennifer Perillo, nor did I know her husband, Mikey. But like thousands of others across the web, I was brought to tears after reading her touching post in the wake of her husband's sudden and premature death.
When I first heard the news, I thought immediately to what we as a blogging community could do to offer love and support. Jennifer herself provided the answer: make Mikey's favorite peanut butter pie on Friday and enjoy it with loved ones. Such a simple, meaningful and delicious call to action that hundreds of bloggers are answering today.
Joey and I will be enjoying this pie at home with a couple of friends who are staying with us tonight, counting our blessings and being thankful for each and every day we have with one another. Life is such a precious gift, and I hate thinking about how much time we waste being angry over petty things or how busy we get with superficial details.
And the pie? It's as good as it gets. Quite similar to a giant peanut butter cup spooned into a chocolate cookie crust. I can't imagine a better way to celebrate loved ones.
I hope you make time to eat peanut butter pie soon, too.
Peanut Butter Pie
Adapted from In Jennie's Kitchen: Creamy Peanut Butter Pie 
Ingredients
*1 purchased chocolate cookie crust
*4 ounces milk chocolate chips
*1/4 cup chopped pecans
*1 cup heavy cream
*8 ounces cream cheese, softened
*1 cup creamy peanut butter
*1 cup confectioner's sugar
*1 teaspoon vanilla extract
*1 (14-ounce) can sweetened condensed milk
Instructions
*Melt the chocolate chips in the microwave until smooth. Spoon mixture into the bottom of the prepared pie crust. Top with the chopped pecans. Refrigerate until ready to use. 
*In the bowl of an electric mixer, beat the heavy cream until stiff peaks form. Transfer to another bowl and refrigerate until ready to use.
*Place the cream cheese and peanut butter in a deep bowl.  Beat on medium speed until light and fluffy.  Reduce speed to low and gradually beat in the confectioner's sugar.  Add the sweetened condensed milk and vanilla extract. Increase speed to medium and beat until all the ingredients are combined and filling is smooth.
*Stir in 1/3 of the whipped cream into the filling mixture (helps lighten the batter, making it easier to fold in the remaining whipped cream).  Fold in the remaining whipped cream.  Pour the filling into pie crust. Refrigerate for three hours or overnight before serving. Top with additional chopped pecans, if desired.
Happy Baking!
Madison