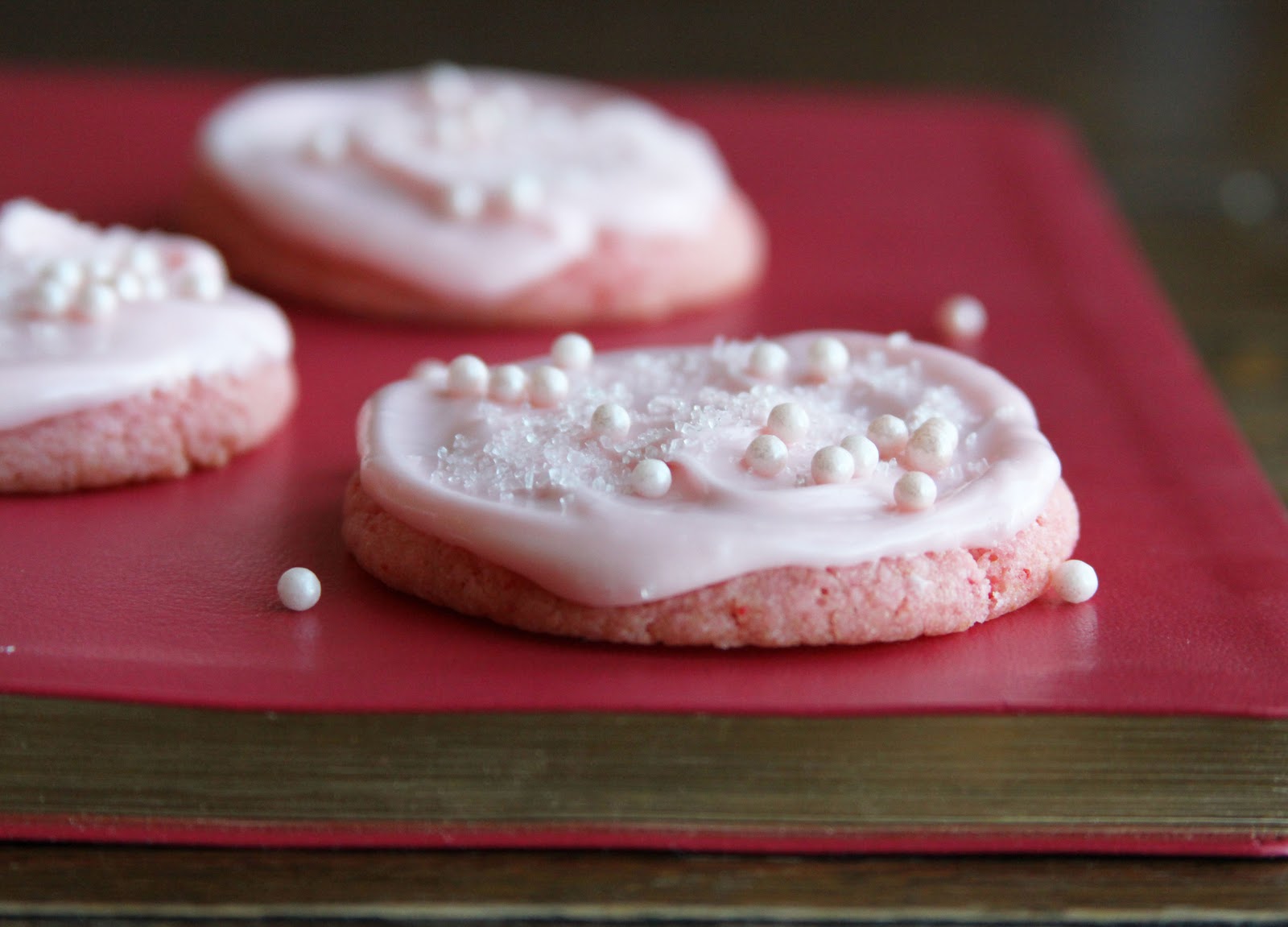 One last post before I unplug for the weekend. After work tomorrow I plan on spending the weekend with my Valentine. Fingers crossed that I'm able to fight off this cold that has been plaguing me all week so we can enjoy our time together.


There's a little story behind these cookies…
One Valentine's Day when I was 15 and a sophomore in high school I had a boyfriend who was a senior. We dated for almost two years, practically an eternity in high school, and for Valentine's Day that year, he brought me a couple dozen heart-shaped, strawberry-flavored cookies. No, he didn't make the cookies himself; his mom made them, and they were delicious. As fate would have it, we got out of school that V-Day at 10 a.m. for bad weather, leaving me majorly bummed but happy to keep two dozen cookies to myself.
I'm not sure why these cookies made such an impact on me, but every Valentine's Day since then I have thought about those cookies. I convinced myself they were better in my memory. But when I made them this week, I realized I was wrong. The deliciousness was not in my imagination. It was real.
Disclaimer: These are not sophisticated, classy cookies. They are just down-home yummy in the simplest sense of the word. Based off a strawberry-flavored boxed cake mix, they couldn't be easier. and since the cookies are very sweet, the cream cheese frosting is a perfect, tangy balance.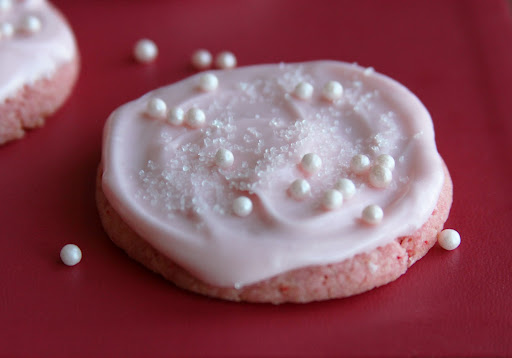 Strawberry Cream Cheese Cookies
Ingredients
*1 box of strawberry-flavored cake mix
*1 large egg
*1/4 cup oil
*1/4 to 1/3 cup water (start with 1/4 cup and add the extra if needed)
*1 (8-oz.) container cream cheese at room temperature
*3 cups powdered sugar
*1/4 cup milk
*2 drops red food coloring
*Pink sprinkles or edible pearls (optional)
Instructions
*Preheat oven to 350°F. Grease a cookie sheet, line with parchment paper, or use a Silpat (what I did).
*In a large bowl, combine the cake mix, egg, oil and water. Stir by hand until ingredients are evenly combined. Scoop dough by tablespoon portions and roll between your hands to make a smooth ball. Set on a baking sheet, about 2 inches apart.
*Bake for 13 to 16 minutes, until slightly crackled on top and just lightly golden around the edges. Transfer to a wire rack and cool completely.
*Meanwhile, in the bowl of an electric mixer,  beat the cream cheese until smooth. Add in the powdered sugar, milk and red food coloring. Continue to beat until smooth. Spread on top of cookies and beat until well combined.
*Spread frosting atop of cooled cookies and garnish with pink sprinkles and/or edible pearls, if desired.
Happy Baking!
Madison