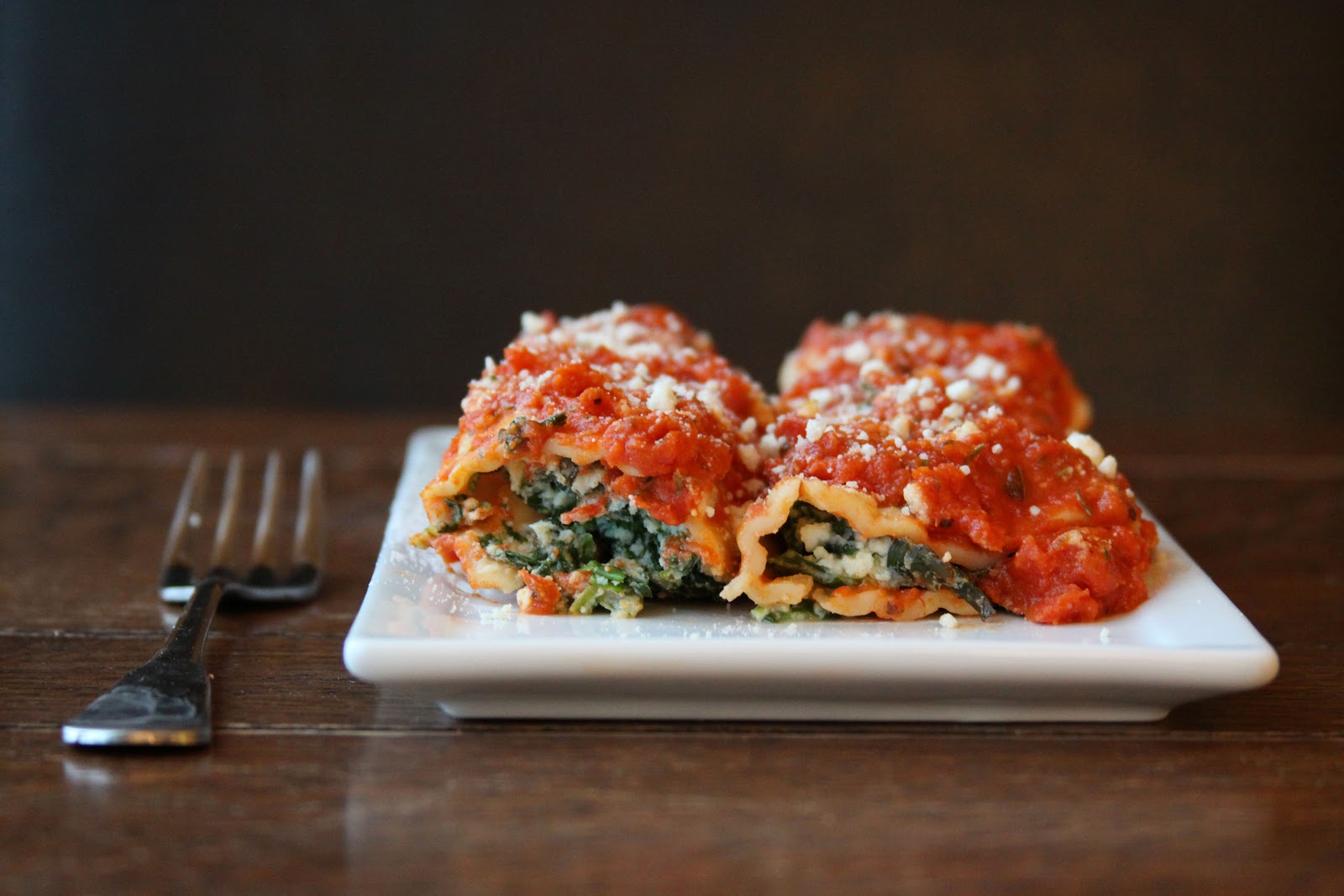 If you are anything like me, you're a little crunched for time. Whether you're a mom trying to meal-plan for the week, a student preparing for finals or an editor planning a wedding – time is tight.
During the weeknight, after a trip to the gym and a shower, I rely on meals like this. It's enough to feed a family one night or a couple people for multiple nights. Me? I ate my way through this over the course of a week since I have no problem with eating the same thing night after night. And, like lasagna, it tastes better the second and third times.
And did I mention this dish is easy? Cook the pasta, stir together the ricotta and chopped spinach, fill the pasta, top with marinara and bake. Paired with a side salad this meal may very well get me through the winter. 
Quick Spinach Manicotti
From Martha Stewart's Everyday Food 
(Printable Recipe)
Ingredients
*8 manicotti shells
*1 (15-oz.) container light ricotta cheese
*1 cup grated Parmesan cheese 
*1 (8-oz.) pkg. frozen chopped spinach, thawed and drained of excess moisture
*1/2 tsp. salt
*1/4 tsp. black pepper
*1 tsp. dried basil
*2 cups marinara sauce
*1/4 cup Parmesan cheese
Instructions
*Preheat oven to 375°F. In a large pot of boiling salted water, cook pasta shells according to package instructions. Drain well and arrange in a single layer on an oiled baking sheet. Meanwhile, in a medium bowl, combine ricotta, 1/2 cup Parmesan and spinach. Season filling with salt and pepper.
*Transfer filling to a large zip-top plastic bag. Twist and squeeze bag so filling is in one corner. With scissors, snip a 3/4-inch opening in corner. Pipe filling into both ends of each pasta shell. Arrange stuffed shells in an 8-inch square glass baking dish.
*In a medium bowl, whisk together marinara sauce and oregano. Pour sauce evenly over shells and top with 1/2 cup Parmesan. Bake until sauce in center of dish is bubbling and Parmesan is browned in spots, about 30 minutes. Let sit 5 minutes before serving.
Happy Cooking!
Madison