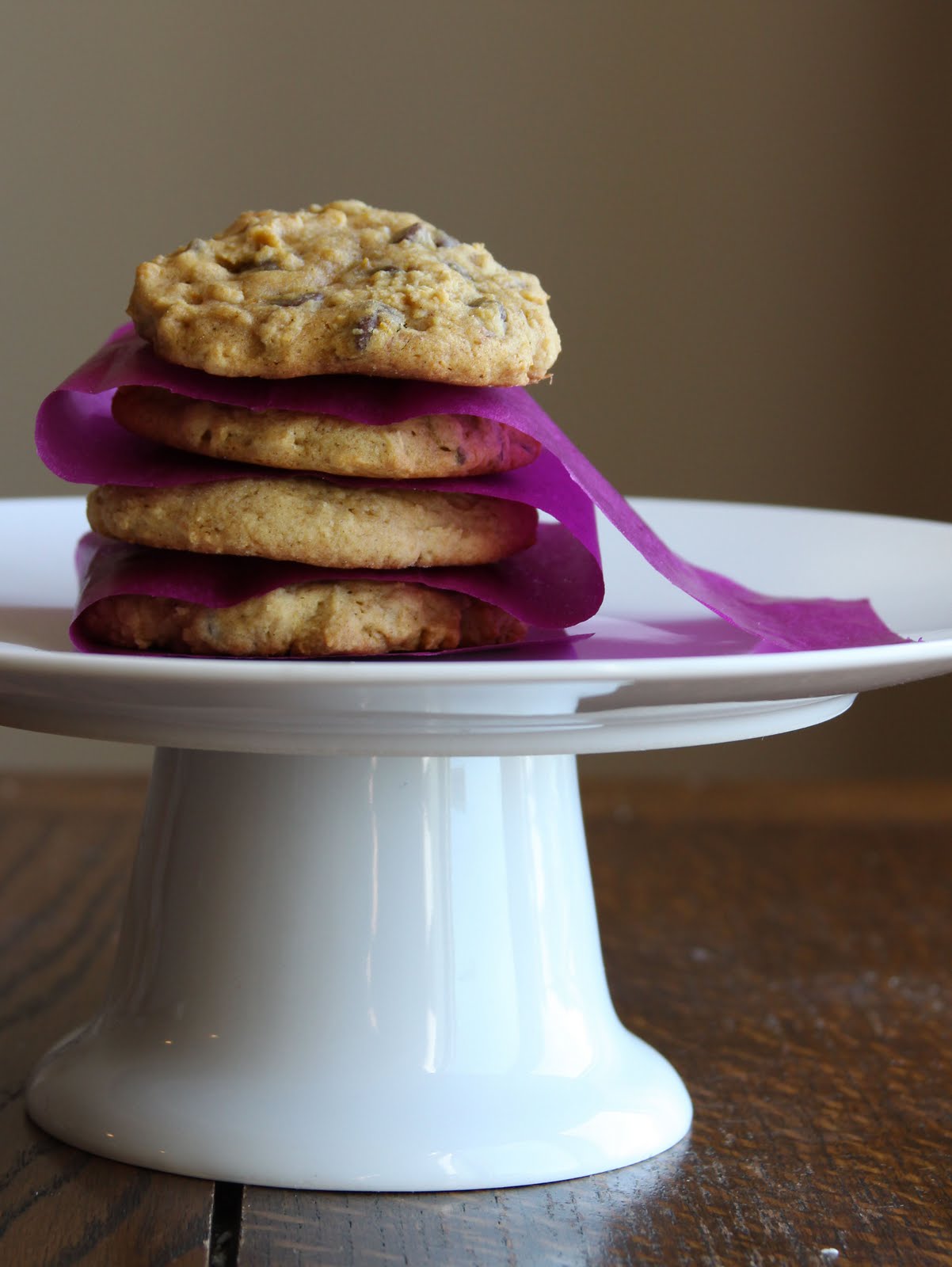 You all had to know another pumpkin recipe was waiting in the wings. After the great pumpkin hunt last week I could hardly wait to start cooking and baking up all sorts of pumpkin-related goodness. Not long after the pumpkin pasta, three days to be exact, I baked up a batch of these Pumpkin Chocolate Chip Cookies. And since I like to send J on his way back home with a treat for the car ride, I packed theses babies up and sent them on their merry way to Illinois. Portion control at its very best, my friends.
These cookies are a little different than others I put up on the site. Adding pumpkin into the mix makes them of the cakey variety rather than crispy-chewy. A bit of ground cinnamon and nutmeg play up the pumpkin-pie vibe without being overpowering. And the chocolate? Well, why wouldn't you put chocolate in a cookie? Though now that I'm thinking about it, butterscotch chips would be absolutely divine.
Shoot, I wish I would have thought of that sooner…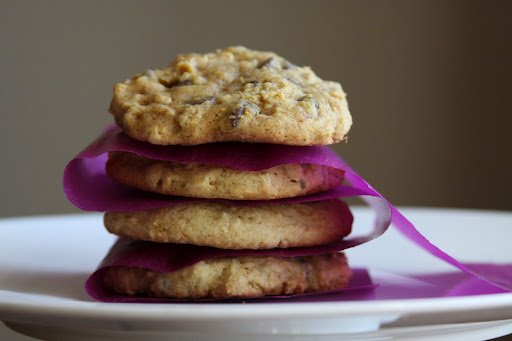 Pumpkin Chocolate Chip Cookies
(Printable Recipe)
If you're like me and prefer your cookies on the slightly underdone side, shoot for baking them 12 minutes, or just slightly under that. And if you're more like my mom, who loves her cookies well-done, aim for the high end at 15 minutes.
Ingredients
*1 stick butter, softened
*1/2 cup sugar
*1/2 cup brown sugar
*1/2 cup canned pumpkin puree
*1/2 tsp. ground cinnamon
*1/4 tsp. ground nutmeg
*1 tsp. vanilla extract
*1/2 tsp. baking soda
*1 large egg
*1 1/4 cups all-purpose flour
*1/4 cup instant oats
*1 cup milk chocolate chips
Instructions
*Preheat oven to 350°F. Line two baking sheets with parchment paper. Set aside.
*With an electric mixer, beat the butter until creamy, Add in the sugars and mix until creamy, about 1 to 2 minutes. Beat in the pumpkin puree, cinnamon, nutmeg, vanilla extract, and baking soda until just combined.
*Beat in the egg and stir until just combined. Add in the flour and mix until just combined, followed by the oats and chocolate chips.
*Drop dough by rounded tablespoons onto the prepared baking sheets. Bake for 12 to 15 minutes, until golden around the edges and puffed in the center. Remove and transfer to wire racks to cool.
Happy Baking!
madison