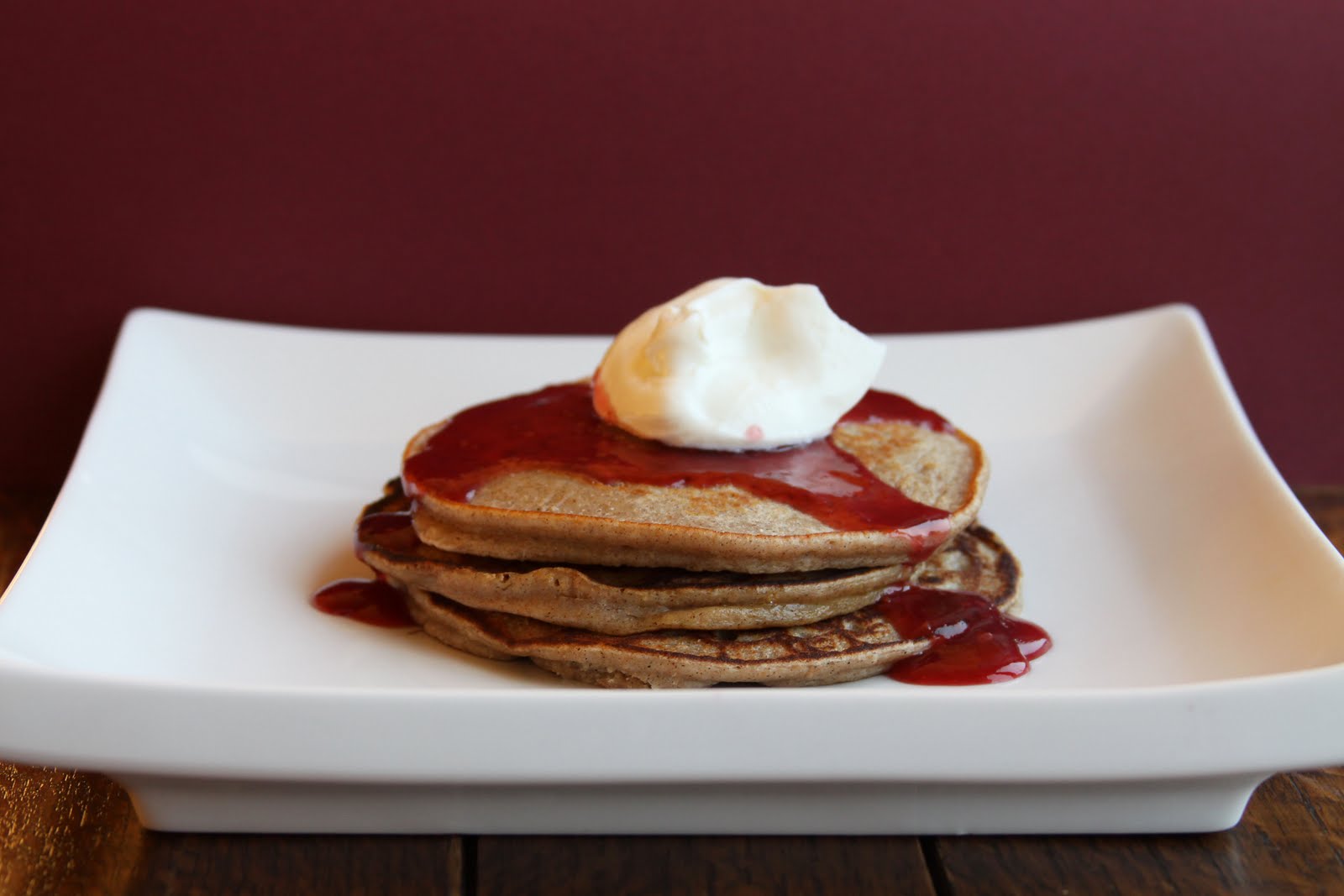 I've posted before about my ambivalent relationship with pancakes. How I never really crave them and can count on one hand the number of times I've made them in my own apartment. But fall weather has that way of doing funny things to your taste buds, and this week I found myself wanting, craving even, a warm stack of pancakes.
But, alas, when I really got down to making them it wasn't a stack of white fluffy pancakes that I really wanted. No, it was something heartier, denser and slightly healthier, too; so the timing seemed perfect when I came across this recipe from a cute little site called Never Home Maker.
It felt as if it was meant to be, Greek yogurt and pancakes together in one. What could be better than that? Of course I felt the need to meddle and play around a little with the recipe, and since I had buckwheat flour on hand I tossed a little in to replace the all-purpose flour. And because my love affair with all things almond and cinnamon continues, I tossed them in, too.
The resulting pancakes totally hit the spot and quenched my hot cake fever faster than you can say Aunt Jemima. Oh, the syrup. I left it out because I don't really like syrup all that much. For me, a little melted jam is always a much better alternative, but take your pick.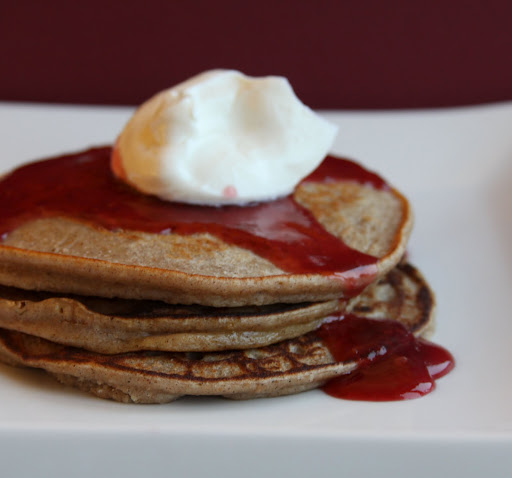 Buckwheat-Greek Yogurt Pancakes
(Printable Recipe)
The addition of buckwheat flour paired with the whole wheat flour makes for a dense, filling pancake that has a complex flavor and packs a nice nutritional punch. When paired with a little Greek yogurt for protein and some melted sugar-free jam, pancakes are suitable for any day of the year.
Ingredients
*1/2 cup whole wheat flour
*1/3 cup buckwheat flour or all-purpose flour
*1/2 tsp. baking powder
*1 large egg
*1/2 cup Greek yogurt (I used 2% Fage Greek Yogurt)
*1/2 cup buttermilk
*1 tsp. almond extract
*2 tsp. canola oil
*1/2 tsp. ground cinnamon
*3 tsp. Stevia, Splenda or brown sugar
*1/2 cup red raspberry preserves (I used Smuckers Sugar-Free Red Raspberry)
Additional Greek Yogurt (optional)
Instructions
*In a mixing bowl, combine the flours and baking powder. Add in the egg, Greek yogurt, buttermilk, almond extract, oil, cinnamon and Stevia or desired sweetener. Stir until just combined. If you are using buckwheat flour the batter will be slightly gooey.
*Heat a nonstick skillet or a skillet sprayed with nonstick cooking spray over medium heat. Add batter to the heated skillet, 1/3 cup per pancake, and cook until small bubbles form at the surface of the pancake. Flip and continue to cook 1 to 2 minutes more, until dark golden brown on both sides.
*In a microwave-safe cup, heat the preserves for 30 seconds, until pourable. Pour a couple tablespoons over each pancake and top with a dollop of Greek yogurt, if desired.
Happy Cooking!
Madison