One of these Mondays I'm going to be able to post about my relaxing, leisurely weekend where I got lots of sleep, painted my toenails, caught up on laundry and read all my untouched magazines cover-to-cover. But that day is not today. I'll spare you the details only to say it was a crazy, whirlwind of a weekend and I'm still scratching my head wondering where Saturday went.
In addition to traveling eight hours in the car on Saturday to see J's little brother play football, it was a weekend spent celebrating J's 23rd birthday! He might not have seen the reason to cause a fuss, but I most certainly did. I'm a big believer in the concept of 'birthday weekends' and was intent on making the entire three days a celebration of the man I love.
There were birthday cupcakes on Friday night when he arrived and a birthday dinner in Minneapolis with family on Saturday night after the game; there was also a man making balloon animals at the restaurant who catered to my request that he make J an birthday balloon hat to wear during dinner. And when his actual birthday arrived on Sunday, I put candles in both his chocolate chip pancakes and his sandwich at lunch. Like I said, birthdays are a big deal around here. 
Since J isn't a huge fan of overly-sweet desserts, I passed on most of my original ideas and decided to go with a simple spiced cupcake topped with a small dollop of peanut butter buttercream. Had this been my own birthday celebration there would have been a whole lot more buttercream involved. Thankfully, the birthday boy is generous and let me steal the buttercream off another cupcake to make up the difference.
Happy birthday, J!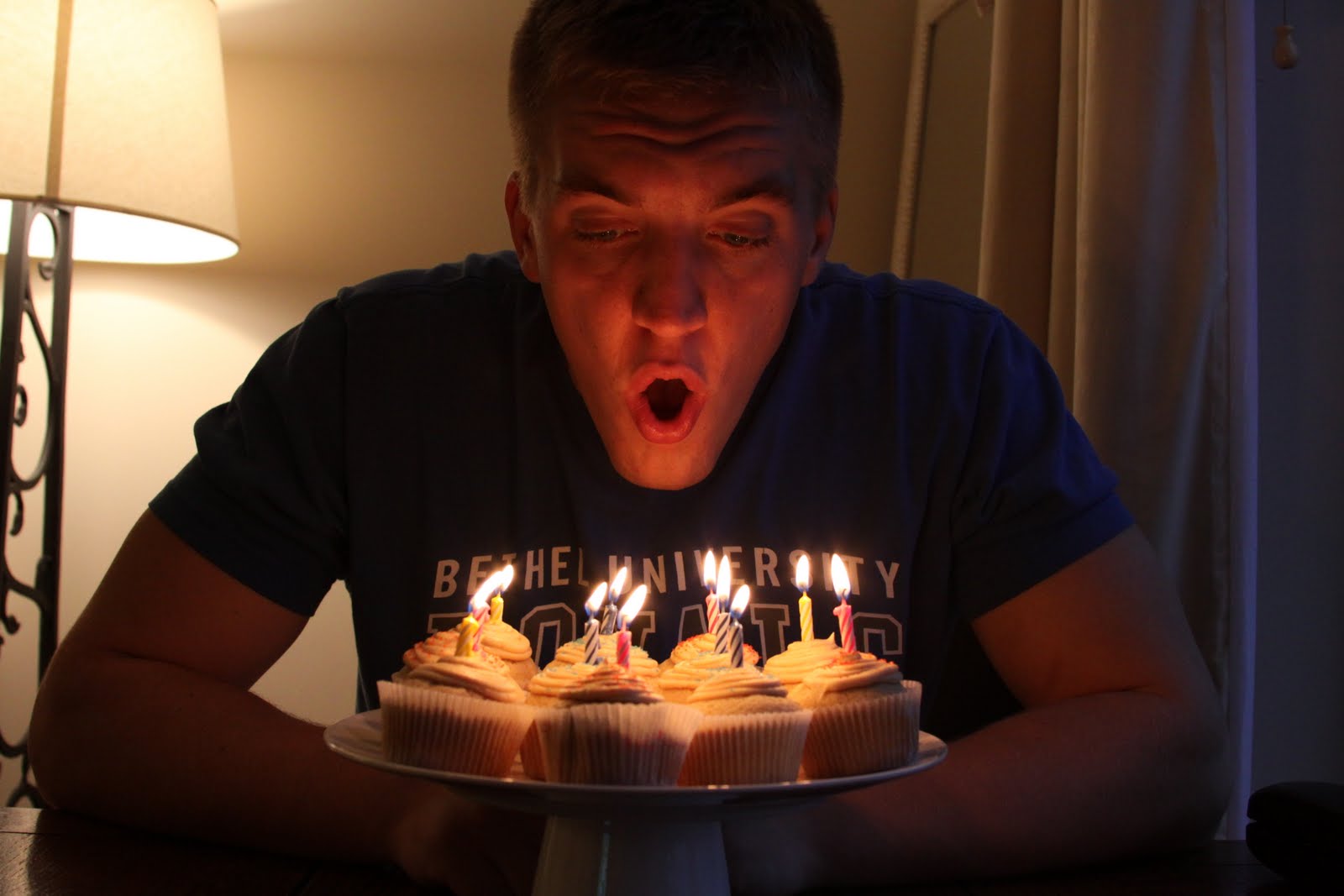 Peanut Butter Spice Cupcakes with Peanut Butter Buttercream
(Printable Recipe)
Ingredients
Cake
*1 stick butter, softened
*1 cup sugar
*1/2 cup creamy peanut butter
*1 tsp. ground cinnamon
*1/4 tsp. salt
*1 tsp. vanilla extract
*2 large eggs
*3/4 cup self-rising flour
*1/2 cup buttermilk 
*2/3 cup all-purpose flour
Buttercream
*1 stick butter, softened
*1/2 cup peanut butter
*1 1/2 cups powdered sugar
*1-3 Tbsp. milk (start with 1 and add more if you want a thinner consistency)
Instructions
*Preheat oven to 350°F. Line a 12-cup muffin tin with paper cupcake liners and lightly spray with nonstick cooking spray. Set aside.
*With an electric mixer, beat butter on medium speed until creamy. Add in the sugar and peanut butter and beat until creamy, about 1 to 2 minutes. Beat in the cinnamon, salt, and vanilla extract until combined.
*Beat in the eggs, one at a time, until just combined. Reduce speed to low and beat in the self-rising flour until just combined, followed by the milk, then the all-purpose flour, being sure not to over beat and only mixing until ingredients are just combined.
*Spoon batter into prepared cupcake liners, filling 2/3 of the way full. Bake for 20 to 25 minutes or until a toothpick inserted in the center comes out clean. Remove from the oven and cool completely.
*Meanwhile, prepare the buttercream. With an electric mixer, beat the butter and peanut butter together until creamy. Add in the powdered sugar, a 1/2 cup at a time, followed by the milk, beating until smooth and creamy.
*Pipe or spread buttercream atop the cupcakes. Candles optional. 🙂
Happy Baking!
madison