Is it Monday already? If so, I seriously can't believe it. Every time I go somewhere on the weekend, it becomes so clear that two days just isn't long enough to get everything done, be rejuvenated and just be wherever you are. J and I made the trek out to Wisconsin for a weekend with some of our favorite people: J's aunt and uncle and their four very cute kids. I wish I had some photos of the weekend, but of course I took along my camera and completely forgot to use it. Some blogger I am. 
Friday was quite the day. Before the weekend even got started, I managed to throw my wallet down the trash shoot of my apartment building and didn't realize it until five hours later. I panicked. I cried. I called the maintenance man and dug through the trash. And I recovered my wallet! Thank goodness. 
Part of the wallet fiasco was due to just being scatterbrained, but it also had something to do with being run down and exhausted – at least the freak-out while digging through the trash part. This week I've resolved to letting myself rest and recharge. I've been chugging Emergen-C like there's no tomorrow, taking zinc tablets and trying to fuel my body with all the vitamins and minerals possible. And this week J is keeping me to a strict 9 p.m. bed time.   
And these cookies are most certainly part of the plan. They are peppered with quinoa (keen-wa) an edible seed that resembles a grain. Unlike other grains and seeds, quinoa is a complete protein on its own, making it especially important for vegetarians since it provides all the essential amino acids. On top of that, these breakfast cookies also contain Greek yogurt, whole wheat flour, and peanut butter. Can we say protein-packed?
Aside from eating healthy and taking loads of vitamin C, I'm clueless how to stay healthy and avoid getting sick. What are your best tips and tricks? I need em!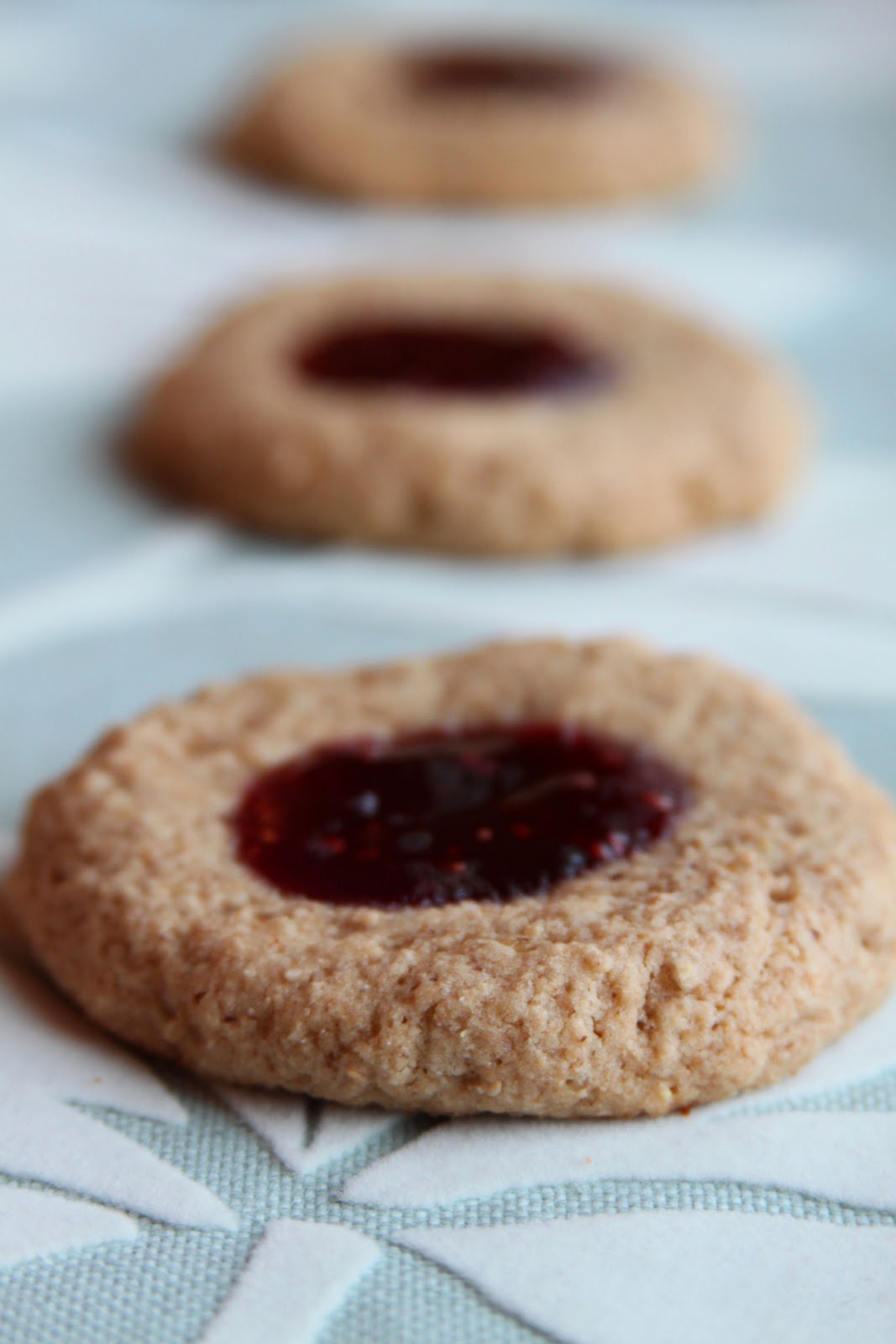 MultiGrain PB&J Breakfast Cookies 
These cookies have quickly become a favorite of mine for taking along to work as an mid morning snack or to ward away the late afternoon hunger pains. Each cookie has about 120 calories – perfect snack-size. Forewarning: they aren't your typical cookie. The quinoa gives off a slightly nutty, chewy texture that's unique to the grain. It may take a little getting used to, but I think they'll grow on you, too.  
Ingredients
*1 stick unsalted butter, softened
*1/4 cup Greek yogurt (I used 2% Fage)
*3/4 tsp. baking powder
*1/4 tsp. salt
*3/4 cup firmly packed brown sugar
*1 large egg 
*1/4 cup natural-style peanut butter
*1/3 cup cooked quinoa 
*1 1/2 cups whole wheat pastry flour
*1/2 cup fruit preserves or jelly, such as red raspberry or strawberry
Instructions
*Preheat oven to 350°F. Line two baking sheets with parchment paper. Set aside.
*With an electric mixer, beat butter and yogurt together until creamy. Add in the brown sugar and peanut butter and beat until well combined, followed by the egg, beating until just combined. 
*Add in the baking powder, salt and quinoa and beat until combined, followed by the flour, beating until just combined. 
*Scoop dough by heaping tablespoons and roll into balls. Flatten with the heel of your palm or the bottom of a glass. Press your thumb into the center of each cookie to create a well. Spoon some of the jam into the well. 
*Bake for 12 to 14 minutes, until cookies are slightly golden around the edges. Remove from the oven and transfer to wire racks. Cool. Makes 18 cookies. 
Happy Baking!
Madison